14 Feb 2017, 7:26pm
Boy shows you his... Uncategorized: abcd collection Adolf Wolfli Aloise Corbaz Brian Robert Gibson Carlo Keshishian Cathy Ward Circus Terminal diary drawings Eternod/Mermod Collection Ian Pyper Itch FM Joe Dub Liz Parkinson NTS Outside In Outsider Art Fair Outsider Art Fair Paris Pier Makanda San Fransisco Street Music See's To Exist Show SFSM Uncooked Culture Who Cares? And Unkowns
by
admin
leave a comment
Outsider Art Fair Paris 2016
Greetings. As the last update was left on the ponderous note of anticipation for what was to come in the form of the Outsider Art Fair Paris, I shall provide you with the outcome.. firstly, I have written at length about it here for Outside In. Having just revisited this writing now, I don't think I need to add much more here. The New York edition of the fair celebrated its 25th year earlier this month and it seems the momentum has really picked up in the last few years with more attendance, media coverage and general awareness seemingly bringing the field noticeably within view from in the shadows.
ABDC Collection
Following on from the Paris fair, I'm pleased to announce some of my recordings have found a home in the unparalleled ABCD collection. See here.
Radio Shows, Itch FM, NTS and Mixcloud: See's To Exist Show / Who Cares? And Unknowns
For those that have been following my See's To Exist Show Jazz based radio shows in the last few years, a metamorphosis is currently taking place. For various reasons, I've had to call it a day in regards to providing a weekly show at Itch FM, which has been a great experience and I will forever rep the Itch family. I wasn't sure what form, if any, See's To Exist Show will continue to exist as, and started to put in place the creation process of a new podcast which would not be restricted by genre or time in terms of how frequently new editions would come into being, or how much time they would each run for. This show is called Who Cares? And Unknowns, of which the first instalment has now been uploaded in two parts (clocking in altogether at somewhere around the 5 hour mark). This first instalment is focussed on Joe Dub, one of the West Coast's best kept secrets in terms of underground Hip Hop (of the Americas). I first came across his music in the form of a cassette that was given to me in 1997-98, containing material by his then group San Francisco Street Music, that I would years later find out is titled 'The Pride'. A cassette intrinsic to the development of my own approach to a lot of things, to this day. In a previous blog entry, I highlight some record adapters I designed for Joe's current project, and we have had an interesting exchange since the turn of the last century. He has recorded with the who's who of mythical underground West Coast artists such as Deeskee, 2Mex, Abstract Rude, Doc Lewd, Awol One, Circus, Liferexall, Neila, Dave Dub, Ellay Khule, and a near endless list of others. In these shows I provide a generous quantity of his recordings, more or less chronologically, including collaborations with Devin The Dude, Topic, Factor, Alex 75 and many more.. You can check part 1 and part 2 out now. Enjoy.
I am proud to announce that See's To Exist Show will continue, keeping more or less the same format, but will now be a monthly show courtesy of NTS. The new show will be live on Sundays, 3-5pm, the first of which can be streamed on March 12th. Tune in for more of the same unparalleled magical Jazz gems from the dusty depths of our world's near forgotten treasure crevices.
Toilet Diary
The current diary drawing I am working on has unexpectedly taken a different path. Firstly, it's is more than four times the size than the previous sequence which were all A4. Secondly, in theory the idea was to draw just one hour each day of the year, so as to contain the entire year in a measured manner. I've allocated a premeditated dimensional area divided 365 times within the page. I began drawing it a few weeks before another little collaborative creation I'm involved in, in the form of a little human, was born into being in our world. A spanner in the works of course presented itself just a few days into drawing, and with my back significantly compromised, causing me to be bed-bound for almost two weeks, I have quite some catching up to do with drawing and recollecting my thoughts, channeling the fresh impulses, etc.. I'm sure it will be an interesting challenge to the end. Other interesting new diaries being kept involve monitoring toilet activity. Who'd have thunk it. Anyhow, here is a photograph of my new diary drawing in progress, with new little human catching some z's alongside..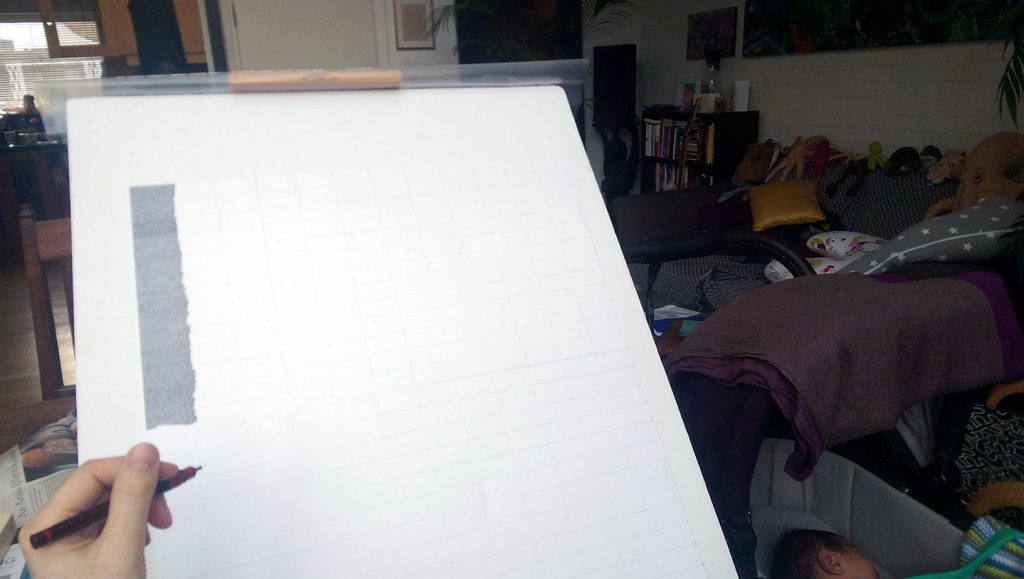 Short Film
I won't give much about this away at the moment because I'm still not sure exactly what I will do with it, but I have been working on a short film for some time now and it is near completion. I've been working on it, on and off, for the last couple of years or so in terms of filming and editing. The ideas for it, however, have slowly been simmering for over a decade and it somehow found its way into being created, which initially I hadn't intended on seeing through. More on this in the next blog entry (probably/possibly?!)..
Uncooked Culture 'Spring Showcase'
The mastermind behind the Uncooked Culture initiative and Circus Terminal touring exhibitions,The Bag Lady Nok has put in place another exhibition showcasing works by artists associated with the movement. On this occasion, you can find works by somewhere around a hundred artists. Other than myself, these include Ian Pyper, Cathy Ward, Pier Makanda, Liz Parkinson, Brian Robert Gibson and many many more. Nok's acquiring of the Bag Lady title relates to the near mythical process that has been her method in carrying hundreds of art works in one suitcase and putting exhibitions on in France, Spain, Solvenia, Holland, Suriname, Thailand, New Zealand and the U.S.A. This time around, she has set up just around the corner at The Walmer Castle pub in Notting Hill (London, UK). The address is 58 Ledbury Road, W11 2AJ. I'm not exactly sure how long the works will be up but I do know there will be a three day celebration in the upstairs bar area on the 1st, 2nd, and 3rd of March, so if you are interested in seeing some performances, hearing speeches, and mysterious improvisational happenstance intrinsic to the nature of the project, find yourself there within that window of time. On the evening of Wednesday the 1st of March, I will be DJing so if you are around and care to experience the exhibition with a soundtrack of rare spiritual Jazz potentially among other things, it's a good time to peruse. I'll leave it at that.
Until later..
Carlo
7 Mar 2015, 4:25pm
Boy shows you his... Boy talks Uncategorized: Circus Terminal Darryl Moore Freestyle Fellowship Horace Tapscott Itch FM JMD Joe Bonner Joseph Bonner Juini Booth Michael Session Outside In Pan-Afrikan Peoples Arkestra Project Blowed RR Gallery See's To Exist Steven Isoardi The Pharcyde
by
admin
leave a comment
It's March…
Winter is behind us, or is at least subsiding temporarily. One thing is apparent, each day stays brighter by 40 seconds or so. Certainly beneficial to my creation process nowadays! Light at the end of the tunnel.
I recently completed the most recent diary page which began on the first of January, 2015. Here is an image of it.. Click on it to see a larger version (which you can then click on again)..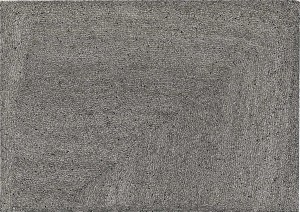 In other news, there is currently an exhibition on in London (UK), Circus In Terminal 15, featuring a large painting of mine from 2009. It is also text based but more of a word association than diary-like. It's on until Saturday 14th of March. On Friday the 13th there is a sort of 'closing party' which will feature performances (musical, theatrical, poetical, existential, un-categorisable) from 6.30-9pm. It's at the RR Gallery, St.Peter's Church, Kensington Park Road, London W11 2PN. Come along if you are in the vicinity. Here is an image of my piece at the opening..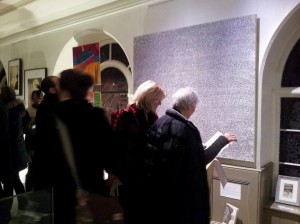 And here's a lengthy bit of blog I recently wrote for Outside In, focussed on my experience with the Circus Terminal project. It contains some historical, ideological, philosophical, and other otical contexts. And some images. Check it out HERE
Lastly, I'm gonna plug a couple of my recent radio show uploads. As I've mentioned before, I do a weekly radio show called See's To Exist show every Friday 4-6pm GMT on Itch FM which streams live on the internets via their website. I archive the shows here.
But what I wanted to draw particular attention to are two shows. The first being –
1) a special edition I did live at the station in dedication to the music of Joe Bonner, a favourite pianist of mine who sadly passed away a couple of weeks prior. There is a magical quality to his playing as is exemplified in the selections I have included from my record collection. I also speak a bit with Juini Booth who played bass on Bonner's classic Angel Eyes LP. You can hear this show / here/ 
2) A more thoroughly put together show, and a first instalment in a series of three shows, is my focus on the overlooked pianist, composer, and conductor Horace Tapscott and the movement that he put in motion from the 1960s onwards. I interview several affiliates for this. The author Steven Isoardi, who edited Horace Tapscott's autobiography and wrote an extensive account of the Pan Afrikan People's Arkestra and their history. Michael Session, who joined Horace and the Arkestra initially in the late 1970s and who is currently leading the group since Tapscott's passing. Darryl Moore, also known as JMD, who was drumming and touring with Tapscott in the 1990s, and is known for his work with the Project Blowed and production work with Hip Hop groups Freestyle Fellowship and The Pharcyde among others. You can hear the first instalment – /here/
That's all for now, folks.
Be well..
Carlo
5 Nov 2014, 11:13am
Boy shows you his... Boy talks Boy travels: abcd collection Carlo Keshishian Chomo Circus Terminal David MacLagan diary drawings Halle Saint Pierre La Maison Rouge Outside In Outsider Art Fair Outsider Art Fair Paris Raw Vision Raw Vision Magazine Stephanie Lucas Uncooked Culture
by
admin
1 comment
…………………………………………………………………………………………
……………………………………….
.
What's new and still old…
In this entry of my seemingly biannual blog I have little to say that isn't said elsewhere but I have a couple of links to throw at you containing masses of information, should you be interested. Firstly, I'll draw attention to the latest diary page completed a couple of months ago. Click on it to see it in more detail. It may take a moment to load. And click on it again to see it in more detail: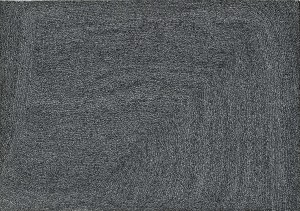 I'm currently working on the next diary drawing, which unlike previous diary drawings which have more of a stream of consciousness based approach in terms of structure, even though there are in depth and thorough explorations into ideas, topics and experiences, the new diary is a continuation of the one illustrated here, focussing on just one topic, an in depth analysis which I feel will most likely even carry through onto a third page.
In other news, I've recently gotten back from a trip to France. Mainly Paris. I was there for the Outsider Art Fair. Quite an indulgent affair. There was a lot going on in terms of exhibitions and I saw more art than I would usually see in at least half a year. I documented some of my experience of being there for the Outside In blog which you can read here: click here
Ah yes, also, a well rendered image of mine is used in the David Maclagan article Beyond the Doodle, printed in Raw Vision magazine issue #82. You can read an extract from the article here and/or buy the magazine which features the full article with the glorious accompanying images and rest of magazine full of fascinating art to ponder on, HERE.
Finally, something that I received a few days back, which terrified me (fittingly, for Halloween), was an eleven minute video interview that I did for Uncooked Culture TV. I'd almost forgotten about it and then it just appeared out of nowhere. I still don't understand how it spans eleven minutes but it does. Should you be interested in viewing this, you can find it below and it may be an idea to view it full screen if you want to see more clearly. That's all for now.
Until next time..
Carlo.
24 May 2014, 10:32am
Boy shows you his... Boy talks Boy travels Uncategorized: Circus Terminal Circus Terminal Slovenia Downtown Music Gallery Henry Darger Horniman Horniman Museum Kitty Gale Kud Esko Museum of Everything Outsider Art Fair Phil Baird Raymond Pettibon Trumpet and Cloud
by
admin
1 comment
…………………………………………………………………………………………
……………………………………….
.
Where to Begin…
How does one start a blog entry when 6 or so months have passed since the last. It seems to be a recurring thing, this accumulate and combust pattern. All I can do is create breathing space by leaving gaps and making more paragraphs. A few photos here and there.. Firstly, here is the last completed diary drawing.. which I began in April of 2011 and completed in November of 2013.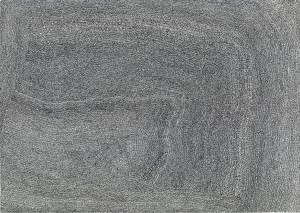 The new one is coming a lot faster. I am nearly halfway through it, and began it in February.
Circus Terminal New Zealand/Slovenia…
The adventures continue with the Circus Terminal touring exhibition, accumulating more artists and artwork along the way. My work was shown in New Zealand, reaching further across the globe than me! In some ways, a parallel to a news piece I read recently regarding humans reaching a depth in the ocean that we'd never reached before, and finding some of our rubbish there. Our litter reached these unexplored areas before we did.
I can speak (a lot) more about Circus Terminal's excursion to Slovenia as I actually went along for the ride on this one.. but in regards to chronology, I shall speak about my trip to New York first..
New York / Inside the Outsider Art World…
I have an interesting relationship with this city. It brings back my awareness of everything resonating on a paradoxical level. I came into Newark airport, which I felt would be quieter and easier than JFK, as last time at JFK I had to queue for an hour and twenty minutes to get through passport control, which was a lot worse for the weak-kneed elders, families with little babies and children, or the obese.. I remember waiting for my luggage and hearing an announcement over the p.a., to paraphrase: "Please keep your mobile phones off in the luggage pick up area".. and as my phone was on, I took it out of my pocket to turn it off, and within seconds a security/police person was beside me 'excuse me sir, you're gonna have to turn that off'.. I began to explain that this is why I had taken it out of my pocket, but he cut me off mid sentence and seemed aggravated by my being conversational/talking back to him.. Newark welcomed me in a similar fashion. The queue only took half an hour or so. I noticed a poster up which was focussed on explaining how the security there should treat you with respect and are there to help you etc.. etc.. Before arriving at the passport desk, a security guy was randomly checking people's passports in the queue. He looked through mine and laughed whilst saying 'why have you been to Libya so many times??', (why have I been to New York so many times!?), I responded 'I've never been to Libya'. He changed his expression and seemed stumped for a moment. He pointed at the stamps and asked what they were. I said 'Lebanon'. He said 'Same thing'.. I refrained from commenting further. Not long after, when I was on the New Jersey Transit train to Penn station in Manhattan, the ticket officer checked my ticket and I asked her roughly how long the ride to Penn is, and she of course answered with 'do you have a smartphone?', why she couldn't just say '10 mins' or something like that, I don't know.. This is New York, sometimes. I told her I don't have internet as I am coming from London and to use internet here would be extortionate. Very much like the character of Gail in the film After Hours (one of my all time favourites, set in Manhattan), she completely ignored my comment and proceeded to show me this app on her phone which tells you the timetables of the trains etc.. She then turned around and showed the app to a couple of the other (American) passengers, telling them it's quite useful. I reiterated my point "Can you just tell me, 5 minutes? 10 minutes?", and in her overly helpful fashion she responds "I told you, 2 stops!".. Thanks. As it was a national train, it is difficult to determine the length/space between stops, but I left it at that.
On thing I do like about New York is that you see stuff like this on the train platforms..
The next phase was meeting someone to pick up keys for an apartment. Interesting lady. I had no luggage with me, which she was glad about, being paranoid about people in the building noticing visitors coming and going with luggage. This is understandable. I explained to her though that I'd be picking up a suitcase from somewhere the following day. She asked how big it was. We talked about all sorts of things and then I noticed she had these circular cards on the table and was shuffling them around as we spoke. She then mentioned that perhaps I should bring the suitcase in the morning instead of the afternoon. By now I'd pieced together the puzzle and she was using tarot cards to help her figure out when I should sneak this suitcase into the building. Another 'After Hours' moment. I had a busy schedule and couldn't comply to her fully, but compromised the timing in regards to when I will bring this suitcase. I assured her it was very light and would take just a minute to walk through.. There are more eccentric aspects to this story but I shall refrain from going into those details..
Ah yes, the Outsider Art Fair.. I enjoyed it. Saw some great works by Edmund Monsiel, Raphael Lonne, A.G. Rizzoli, Nick Blinko, Christine Sefolosha, Stephanie Lucas, and many others.. I was intrigued by the talks on Jean-Michel Basquiat and Henry Darger, and spent my Saturday attending both. I go into some detail about these in a blog entry I have written for Outside In which has just been uploaded here. The stand out moment for me that afternoon was when James Brett took control of the panel discussion on Henry Darger and made it his own, becoming more and more animated as he built up to revealing his epiphany regarding Darger's images and how they each follow on to the next, aesthetically, if you put them next to each other. He used nine or so slides to illustrate this point and flicked back and forth between them, the more he pushed the point, the louder the rain got. The talk took place on the roof of Center 548, with a temporary tent erected around us, you could see the material fluctuate from the violent rain and winds, and as Brett landed on a Darger image depicting a sky full of lightning, thunder struck and lightning flashed in completely simultaneous synchronicity on the roof of Center 548. The rain got so loud that we couldn't hear the speakers' voices and they had to stop for some time to see if it would calm down, and as it was passively said on the panel, echoing what some of the people in the room must have also been thinking half seriously, is that it was like Darger was interrupting the talk from above, showing his reaction, resonating with the theatrics of discovery.
Here's another New York shot: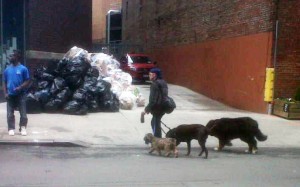 I was out and about a lot in New York.. entering the outside world at around 10am and returning just after midnight each day for four days straight. My energy didn't seem to run low at any point until I returned home after an overnight flight which I did not sleep during. The following morning I set off for Slovenia, adding a further hour to the jet lag and putting me in a completely different environment. Anyhow, prior to that, in New York I managed to check out a few record shops. I had planned to visit just two but I eventually got through a dozen or so. I have some fuel for my radio show, which hopefully should be starting up again at a different radio station in the next few weeks.. I saw a few films, ate some great food, saw a few exhibitions. Of note is the Raymond Pettibon exhibition at Venus over Manhattan. Was great to see that. It's a shame I only found out about the exhibition of Basquiat drawings on the Saturday during the Outsider Art Fair talk. I wanted to go the following day but the gallery was closed Sundays according to the internet and I flew home that night. I did however walk past a gallery with no signage, where some activity had caught my eye. A man holding open the door, another carrying packages from a van. The man holding the door asked "Well, are you coming in??", I responded "I don't know.. what's going on in there?…. What's the show?", he said "Keith Haring", and so I went in. I wouldn't have even known about it! Was good to catch that. On the same street there was an exhibition of Julian Schnabel paintings from the late '80s I believe. So it's funny to see that era all on show at once. The Schnabel stuff is just interesting to see purely in terms of scale. The content I don't really connect with.
I was told it wasn't a very good record, but I do love a good octopus find.. Here's a photo from the 'rare records room' at the Downtown Music Gallery..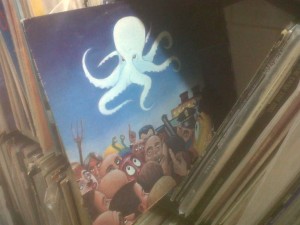 and here is a photo of me in front of a wall painted by Raymond Pettibon..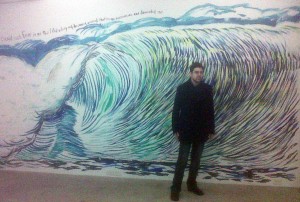 Circus Terminal  Slovenia…
The journey to Piran seemed dubiously painless, until halfway through the flight when we were informed that the plane had been struck by lightning.
I saw the flash of light but heard no thunder. There was some roller-coaster turbulence. Five minutes or so later, the pilot said something (to paraphrase): "As you may have noticed, our plane has been hit by lightning. Normally, we would continue on to the closest airport, in this case our destination, and have engineers look at the plane upon arrival. Unfortunately there are no engineers at Ljubjana and so we have to turn around and return to Stansted." We got there and remained in our seats as engineers explored the damage for 30 minutes or so. According to the pilot, the lightning had penetrated the plane through one sheet of metal and come through the other side of another piece of metal. This occurred very close to a circuit board which is related to measuring internal or external pressure, but thankfully the circuitry was unaffected. We were then told that they would spend the next 15 minutes or so scraping off some of the burn marks and then we would be back on our way. Nok's flight was arriving in the morning but she had decided to wait for me until I land at 4pm. Of course now that I was landing a few hours later, she rightfully left the airport to embark on the road trip to Piran. I would be picked up by a young lady who takes a small fee for running a sort of organised hitch hiking service which people can use on the internet to get a lift from town to town. After having just been hit by lightning and surviving, the conversation between my designated driver and I over the next hour  somehow didn't phase me, but I did feel quite overloaded after. We touched upon planned parenting, censorship, castration, good vs evil, free will, population control, the eradication of money, horse burgers and various other wonderful topics. It's a bit of a blur to me now. We did pick up two more passengers along the way but they remained mostly quiet. One of them seemed quite interesting though.. He teaches kindergarden and makes this trip once every couple of months on his own with some psilocybin and just walks around these three towns for several days. He said it gives him time to think and reflect and clear his mind. I don't remember him carrying anything else with him. He seemed pretty together. I wished him a good trip as he exited the vehicle and quite soon after reached my own destination.
I was welcomed by this lovely mosaic piece at the Trumpet and Cloud hostel, where I was staying for 10 Euros a night!..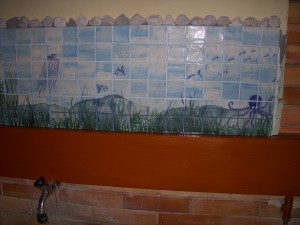 I know it was just a week ago but somehow it feels like a lot has time has passed since then already and the details get rearranged in my brain. I think it was the following day or possibly the day after that, that we took the art works down to the gallery. Circus Terminal is certainly a miracle of an embarkment, and only one Nok has the energy, drive and vision to pull off such an impossible task. I remember two or three years ago when the exhibition had maybe 15 or 20 artists on board, and since then after having toured through France, Spain, Thailand, USA, UK, Holland, and Australia, picking up new artists as the momentum continues, we now have a suitcase full of 350 or so art works by around a hundred artists. Here's some photos of walking down the hill and taking the work to the Kud Esko exhibition space!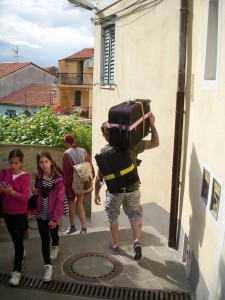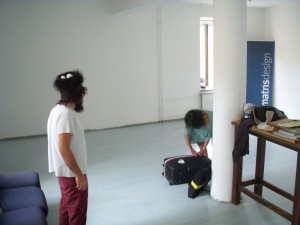 And then we laid all the art works out on the floor, and in some sort of mysterious fashion they began to get placed on the wall with a sort of improvised, yet practiced, (dis)order..
Contemplation back at the hostel..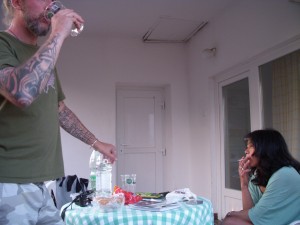 and a full moon..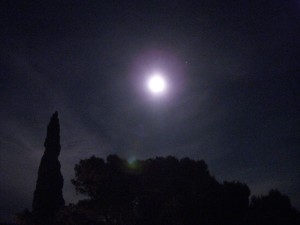 By the next day we were joined by Farad and Verena who drove over from Austria. We took Farad's work down to the gallery..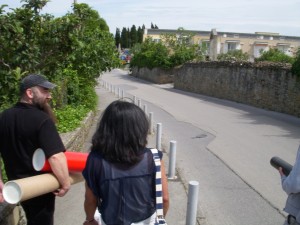 We visited a sculpture park..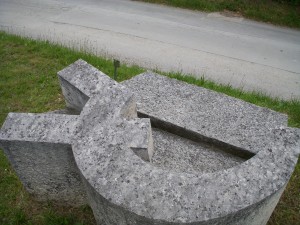 We drove past some salt-extracting environments, and this guy went in to go fishing with his harpoon..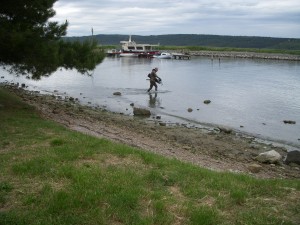 We were told that there was a fish market or something going on in Piran and so we went down to go and buy some fish to bring back to the hostel and barbecue in the garden. When we got closer, we found out that they were actually giving away free fish. This sounded quite unusual.. We got there and they were cooking fish and giving people a fish each to eat, so we queued and got some free local wine and fish for lunch, which was incredible. I asked how often this happens and they said it will probably happen again towards the end of summer..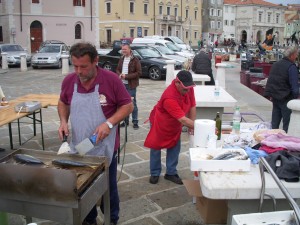 Back at the gallery, and hundreds of reference sheets with no order to match art works and images with titles etc..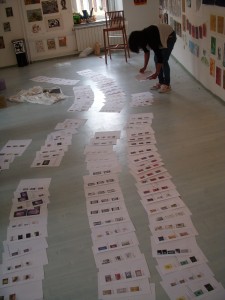 Unorthodox methods..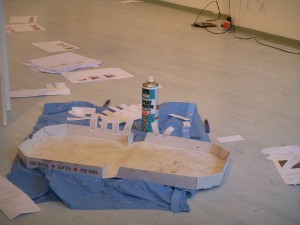 and the opening..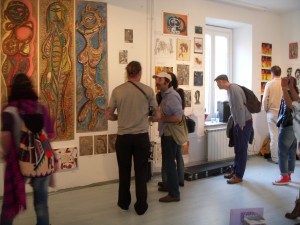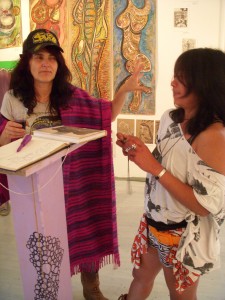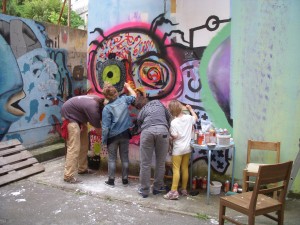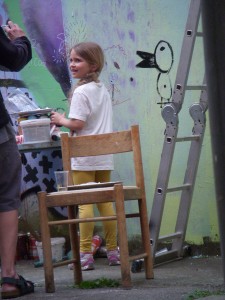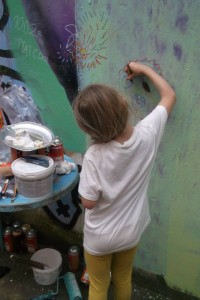 Some of the local and young artists were painting a wall outside.. And Farad and I had an impromptu noise jam inside.. Farad was shredding on the guitar and I was providing some drum programming and effects.. Check out some of Farad's music here.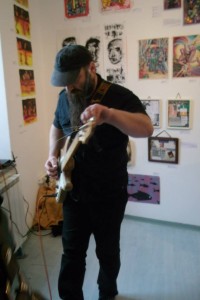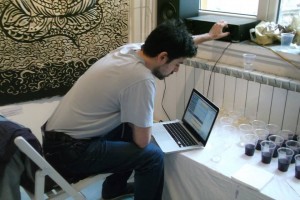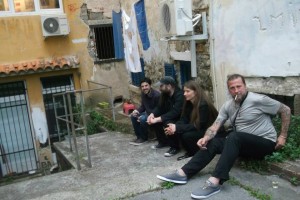 Gotta thank our hosts, Vasko and Nina, good job!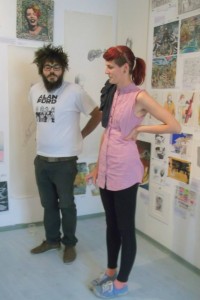 Between the opening on Friday and the collaborative painting session I lead on Sunday, all sorts of whirlwind happened. I won't go into the shenanigans but it was a guy called Igor's birthday and he was throwing a party from Friday night which went on until Monday? I passed through on Friday night and though it was pouring with rain, the party was lively, there was plenty food on the grill and an infinite supply of beer and other beverages. Skipping right ahead to Sunday, I was hugely impressed by how quickly this massive canvas was getting filled with the marks of local artists, and it was great that they could make it and were either struggling through a hangover or opted to come and paint over staying at the party..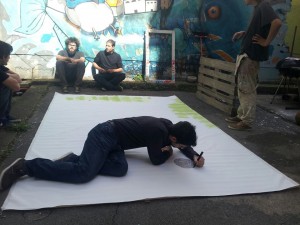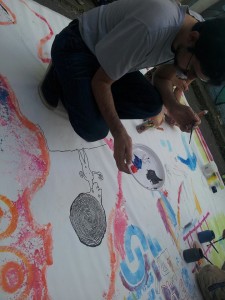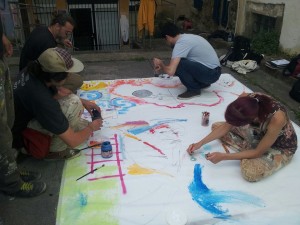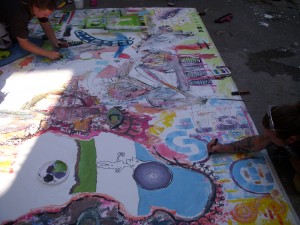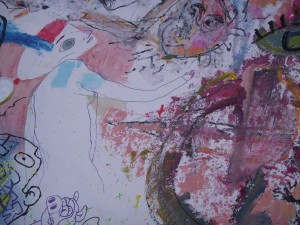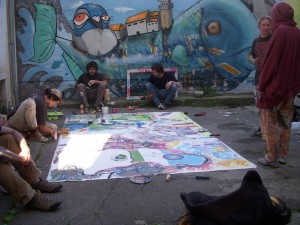 It was funny to hear these people trying to read my drawing. They were doing a good job actually. It was weird hearing them read out what I'd written, aloud, slowly but surely..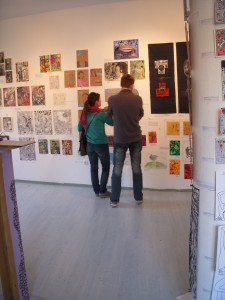 And more photos of the Circus Terminal here.
Horniman workshop…
Fellow artist and collaborator, Phil Baird and I have been doing a few things here and there. We ran six weeks of workshops at the Three Cs Crossways center in Peckham, and have also held a series of workshops at the Horniman Museum in conjunction with Network Arts Lewisham and Drake Music. I recently got an email from the Horniman with some photos of the workshop we held there most recently at the Community Music Day, which are quite pleasant. It was quite a short workshop but we showed one of the films we had made, and then everyone played on some instruments that were provided by the museum. Phil and I jammed on a couple of instruments as the others drew their reactions to the sound, and we did a version of this which involved passing the drawings around until everyone has drawn on every page. Here are some photos, courtesy of photographer Kitty Gale..
I don't know who will have read this entire blog entry but I hope to write the next one sooner rather than later to avoid accumulating too much 'stuff' and it resulting in these mammoth proportions of text. In any case, I think I've reached my threshold for now! If all goes well, I should have some good stuff to report soon.. so, will be in touch!
Take care for now..
Carlo.
31 Aug 2013, 12:27pm
Boy talks Uncategorized: Circus Terminal Sun Ra Arkestra The Shag
by
admin
leave a comment
…………………………………………………………………………………………
……………………………………….
.
The Shag
The Shag is a platform for artistes to show some of their works in progress, ask questions, get feedback and suggestions. As it is just an almost pleasant promenade from my residence, I thought I may as well get out (something I am often reluctant to do!) and go see what it's all about. I really enjoyed my first visit earlier in the year and felt it would be the perfect opportunity to do a presentation about an idea I have for a book containing some of my drawings. When the 10th installment of The Shag became publicized, I got a slot and so last week I showed some drawings and opened discussion, asking some questions about the direction of the book. I found it really useful to get the 'objective' viewpoints and also enjoyed hearing a short story, some poems, watching a mummified pyramid headed band perform and partaking in an intimate one on one encounter which was quite interesting but difficult to categorize in terms of practice. Was it a performance? I'm not sure. It was good though! Anyhow, I estimate I will begin putting the book together in 5-7 years time and will let you know more, closer to the time (yes, in around 4-6 years). If you're a south/central London based 'artiste' in any practice at any stage on the spectrum of 'career', consider checking The Shag out by clicking on… The Shag. Here's a photo from my intensely driven talk (click on it to enlarge)..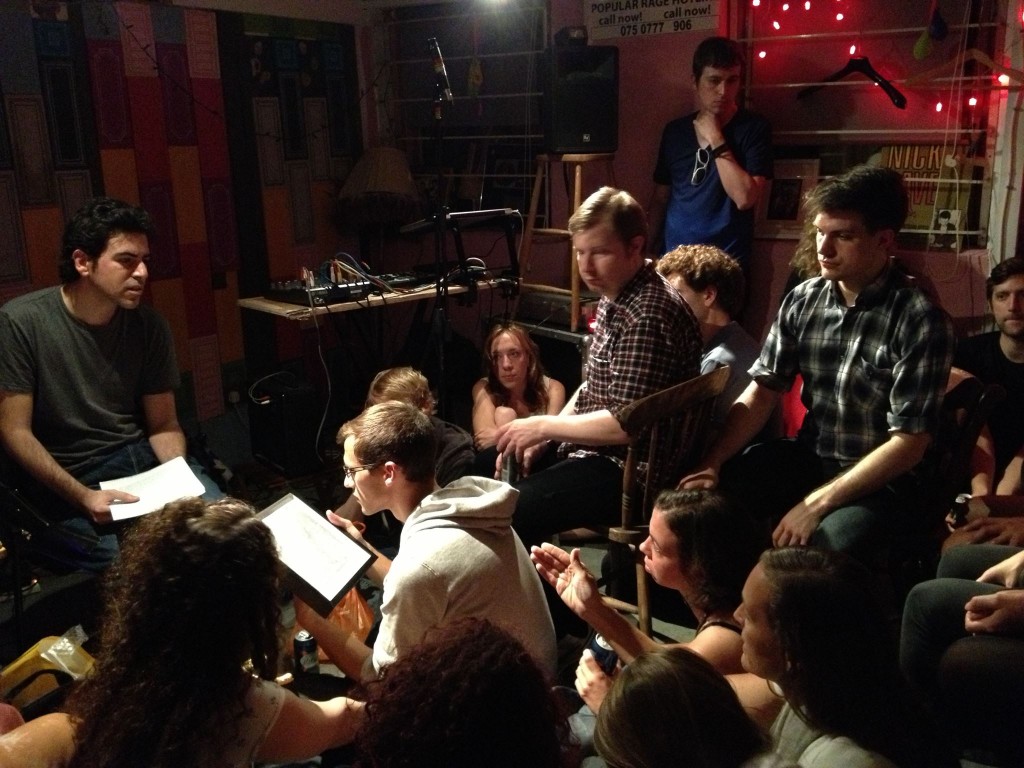 Circus Terminal: London /  6-10th Sept 
The Circus Terminal group show will be making a stop at The London West Bank Gallery from the 6th-10th Sept. only, so do drop in if you're in the vicinity. I have a couple of paintings in the show and it should prove to be quite a flamboyant affair with artists from around the world taking part. I'll post some photos post-occurrence. The opening night is this coming Thursday the 5th and if you want to come to that, you need to rsvp here: guestlist@thelondonwestbank.com and for further info, check out the overwhelmingly detailed press release: http://www.londonwestbank.com/exhibitions/circus.pdf
Something Nice
I saw this blog today and really liked it a lot so just thought I'd share it.. Look at and read this! http://busymockingbird.wordpress.com/2013/08/27/collaborating-with-a-4-year-old/ and if you are fed up reading stuff, then do one last thing you won't regret and watch this astonishing display of bioluminescent wonder : 
Oh, Okay, One Last Thing..
Seeing as I'm here, I may as well brag about having caught the Sun Ra Arkestra again last week at Cafe Oto in London! If you ever get the chance to see them perform their special styling of cosmic big band goodness, don't miss out! Currently lead by Marshall Allen, who joined the group in 1956, a real force to be reckoned with! Can you name many other groups still going with members who got involved over half a century ago?! Here's a photo of Marshall Allen and I last week, and here is a special radio show I put together last year, focused on Sun Ra, featuring an interview with Marshall Allen. Click here for that.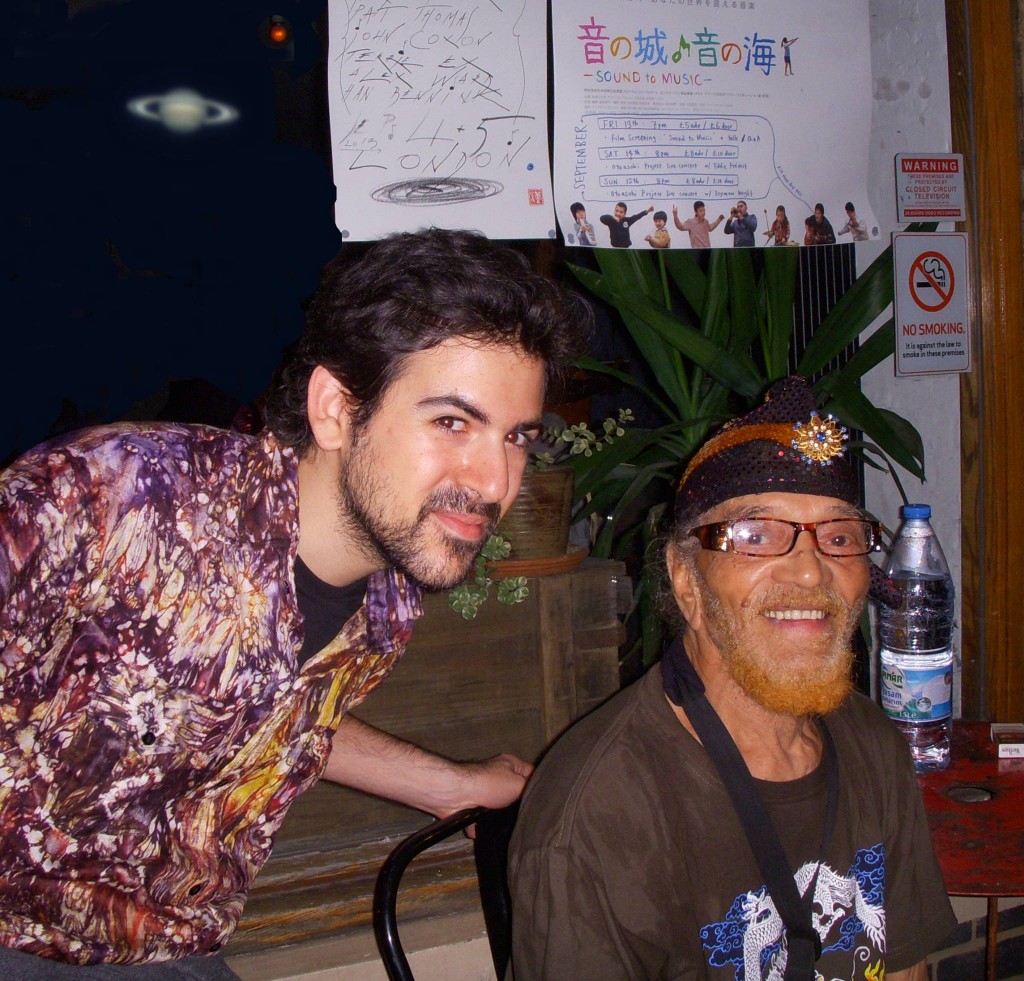 Peace, I'm out.
Carlo.
17 Jul 2013, 3:21pm
Boy shows you his... Boy talks Boy travels Uncategorized: Carrousel du Louvre Circus Terminal Drawing Now Paris emi miyashita Impact Art Fair Julia Sisi Liz Parkinson Outside In Outsider Art Outsider Art Amsterdam Running Horse Contemporary Arts Space
by
admin
leave a comment
…………………………………………………………………………………………
……………………………………….
.
I'm back from Amsterdam. Nice place. Pockets of land with windy water passages throughout. The place is not short of record stores. Good to see  that vinyl all around town. The Circus Terminal came to town and we had a lot of fun..
Circus Terminal Amsterdam
The opening took place last Saturday at Amsterdam Outsider Art. With 85 artists from 19 countries being represented, you certainly get an overwhelming sensation of creative energy channeled through your optical orifices through to your brain, soul, and wherever else allows. A dynamic experience for sure, with raw ox meat and olives tantalising the taste-buds and illusory potential brides in a seemingly physical form, interacting with the onlookers. She was also there the following day, I am pretty sure, though perhaps I was just in a strange dream. There are photos though, so it must have been real. Click on these to see larger images..
The following day, I took it upon myself to lead and initiate a collaborative piece, which we enjoyed adding to for a couple of hours in the garden. So far there have been contributions from 7 artists and the canvas is open to addition until the exhibition ends August 17th, so if you're in the area, make sure you get down there! Entry is free. I've got a few photos of  fellow Circus Terminalists Julia Sisi and Liz Parkinson getting involved with the collaborative canvas. I'll post a photo of the (hopefully) finished canvas in my next blog entry. Gotta send a shout-out to Nok and Bert for all their energy going into putting this all together. Also, was nice to meet Susan and Emily from Studio B based out of Boyertown, Philadelphia, USA who hosted the last Circus Terminal incarnation. I think the next one might take place in Slovenia? or Serbia? Oh wait! Before that, there is one in London, UK in early September. Stay tuned for details…
Maybe it's just my tinnitus, but turn your volume way down..
The Running Horse Contemporary Arts Space
So, I'm off to Beirut to continue to put in motion (in more ways than one) some things to do with my big solo exhibition happening in November at The Running Horse Contemporary Arts Space and very much look forward to seeing Emi Miyashita's solo show which is currently on. Here's some photos of what I remember from the Drawing Now Paris art fair which took place at the Carrousel du Louvre (I mainly remember seafood, but you can also see some Miyashita drawings nicely configured with many curious onlookers, and a few people looking at my drawing)..
Here's some photos from my last Beirut trip..
Outside In / Impact Art Fair
Finally, when I get back from Beirut, on the very same day in fact, I'll be picking up art works and rushing over to the Impact Art Fair in Brixton, London, UK to help out with Outside In's booth. The day I'm speaking of is Thursday 25th July. I'll enjoy the preview night (I will!) and then head over and do a little DJ set at The Sun also in Brixton. That's the plan anyway, but considering I have to get up at 4am and nomadically transport myself around for the following 20 hours, I might not make it to The Sun, but I really want to! I think I will. I can be a trooper. I'll also be at the Impact Art Fair on Sunday 28th July (the last day) invigilating the Outside In booth, so if you're around, do drop in and check out some art! Come keep me company.. all of the above.
Final Thoughts
I can't seem to get into the habit of writing these blog entries more regularly, in more digestible doses, but I suppose it goes with my character to build and build and build and then deliver, so that's the way it is. If you've cared to read this far down, good on you! I'll be back with more in a while, but be sure to check some of the above stuff out when it's happening.
Enjoy the summer,
Carlo.
5 Apr 2013, 7:08pm
Boy talks Boy travels Uncategorized: Amsterdam Outsider Art Gallery Carrousel du Louvre Christian Berst Circus Terminal Creative Growth David MacLagan Drawing Now Paris Eight Arms of Inspiration emi miyashita Halle Saint Pierre Hey! magazine ICA James Brett Jarvis Cocker Jinxi Caddel Line Let Loose Outsider Art Running Horse Contemporary Arts Space Spiral 5th World The Museum of Everything
by
admin
leave a comment
…………………………………………………………………………………………
……………………………………….
.
2013..
So, it appears this is my first post of 2013?! Where does the time go?!! Well, I guess all the 12 hour days of painting I've been doing is where. It's not too out of control though, or 'too in control' should I say. I don't need to put reminders in my phone about eating and showering, at least.. anyhow, art. Yes.. I am normally backed up 2-3 years as it takes time to execute projects and when I have an idea I want to do, I am uncompromisingly stubborn about doing it, regardless of when it will be, and I do things in order, so if I have an idea and it takes 3 years to reach an available time, that's when I start. One such project is my next solo exhibition which is set for the end of this year. I've been wanting to do it for almost 5 years I think. It is focussed on a series of spiral-based works. Incidentally, this mix up about the end of the world/December 2012/the supposed Mayan prophecies that were actually a misconstrued version of Sumerian ideologies, brought to light something that the Mayans do have in one of their calendars, and that is the Spiral 5th World, what we are entering in 2013. I've been drawing spirals since I was an early teen or further back than that. That this Spiral 5th World is meant to be this year and it coincides with my solo exhibition of spiral based works is at the very least amusing to me, or maybe there is something to it, who knows!? Anyhow, as I've not written in this news blog for some time, I should address a few current on-goings…
My Website, Updated!
Thanks to sleepless Noel putting the time in (I owe him some fine dining), my website now contains a few additional images for you to peruse, so please go and zoom your hearts out! Also, the bio has been brought up to date. www.carlokeshishian.com
From 11th-14th of April (next week!), the Drawing Now Paris art fair will take place, and I've got something showing with The Running Horse Contemporary Arts Space. Very happy to be shown alongside the wonderful work of Emi Miyashita.  I'm very excited about this as I love Paris, and I love that there is a whole art fair dedicated to drawings with galleries from around the world showing. There's a couple of other galleries/organisations showing that I admire a lot also, so looking forward to seeing their stands especially too.. The Parisian gallery Christian Berst, and the Creative Growth group from California are of note. I don't believe in coincidence but for lack of a better word, one is occurring in the form of the Hey! Part 2 exhibition at the Halle Saint Pierre's coinciding with my being in Paris due to being shown in an art fair. I was there for the Hey! exhibition in late 2011 and absolutely loved the show and the gallery/museum, and somehow the stars have aligned or something.. looking forward!
Books
Yes, people still read these things, and people still publish them. I am in a couple that are both available to buy! Well, one is out and the other is available for pre-order.. hmmm.. Maybe I will give them both individual attention, look:
Eight Arms of Inspiration: The Octopus Art Project
This is a big hardback book by Jinxi Caddel with the works of over 440 artists paying hommage to that cephalopod I am especially fond of, the octopus. Naturally, I have an image in there. Page 147, I believe. There's a section for tattoos, a section for fine art, digital art, jewellery, any art form you can think of. Unfortunately it is difficult to get this book outside of the U.S.A. so I'm gonna have to wait a while before getting my hands on one, but if you can't live without it or live in the USA, you can order it here or here. Here's a photo of the book, and a short video: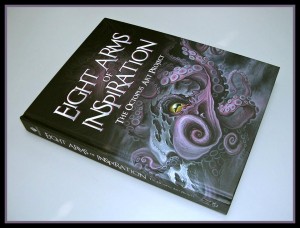 Line Let Loose: Scribbling, Doodling and Automatic Drawing
I'm super excited about this book. I'd read David MacLagan's Outsider Art: From the Margins to the Marketplace  book a few years back, and so to be contacted by him asking if he could include a couple of images of mine in his new book was a pleasant surprise considering I'd never met him or anything. Eventually, it also came to be that one of my images is being used for the cover of the book as can be seen in the image below. This one isn't quite out yet but can be pre-ordered from here or here or here or various other book stockists that your search engine will lead you to, if you are in other parts of the world etc… below the image of the book, I've put a lengthy video of Mr.MacLagan speaking with James Brett of target="_blank">The Museum of Everything and Jarvis Cocker of Pulp, on the topic of Outsider Art at the ICA in London.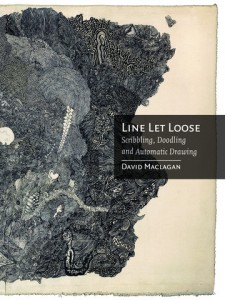 Circus Terminal in Amsterdam
Well, that's enough for you to chew on for now.. Next update will most likely be about the Circus Terminal exhibition that will take place in Amsterdam in July. I'll be showing with them, and hopefully taking part in some live art action. It should be a lot of fun, so if you are in Amsterdam, please come and join! More details to follow..
Take care,
Carlo
5 Oct 2012, 1:39pm
Boy shows you his... Boy talks Boy travels Uncategorized: A Joyful Noise Annoushka Jewelery Arkestra Circus Terminal Dannielle Hodson David Johnson France InPerson Jasna Nikolic Jazz Jean Dubuffet Retrospective Liverdun Lorraine Marshall Allen Mixcloud Morris Minor Outside In Outside In:National Pallant House Gallery Radio Rose Knox-Peebles Royal Academy Workshop Saatchi Online Station898fm.net Sun Ra Transitions
by
admin
1 comment
…………………………………………………………………………………………
……………………………………….
.
No, I'm Not Drawing Parallels About the Universe and Feces…
That would be difficult to draw. Or maybe not? Anyway, I will, however, summarize what's been going on with me and stuff. Hmmm.. thinking about it now, it may make more sense to post a few blog updates rather than make one overwhelming intense block of information.. but I've started now, so…
Jazz Radio Show
I've been doing a weekly Jazz radio show which can be listened to live every Tuesday via www.station898fm.net if you go to where it says 'listen' and click on the link that opens in itunes or realplayer etc… I think it may not work with certain browsers. Anyhow, this is at around 11am-1pm GMT. I also upload the shows to my archive on Mixcloud, here. Towards the end of September I aired a two and a half hour Sun Ra special that I, modesty aside, put together quite thoroughly and in as much detail as I could within the time constraints. So whether you are a fan or want to begin your learning journey, go check it out. I chronologically play music that Sun Ra and his Arkestra made from 1955 until the present day, almost playing something for every year. I narrate passages from the excellent biography, and play a few portions of the wonderful documentary target="_blank">A Joyful Noise. Lastly, I even inserted an interview I conducted over the phone with Marshall Allen, who currently leads the Arkestra and has now been doing so for almost 20 years. He is currently 89 years of age and joined the group in 1958, so if you're curious, you know what to do.
Circus Terminal in France
Much to my surprise, the Circus Terminal have included some of my prints in an exhibition they had at a chateaux in Liverdun, Lorraine, France. I was browsing their photo album on a certain face-based website and I saw this photo! :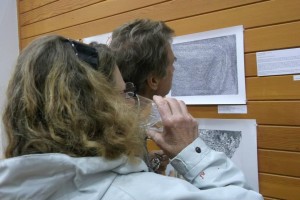 I do like how my work forces people to get closer and make an effort to look. Interestingly, something I am working on right now requires standing quite far away from it to see it properly.. Sometimes these things occur to me by surprise. I didn't intend to do the opposite, but a lot of my work explores push and pull, paradoxes etc, so even on a subconscious level I seem to be putting these angles in.
London Show at Annoushka with Outside In
Myself, Dannielle Hodson and Jasna Nikolic are showing in a group show at Jewellery boutique Annoushka just off of the King's Road in London, near Sloane Square tube station. If you are around, do drop in and take a look. It's on until the 20th October, and a rare London outing of my work! Art collector (and lovely lady) Rose Knox-Peebles put it quite nicely when she said to me: "Your bit of wall was magnificent – just black and grey amongst all the bling." The opening was quite prestigious and interesting. The fancy dinner at Hix Belgravia after tasted just marvelous, courtesy of Coutts private bank. Yes it was all rather surreal. I didn't take a camera and though there were lots of flashing lights, they didn't seem interested in the artists, but rather models, dogs and local celebrity. I am a little bit visible in photo 15/15, on the right, in the darkness, look closely, next to Jennie from Outside In.. yes, we're all in the same universe!
Saatchi Popularity Contest
Just across the street from Annoushka, Saatchi are doing another popularity contest and I have entered again, though am not campaigning hard like I did around the same time last year. I've penetrated the consciousness of Saatchi Gallery's Director and am hoping she will cross the street and go look at my work at Annousha, though I doubt she will. Her reply simply addressed my cynicism regarding their voting system, which she claims has changed since last year, though I challenged her on these claims. Anyhow, I will shut up. Click, look, and click again, if you care to vote for me. the theme is 'places and spaces', so I entered my Morris Minor.
Outside In: National and Jean Dubuffet
Well, it's almost time for the Outside In:National exhibition launch! I'm quite excited about this on several levels. It will take place at the one and only Pallant House Gallery in Chichester, UK. I was on the selection committee and given the exciting/hellish task of assessing the 2,310 entries which have now been averaged out based on the 4 selectors results, into around 80 or so art works that will go on display from 27th Oct- 3rd Feb 2013. Running alongside this exhibition will be 'Transitions', a retrospective of Jean Dubuffet's work from 20th Oct- 3rd Feb 2013. I have been commissioned to make an art work which will be made into a limited edition print that will be given to the supporters of the exhibition. Those who have helped fund it, and those who are lending work, from museums and private collections etc… My original will also be exhibited within the retrospective.
Royal Academy Workshop
While I'm here, I may as well mention an InPerson 'art jam'-themed workshop I am doing with David Johnson at the Royal Academy of Arts, London. It's a little way off still but as I don't post in the blogtopus very often,… It's on November 9th from 6-8pm and will involve collaborative art making, in various forms.
Well, there you have it.
Look mum (/mom), I'm a busy boy!
Carlo. x