12 Sep 2012, 10:50am
Boy talks Uncategorized: 100 Curators 100 Days Flora Fairbairn James Lake Outside In Richard Wilson Saatchi Online
by
admin
leave a comment
…………………………………………………………………………………………
……………………………………….
.
Yes, it's true.. I still exist…
So, I haven't been updating the blog in recent months. Fear not. I am still actively making my mark(s). What to tell you…. Well, I spent a couple of weeks assessing 2,310 art works for the Outside In: National competition/exhibition. Quite a dynamic process indeed! I'm really looking forward to the exhibition now. It's interesting being on this side of things. 3 years ago, i was submitting work and was one of the 6 winners as an outcome, and have gone from strength to strength ever since, thanks to Outside In's continual support too.
What else, what else.. Well, staying with the Outside In stuff, they've just successfully exhibited Outside In:London at the Cafe Gallery in Southwark Park. To go with this, James Lake's GoldRun:Remix was exhibited/performed at Dilston Grove, also in Southwark Park. I was in awe when I caught it last Sunday. Unfortunately both of these shows are over now, but I got a couple of photos of James Lake's cardboard creations, as he cuts lots of thin strips of cardboards to create his work. Simply beautiful stuff.. It was good to finally meet him, and I also had a little chat with Richard Wilson who mentored James through the project. He's a pleasant fellow. I expressed my inability to process logic in regards to the Saatchi Gallery's re-assembling of his large pool of oil piece ('20:50′ I think it was called?), and their not letting people walk into the piece as originally intended. That is what makes the piece, in my opinion, and I was quite sure this was the point of it, physically/mentally. I experienced it the way it should be experienced, around the turn of the century. Wilson said he had no rights over it now and he seemed to agree it's a shame, but even if they were to have people queuing, they are afraid that in that space, people would throw things in the oil, or that some would spill etc.. Was good to ask Wilson about it though, and to hear his view..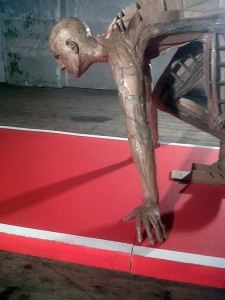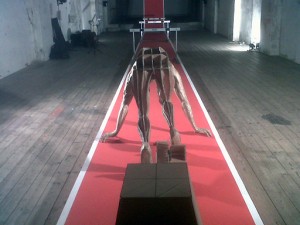 In other news, I was recently featured by curator Flora Fairbairn in  her selection of 10 artists on Saatchi Online's 100 Curators 100 Days. The concept, birthed by the Director of the Saatchi Gallery in London, is that each day for 100 days, a different hand-picked curator will 'exhibit' 10 artists that they've picked out from the 64,000+ artists on the Saatchi Online website.
That's all for now but things are simmering. I'll bring it to the table when it's cooked.
Bye for now,
Carlo