5 Oct 2012, 1:39pm
Boy shows you his... Boy talks Boy travels Uncategorized: A Joyful Noise Annoushka Jewelery Arkestra Circus Terminal Dannielle Hodson David Johnson France InPerson Jasna Nikolic Jazz Jean Dubuffet Retrospective Liverdun Lorraine Marshall Allen Mixcloud Morris Minor Outside In Outside In:National Pallant House Gallery Radio Rose Knox-Peebles Royal Academy Workshop Saatchi Online Station898fm.net Sun Ra Transitions
by
admin
1 comment
…………………………………………………………………………………………
……………………………………….
.
No, I'm Not Drawing Parallels About the Universe and Feces…
That would be difficult to draw. Or maybe not? Anyway, I will, however, summarize what's been going on with me and stuff. Hmmm.. thinking about it now, it may make more sense to post a few blog updates rather than make one overwhelming intense block of information.. but I've started now, so…
Jazz Radio Show
I've been doing a weekly Jazz radio show which can be listened to live every Tuesday via www.station898fm.net if you go to where it says 'listen' and click on the link that opens in itunes or realplayer etc… I think it may not work with certain browsers. Anyhow, this is at around 11am-1pm GMT. I also upload the shows to my archive on Mixcloud, here. Towards the end of September I aired a two and a half hour Sun Ra special that I, modesty aside, put together quite thoroughly and in as much detail as I could within the time constraints. So whether you are a fan or want to begin your learning journey, go check it out. I chronologically play music that Sun Ra and his Arkestra made from 1955 until the present day, almost playing something for every year. I narrate passages from the excellent biography, and play a few portions of the wonderful documentary target="_blank">A Joyful Noise. Lastly, I even inserted an interview I conducted over the phone with Marshall Allen, who currently leads the Arkestra and has now been doing so for almost 20 years. He is currently 89 years of age and joined the group in 1958, so if you're curious, you know what to do.
Circus Terminal in France
Much to my surprise, the Circus Terminal have included some of my prints in an exhibition they had at a chateaux in Liverdun, Lorraine, France. I was browsing their photo album on a certain face-based website and I saw this photo! :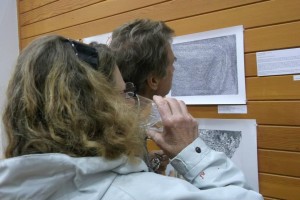 I do like how my work forces people to get closer and make an effort to look. Interestingly, something I am working on right now requires standing quite far away from it to see it properly.. Sometimes these things occur to me by surprise. I didn't intend to do the opposite, but a lot of my work explores push and pull, paradoxes etc, so even on a subconscious level I seem to be putting these angles in.
London Show at Annoushka with Outside In
Myself, Dannielle Hodson and Jasna Nikolic are showing in a group show at Jewellery boutique Annoushka just off of the King's Road in London, near Sloane Square tube station. If you are around, do drop in and take a look. It's on until the 20th October, and a rare London outing of my work! Art collector (and lovely lady) Rose Knox-Peebles put it quite nicely when she said to me: "Your bit of wall was magnificent – just black and grey amongst all the bling." The opening was quite prestigious and interesting. The fancy dinner at Hix Belgravia after tasted just marvelous, courtesy of Coutts private bank. Yes it was all rather surreal. I didn't take a camera and though there were lots of flashing lights, they didn't seem interested in the artists, but rather models, dogs and local celebrity. I am a little bit visible in photo 15/15, on the right, in the darkness, look closely, next to Jennie from Outside In.. yes, we're all in the same universe!
Saatchi Popularity Contest
Just across the street from Annoushka, Saatchi are doing another popularity contest and I have entered again, though am not campaigning hard like I did around the same time last year. I've penetrated the consciousness of Saatchi Gallery's Director and am hoping she will cross the street and go look at my work at Annousha, though I doubt she will. Her reply simply addressed my cynicism regarding their voting system, which she claims has changed since last year, though I challenged her on these claims. Anyhow, I will shut up. Click, look, and click again, if you care to vote for me. the theme is 'places and spaces', so I entered my Morris Minor.
Outside In: National and Jean Dubuffet
Well, it's almost time for the Outside In:National exhibition launch! I'm quite excited about this on several levels. It will take place at the one and only Pallant House Gallery in Chichester, UK. I was on the selection committee and given the exciting/hellish task of assessing the 2,310 entries which have now been averaged out based on the 4 selectors results, into around 80 or so art works that will go on display from 27th Oct- 3rd Feb 2013. Running alongside this exhibition will be 'Transitions', a retrospective of Jean Dubuffet's work from 20th Oct- 3rd Feb 2013. I have been commissioned to make an art work which will be made into a limited edition print that will be given to the supporters of the exhibition. Those who have helped fund it, and those who are lending work, from museums and private collections etc… My original will also be exhibited within the retrospective.
Royal Academy Workshop
While I'm here, I may as well mention an InPerson 'art jam'-themed workshop I am doing with David Johnson at the Royal Academy of Arts, London. It's a little way off still but as I don't post in the blogtopus very often,… It's on November 9th from 6-8pm and will involve collaborative art making, in various forms.
Well, there you have it.
Look mum (/mom), I'm a busy boy!
Carlo. x
12 Sep 2012, 10:50am
Boy talks Uncategorized: 100 Curators 100 Days Flora Fairbairn James Lake Outside In Richard Wilson Saatchi Online
by
admin
leave a comment
…………………………………………………………………………………………
……………………………………….
.
Yes, it's true.. I still exist…
So, I haven't been updating the blog in recent months. Fear not. I am still actively making my mark(s). What to tell you…. Well, I spent a couple of weeks assessing 2,310 art works for the Outside In: National competition/exhibition. Quite a dynamic process indeed! I'm really looking forward to the exhibition now. It's interesting being on this side of things. 3 years ago, i was submitting work and was one of the 6 winners as an outcome, and have gone from strength to strength ever since, thanks to Outside In's continual support too.
What else, what else.. Well, staying with the Outside In stuff, they've just successfully exhibited Outside In:London at the Cafe Gallery in Southwark Park. To go with this, James Lake's GoldRun:Remix was exhibited/performed at Dilston Grove, also in Southwark Park. I was in awe when I caught it last Sunday. Unfortunately both of these shows are over now, but I got a couple of photos of James Lake's cardboard creations, as he cuts lots of thin strips of cardboards to create his work. Simply beautiful stuff.. It was good to finally meet him, and I also had a little chat with Richard Wilson who mentored James through the project. He's a pleasant fellow. I expressed my inability to process logic in regards to the Saatchi Gallery's re-assembling of his large pool of oil piece ('20:50′ I think it was called?), and their not letting people walk into the piece as originally intended. That is what makes the piece, in my opinion, and I was quite sure this was the point of it, physically/mentally. I experienced it the way it should be experienced, around the turn of the century. Wilson said he had no rights over it now and he seemed to agree it's a shame, but even if they were to have people queuing, they are afraid that in that space, people would throw things in the oil, or that some would spill etc.. Was good to ask Wilson about it though, and to hear his view..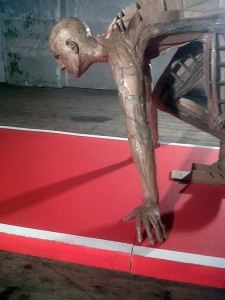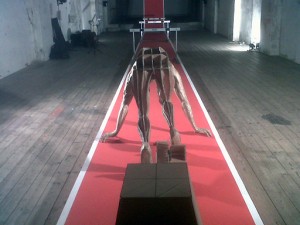 In other news, I was recently featured by curator Flora Fairbairn in  her selection of 10 artists on Saatchi Online's 100 Curators 100 Days. The concept, birthed by the Director of the Saatchi Gallery in London, is that each day for 100 days, a different hand-picked curator will 'exhibit' 10 artists that they've picked out from the 64,000+ artists on the Saatchi Online website.
That's all for now but things are simmering. I'll bring it to the table when it's cooked.
Bye for now,
Carlo
17 Oct 2011, 7:28pm
Boy talks: Alfred Tarazi Daniel Johnston Don Van Vliet Hans Feibusch Nick Blinko Palais de Tokyo Pat Douthwaite Rasha Kahil Running Horse Contemporary Arts Space Saatchi Online Slick Art Fair Step Up vagina Wesley Willis
by
admin
leave a comment
…………………………………………………………………………………………
……………………………………….
.
Eggsciting Occurrences 
Several eggs have hatched as of late.
Firstly, I have been running a few workshops for both Hans Feibusch Club and Step Up, both having taken place at Pallant House Gallery in Chichester. It's been great fun and I hope to do more workshops soon. The Feibusch workshops were based on my own design and we looked at the work of Nick Blinko, Wesley Willis, Daniel Johnston, and Don Van Vliet, exploring the relationship between visual art and music when existing within a single person, and the way subconsciously, or consciously, often similar processes are used through the different mediums, due to the characteristics in one's personality. In the Step Up workshop, we looked at the work of Pat Douthwaite and spent the morning drawing and painting with our 'alternate hands' in order to free up and execute the work from a different place. It can be quite enjoyable. Try it if you wish..
The image below of Wesley Willis's lyrics mirrors the structures of his songs, and the way his lyrics are written also reflect his systematic drawing style. An example of how process is similarly applied throughout his output.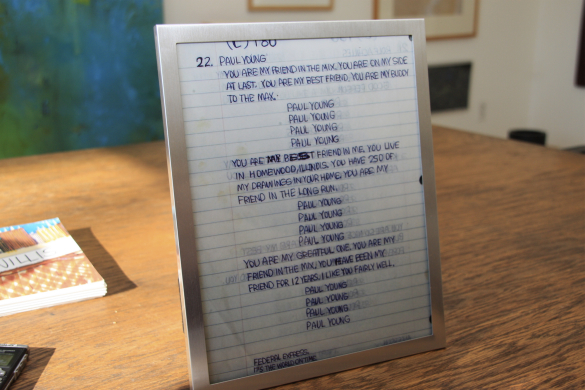 In other news, I seem to have found myself absorbed into a form of popularity contest. I first entered the Saatchi Online Showdown competition back in 2007 and realized that unless I was going to fully campaign to get all sorts of people to vote for me, there was no chance of 'winning'. I think what happened this time was the competition is solely based on drawings and upon seeing this, for whatever reason I felt like entering a drawing in a momentarily passive state of activity. I didn't look back at it until it came to my attention via email again a couple of weeks later, and I was made aware that I was in 364th place of 1200. Also, I discovered the top 300 make it to the next phase of voting, the jury vote. So I had a sort of incentive to apply further effort, having achieved this placement without telling a single soul about it, getting only votes from random people on the site thus far. The result of my asking for votes, and actually enjoyably connecting with people I may not correspond with often and having this little reason to underlying, was my floating between 128-270, which has been fluctuating quite dramatically, but remaining in the top 300. This public voting phase ends tomorrow sometime, so if anyone is reading this and hasn't voted and would care to, please click here   It's my little over-loaded man again.
Lastly, but certainly not least, some of my work will be shown with the Running Horse Contemporary Arts Space at stand G3 alongside works by Rasha Kahil, Hiba Kalache and Alfred Tarazi from October 20 -23rd at the Slick 11 art fair taking place at the Palais de Tokyo in Paris. I wonder how much has changed since I was last there as a pre-pubescent. I will find out and try to work through my more than ambitious list of places to go in the little time I have there. Private view is tomorrow (18th Oct) and I guess the 19th might be open to some people too somehow.
That's all for now.. I will leave you with this little vagina I painted a month or so ago, come in if you wish. haw haw haw.