17 Jul 2013, 3:21pm
Boy shows you his... Boy talks Boy travels Uncategorized: Carrousel du Louvre Circus Terminal Drawing Now Paris emi miyashita Impact Art Fair Julia Sisi Liz Parkinson Outside In Outsider Art Outsider Art Amsterdam Running Horse Contemporary Arts Space
by
admin
leave a comment
…………………………………………………………………………………………
……………………………………….
.
I'm back from Amsterdam. Nice place. Pockets of land with windy water passages throughout. The place is not short of record stores. Good to see  that vinyl all around town. The Circus Terminal came to town and we had a lot of fun..
Circus Terminal Amsterdam
The opening took place last Saturday at Amsterdam Outsider Art. With 85 artists from 19 countries being represented, you certainly get an overwhelming sensation of creative energy channeled through your optical orifices through to your brain, soul, and wherever else allows. A dynamic experience for sure, with raw ox meat and olives tantalising the taste-buds and illusory potential brides in a seemingly physical form, interacting with the onlookers. She was also there the following day, I am pretty sure, though perhaps I was just in a strange dream. There are photos though, so it must have been real. Click on these to see larger images..
The following day, I took it upon myself to lead and initiate a collaborative piece, which we enjoyed adding to for a couple of hours in the garden. So far there have been contributions from 7 artists and the canvas is open to addition until the exhibition ends August 17th, so if you're in the area, make sure you get down there! Entry is free. I've got a few photos of  fellow Circus Terminalists Julia Sisi and Liz Parkinson getting involved with the collaborative canvas. I'll post a photo of the (hopefully) finished canvas in my next blog entry. Gotta send a shout-out to Nok and Bert for all their energy going into putting this all together. Also, was nice to meet Susan and Emily from Studio B based out of Boyertown, Philadelphia, USA who hosted the last Circus Terminal incarnation. I think the next one might take place in Slovenia? or Serbia? Oh wait! Before that, there is one in London, UK in early September. Stay tuned for details…
Maybe it's just my tinnitus, but turn your volume way down..
The Running Horse Contemporary Arts Space
So, I'm off to Beirut to continue to put in motion (in more ways than one) some things to do with my big solo exhibition happening in November at The Running Horse Contemporary Arts Space and very much look forward to seeing Emi Miyashita's solo show which is currently on. Here's some photos of what I remember from the Drawing Now Paris art fair which took place at the Carrousel du Louvre (I mainly remember seafood, but you can also see some Miyashita drawings nicely configured with many curious onlookers, and a few people looking at my drawing)..
Here's some photos from my last Beirut trip..
Outside In / Impact Art Fair
Finally, when I get back from Beirut, on the very same day in fact, I'll be picking up art works and rushing over to the Impact Art Fair in Brixton, London, UK to help out with Outside In's booth. The day I'm speaking of is Thursday 25th July. I'll enjoy the preview night (I will!) and then head over and do a little DJ set at The Sun also in Brixton. That's the plan anyway, but considering I have to get up at 4am and nomadically transport myself around for the following 20 hours, I might not make it to The Sun, but I really want to! I think I will. I can be a trooper. I'll also be at the Impact Art Fair on Sunday 28th July (the last day) invigilating the Outside In booth, so if you're around, do drop in and check out some art! Come keep me company.. all of the above.
Final Thoughts
I can't seem to get into the habit of writing these blog entries more regularly, in more digestible doses, but I suppose it goes with my character to build and build and build and then deliver, so that's the way it is. If you've cared to read this far down, good on you! I'll be back with more in a while, but be sure to check some of the above stuff out when it's happening.
Enjoy the summer,
Carlo.
5 Apr 2013, 7:08pm
Boy talks Boy travels Uncategorized: Amsterdam Outsider Art Gallery Carrousel du Louvre Christian Berst Circus Terminal Creative Growth David MacLagan Drawing Now Paris Eight Arms of Inspiration emi miyashita Halle Saint Pierre Hey! magazine ICA James Brett Jarvis Cocker Jinxi Caddel Line Let Loose Outsider Art Running Horse Contemporary Arts Space Spiral 5th World The Museum of Everything
by
admin
leave a comment
…………………………………………………………………………………………
……………………………………….
.
2013..
So, it appears this is my first post of 2013?! Where does the time go?!! Well, I guess all the 12 hour days of painting I've been doing is where. It's not too out of control though, or 'too in control' should I say. I don't need to put reminders in my phone about eating and showering, at least.. anyhow, art. Yes.. I am normally backed up 2-3 years as it takes time to execute projects and when I have an idea I want to do, I am uncompromisingly stubborn about doing it, regardless of when it will be, and I do things in order, so if I have an idea and it takes 3 years to reach an available time, that's when I start. One such project is my next solo exhibition which is set for the end of this year. I've been wanting to do it for almost 5 years I think. It is focussed on a series of spiral-based works. Incidentally, this mix up about the end of the world/December 2012/the supposed Mayan prophecies that were actually a misconstrued version of Sumerian ideologies, brought to light something that the Mayans do have in one of their calendars, and that is the Spiral 5th World, what we are entering in 2013. I've been drawing spirals since I was an early teen or further back than that. That this Spiral 5th World is meant to be this year and it coincides with my solo exhibition of spiral based works is at the very least amusing to me, or maybe there is something to it, who knows!? Anyhow, as I've not written in this news blog for some time, I should address a few current on-goings…
My Website, Updated!
Thanks to sleepless Noel putting the time in (I owe him some fine dining), my website now contains a few additional images for you to peruse, so please go and zoom your hearts out! Also, the bio has been brought up to date. www.carlokeshishian.com
From 11th-14th of April (next week!), the Drawing Now Paris art fair will take place, and I've got something showing with The Running Horse Contemporary Arts Space. Very happy to be shown alongside the wonderful work of Emi Miyashita.  I'm very excited about this as I love Paris, and I love that there is a whole art fair dedicated to drawings with galleries from around the world showing. There's a couple of other galleries/organisations showing that I admire a lot also, so looking forward to seeing their stands especially too.. The Parisian gallery Christian Berst, and the Creative Growth group from California are of note. I don't believe in coincidence but for lack of a better word, one is occurring in the form of the Hey! Part 2 exhibition at the Halle Saint Pierre's coinciding with my being in Paris due to being shown in an art fair. I was there for the Hey! exhibition in late 2011 and absolutely loved the show and the gallery/museum, and somehow the stars have aligned or something.. looking forward!
Books
Yes, people still read these things, and people still publish them. I am in a couple that are both available to buy! Well, one is out and the other is available for pre-order.. hmmm.. Maybe I will give them both individual attention, look:
Eight Arms of Inspiration: The Octopus Art Project
This is a big hardback book by Jinxi Caddel with the works of over 440 artists paying hommage to that cephalopod I am especially fond of, the octopus. Naturally, I have an image in there. Page 147, I believe. There's a section for tattoos, a section for fine art, digital art, jewellery, any art form you can think of. Unfortunately it is difficult to get this book outside of the U.S.A. so I'm gonna have to wait a while before getting my hands on one, but if you can't live without it or live in the USA, you can order it here or here. Here's a photo of the book, and a short video: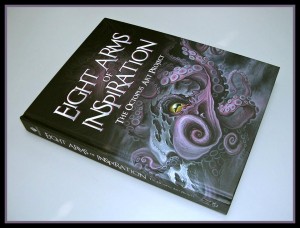 Line Let Loose: Scribbling, Doodling and Automatic Drawing
I'm super excited about this book. I'd read David MacLagan's Outsider Art: From the Margins to the Marketplace  book a few years back, and so to be contacted by him asking if he could include a couple of images of mine in his new book was a pleasant surprise considering I'd never met him or anything. Eventually, it also came to be that one of my images is being used for the cover of the book as can be seen in the image below. This one isn't quite out yet but can be pre-ordered from here or here or here or various other book stockists that your search engine will lead you to, if you are in other parts of the world etc… below the image of the book, I've put a lengthy video of Mr.MacLagan speaking with James Brett of target="_blank">The Museum of Everything and Jarvis Cocker of Pulp, on the topic of Outsider Art at the ICA in London.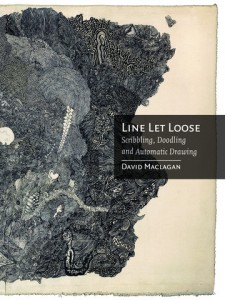 Circus Terminal in Amsterdam
Well, that's enough for you to chew on for now.. Next update will most likely be about the Circus Terminal exhibition that will take place in Amsterdam in July. I'll be showing with them, and hopefully taking part in some live art action. It should be a lot of fun, so if you are in Amsterdam, please come and join! More details to follow..
Take care,
Carlo