14 Feb 2017, 7:26pm
Boy shows you his... Uncategorized: abcd collection Adolf Wolfli Aloise Corbaz Brian Robert Gibson Carlo Keshishian Cathy Ward Circus Terminal diary drawings Eternod/Mermod Collection Ian Pyper Itch FM Joe Dub Liz Parkinson NTS Outside In Outsider Art Fair Outsider Art Fair Paris Pier Makanda San Fransisco Street Music See's To Exist Show SFSM Uncooked Culture Who Cares? And Unkowns
by
admin
leave a comment
Outsider Art Fair Paris 2016
Greetings. As the last update was left on the ponderous note of anticipation for what was to come in the form of the Outsider Art Fair Paris, I shall provide you with the outcome.. firstly, I have written at length about it here for Outside In. Having just revisited this writing now, I don't think I need to add much more here. The New York edition of the fair celebrated its 25th year earlier this month and it seems the momentum has really picked up in the last few years with more attendance, media coverage and general awareness seemingly bringing the field noticeably within view from in the shadows.
ABDC Collection
Following on from the Paris fair, I'm pleased to announce some of my recordings have found a home in the unparalleled ABCD collection. See here.
Radio Shows, Itch FM, NTS and Mixcloud: See's To Exist Show / Who Cares? And Unknowns
For those that have been following my See's To Exist Show Jazz based radio shows in the last few years, a metamorphosis is currently taking place. For various reasons, I've had to call it a day in regards to providing a weekly show at Itch FM, which has been a great experience and I will forever rep the Itch family. I wasn't sure what form, if any, See's To Exist Show will continue to exist as, and started to put in place the creation process of a new podcast which would not be restricted by genre or time in terms of how frequently new editions would come into being, or how much time they would each run for. This show is called Who Cares? And Unknowns, of which the first instalment has now been uploaded in two parts (clocking in altogether at somewhere around the 5 hour mark). This first instalment is focussed on Joe Dub, one of the West Coast's best kept secrets in terms of underground Hip Hop (of the Americas). I first came across his music in the form of a cassette that was given to me in 1997-98, containing material by his then group San Francisco Street Music, that I would years later find out is titled 'The Pride'. A cassette intrinsic to the development of my own approach to a lot of things, to this day. In a previous blog entry, I highlight some record adapters I designed for Joe's current project, and we have had an interesting exchange since the turn of the last century. He has recorded with the who's who of mythical underground West Coast artists such as Deeskee, 2Mex, Abstract Rude, Doc Lewd, Awol One, Circus, Liferexall, Neila, Dave Dub, Ellay Khule, and a near endless list of others. In these shows I provide a generous quantity of his recordings, more or less chronologically, including collaborations with Devin The Dude, Topic, Factor, Alex 75 and many more.. You can check part 1 and part 2 out now. Enjoy.
I am proud to announce that See's To Exist Show will continue, keeping more or less the same format, but will now be a monthly show courtesy of NTS. The new show will be live on Sundays, 3-5pm, the first of which can be streamed on March 12th. Tune in for more of the same unparalleled magical Jazz gems from the dusty depths of our world's near forgotten treasure crevices.
Toilet Diary
The current diary drawing I am working on has unexpectedly taken a different path. Firstly, it's is more than four times the size than the previous sequence which were all A4. Secondly, in theory the idea was to draw just one hour each day of the year, so as to contain the entire year in a measured manner. I've allocated a premeditated dimensional area divided 365 times within the page. I began drawing it a few weeks before another little collaborative creation I'm involved in, in the form of a little human, was born into being in our world. A spanner in the works of course presented itself just a few days into drawing, and with my back significantly compromised, causing me to be bed-bound for almost two weeks, I have quite some catching up to do with drawing and recollecting my thoughts, channeling the fresh impulses, etc.. I'm sure it will be an interesting challenge to the end. Other interesting new diaries being kept involve monitoring toilet activity. Who'd have thunk it. Anyhow, here is a photograph of my new diary drawing in progress, with new little human catching some z's alongside..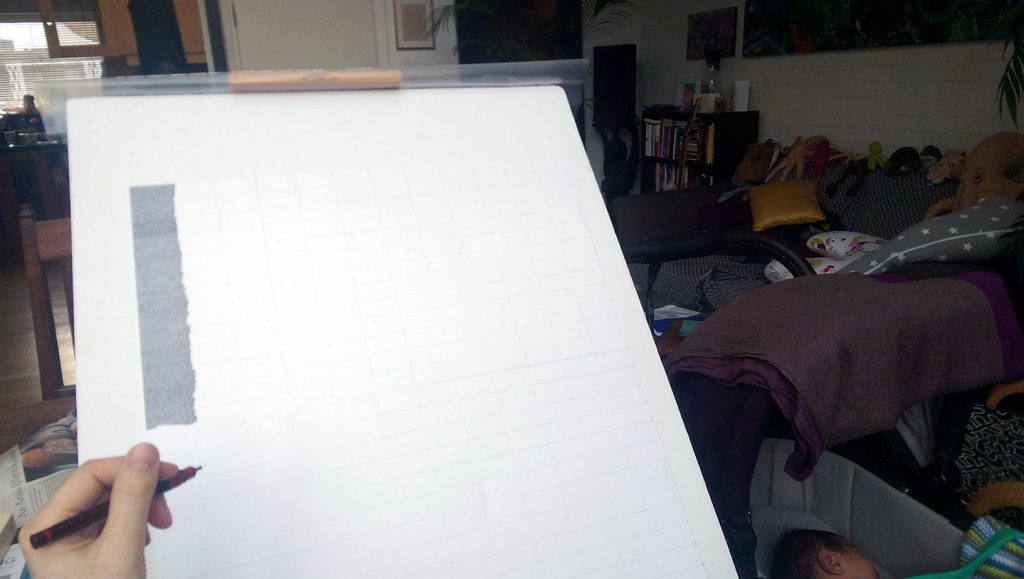 Short Film
I won't give much about this away at the moment because I'm still not sure exactly what I will do with it, but I have been working on a short film for some time now and it is near completion. I've been working on it, on and off, for the last couple of years or so in terms of filming and editing. The ideas for it, however, have slowly been simmering for over a decade and it somehow found its way into being created, which initially I hadn't intended on seeing through. More on this in the next blog entry (probably/possibly?!)..
Uncooked Culture 'Spring Showcase'
The mastermind behind the Uncooked Culture initiative and Circus Terminal touring exhibitions,The Bag Lady Nok has put in place another exhibition showcasing works by artists associated with the movement. On this occasion, you can find works by somewhere around a hundred artists. Other than myself, these include Ian Pyper, Cathy Ward, Pier Makanda, Liz Parkinson, Brian Robert Gibson and many many more. Nok's acquiring of the Bag Lady title relates to the near mythical process that has been her method in carrying hundreds of art works in one suitcase and putting exhibitions on in France, Spain, Solvenia, Holland, Suriname, Thailand, New Zealand and the U.S.A. This time around, she has set up just around the corner at The Walmer Castle pub in Notting Hill (London, UK). The address is 58 Ledbury Road, W11 2AJ. I'm not exactly sure how long the works will be up but I do know there will be a three day celebration in the upstairs bar area on the 1st, 2nd, and 3rd of March, so if you are interested in seeing some performances, hearing speeches, and mysterious improvisational happenstance intrinsic to the nature of the project, find yourself there within that window of time. On the evening of Wednesday the 1st of March, I will be DJing so if you are around and care to experience the exhibition with a soundtrack of rare spiritual Jazz potentially among other things, it's a good time to peruse. I'll leave it at that.
Until later..
Carlo
28 May 2012, 11:56am
Boy shows you his... Boy talks Boy travels: Brian Robert Gibson Dolly Sen Exhibition Fringe Arts Bath Mandie Saw Mandy Webb Mercedes Gil Michelle Kral Outside In Step Up Sugarglider Within Withou You
by
admin
leave a comment
…………………………………………………………………………………………
……………………………………….
.
Fringe Arts Bath
So, I was in Bath last Friday for the opening of Within Without You, one of the group shows taking place at The Pet Store in Bath as part of the 2012 Fringe festival. I'd decided to show my Sugar Glider vs Octopus painting and a drawing I did of an owl prior to our ending up at the fitting animal-related venue, interestingly. I just googled it to see if there is any history on the place that I could drop some knowledge on. Mysteriously not. Here is a photo of the entrance though, and I'm super glad to be showing art here: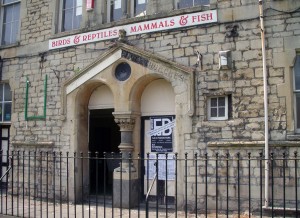 Speaking of animals, I found a nice little Italian spot where I had a luxurious dinner of cow meat. I ended up at a bar later and saw this though: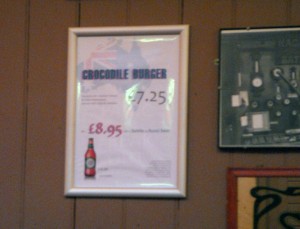 Maybe next time.
I was literally running to go pick up a sculpture for the show when I decided to stop and take a photo of the lovely scenery, and given I was sort of still running when I took the photo, it's surprising that the photo is not blurred and actually not badly composed. Bath is full of picturesque scenery like this: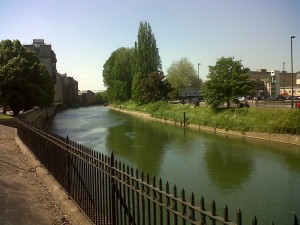 So, here's a few photos of the show.. (by the way, if you click on the images, they get bigger)
It was good to catch up with a few of the Outside In and Step Up cohorts. Massive respect to Brian Robert Gibson for putting us all on and bringing this all together. Unfortunately I received a sharp instant pain in my lower back while painting a skirting board earlier in that day and am trying to recover from it now. Hope to be back in action asap.
The show continues until June 10th, so go check out Bath and the Fringe festival in the next couple of weeks if you aren't too far away. Weather has been pleasant, so perhaps check out the open air natural mineral spring water pool at the Bath spas.. I did, it wasn't half bad.
Until next time…..
Carlo