28 May 2012, 11:56am
Boy shows you his... Boy talks Boy travels: Brian Robert Gibson Dolly Sen Exhibition Fringe Arts Bath Mandie Saw Mandy Webb Mercedes Gil Michelle Kral Outside In Step Up Sugarglider Within Withou You
by
admin
leave a comment
…………………………………………………………………………………………
……………………………………….
.
Fringe Arts Bath
So, I was in Bath last Friday for the opening of Within Without You, one of the group shows taking place at The Pet Store in Bath as part of the 2012 Fringe festival. I'd decided to show my Sugar Glider vs Octopus painting and a drawing I did of an owl prior to our ending up at the fitting animal-related venue, interestingly. I just googled it to see if there is any history on the place that I could drop some knowledge on. Mysteriously not. Here is a photo of the entrance though, and I'm super glad to be showing art here: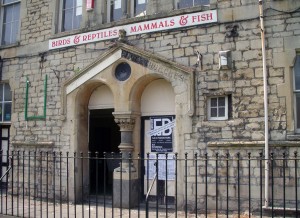 Speaking of animals, I found a nice little Italian spot where I had a luxurious dinner of cow meat. I ended up at a bar later and saw this though: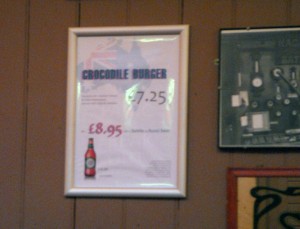 Maybe next time.
I was literally running to go pick up a sculpture for the show when I decided to stop and take a photo of the lovely scenery, and given I was sort of still running when I took the photo, it's surprising that the photo is not blurred and actually not badly composed. Bath is full of picturesque scenery like this: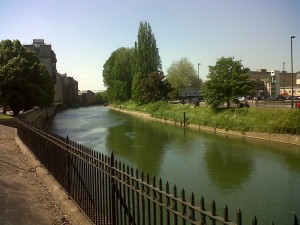 So, here's a few photos of the show.. (by the way, if you click on the images, they get bigger)
It was good to catch up with a few of the Outside In and Step Up cohorts. Massive respect to Brian Robert Gibson for putting us all on and bringing this all together. Unfortunately I received a sharp instant pain in my lower back while painting a skirting board earlier in that day and am trying to recover from it now. Hope to be back in action asap.
The show continues until June 10th, so go check out Bath and the Fringe festival in the next couple of weeks if you aren't too far away. Weather has been pleasant, so perhaps check out the open air natural mineral spring water pool at the Bath spas.. I did, it wasn't half bad.
Until next time…..
Carlo