14 Feb 2017, 7:26pm
Boy shows you his... Uncategorized: abcd collection Adolf Wolfli Aloise Corbaz Brian Robert Gibson Carlo Keshishian Cathy Ward Circus Terminal diary drawings Eternod/Mermod Collection Ian Pyper Itch FM Joe Dub Liz Parkinson NTS Outside In Outsider Art Fair Outsider Art Fair Paris Pier Makanda San Fransisco Street Music See's To Exist Show SFSM Uncooked Culture Who Cares? And Unkowns
by
admin
leave a comment
Outsider Art Fair Paris 2016
Greetings. As the last update was left on the ponderous note of anticipation for what was to come in the form of the Outsider Art Fair Paris, I shall provide you with the outcome.. firstly, I have written at length about it here for Outside In. Having just revisited this writing now, I don't think I need to add much more here. The New York edition of the fair celebrated its 25th year earlier this month and it seems the momentum has really picked up in the last few years with more attendance, media coverage and general awareness seemingly bringing the field noticeably within view from in the shadows.
ABDC Collection
Following on from the Paris fair, I'm pleased to announce some of my recordings have found a home in the unparalleled ABCD collection. See here.
Radio Shows, Itch FM, NTS and Mixcloud: See's To Exist Show / Who Cares? And Unknowns
For those that have been following my See's To Exist Show Jazz based radio shows in the last few years, a metamorphosis is currently taking place. For various reasons, I've had to call it a day in regards to providing a weekly show at Itch FM, which has been a great experience and I will forever rep the Itch family. I wasn't sure what form, if any, See's To Exist Show will continue to exist as, and started to put in place the creation process of a new podcast which would not be restricted by genre or time in terms of how frequently new editions would come into being, or how much time they would each run for. This show is called Who Cares? And Unknowns, of which the first instalment has now been uploaded in two parts (clocking in altogether at somewhere around the 5 hour mark). This first instalment is focussed on Joe Dub, one of the West Coast's best kept secrets in terms of underground Hip Hop (of the Americas). I first came across his music in the form of a cassette that was given to me in 1997-98, containing material by his then group San Francisco Street Music, that I would years later find out is titled 'The Pride'. A cassette intrinsic to the development of my own approach to a lot of things, to this day. In a previous blog entry, I highlight some record adapters I designed for Joe's current project, and we have had an interesting exchange since the turn of the last century. He has recorded with the who's who of mythical underground West Coast artists such as Deeskee, 2Mex, Abstract Rude, Doc Lewd, Awol One, Circus, Liferexall, Neila, Dave Dub, Ellay Khule, and a near endless list of others. In these shows I provide a generous quantity of his recordings, more or less chronologically, including collaborations with Devin The Dude, Topic, Factor, Alex 75 and many more.. You can check part 1 and part 2 out now. Enjoy.
I am proud to announce that See's To Exist Show will continue, keeping more or less the same format, but will now be a monthly show courtesy of NTS. The new show will be live on Sundays, 3-5pm, the first of which can be streamed on March 12th. Tune in for more of the same unparalleled magical Jazz gems from the dusty depths of our world's near forgotten treasure crevices.
Toilet Diary
The current diary drawing I am working on has unexpectedly taken a different path. Firstly, it's is more than four times the size than the previous sequence which were all A4. Secondly, in theory the idea was to draw just one hour each day of the year, so as to contain the entire year in a measured manner. I've allocated a premeditated dimensional area divided 365 times within the page. I began drawing it a few weeks before another little collaborative creation I'm involved in, in the form of a little human, was born into being in our world. A spanner in the works of course presented itself just a few days into drawing, and with my back significantly compromised, causing me to be bed-bound for almost two weeks, I have quite some catching up to do with drawing and recollecting my thoughts, channeling the fresh impulses, etc.. I'm sure it will be an interesting challenge to the end. Other interesting new diaries being kept involve monitoring toilet activity. Who'd have thunk it. Anyhow, here is a photograph of my new diary drawing in progress, with new little human catching some z's alongside..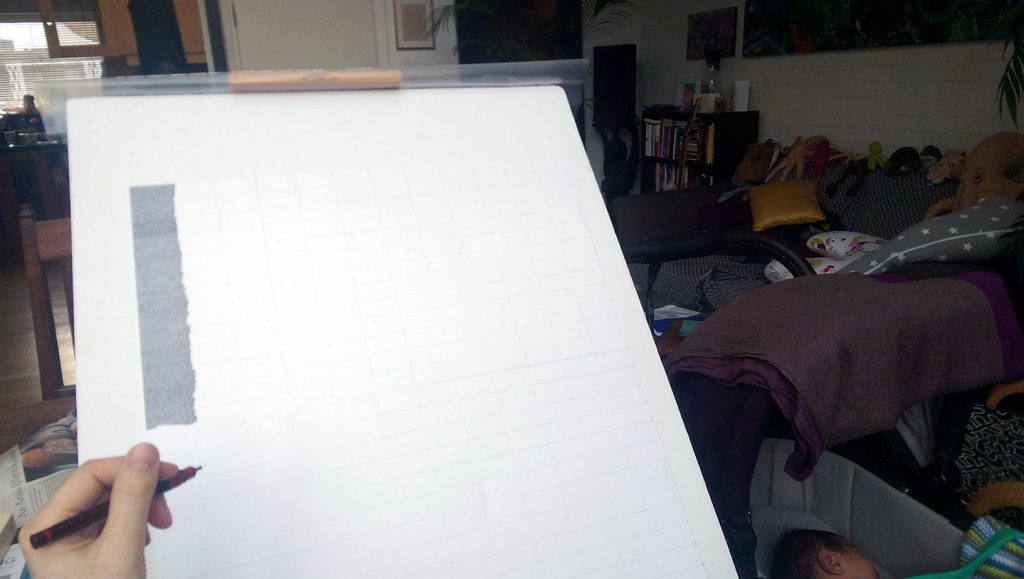 Short Film
I won't give much about this away at the moment because I'm still not sure exactly what I will do with it, but I have been working on a short film for some time now and it is near completion. I've been working on it, on and off, for the last couple of years or so in terms of filming and editing. The ideas for it, however, have slowly been simmering for over a decade and it somehow found its way into being created, which initially I hadn't intended on seeing through. More on this in the next blog entry (probably/possibly?!)..
Uncooked Culture 'Spring Showcase'
The mastermind behind the Uncooked Culture initiative and Circus Terminal touring exhibitions,The Bag Lady Nok has put in place another exhibition showcasing works by artists associated with the movement. On this occasion, you can find works by somewhere around a hundred artists. Other than myself, these include Ian Pyper, Cathy Ward, Pier Makanda, Liz Parkinson, Brian Robert Gibson and many many more. Nok's acquiring of the Bag Lady title relates to the near mythical process that has been her method in carrying hundreds of art works in one suitcase and putting exhibitions on in France, Spain, Solvenia, Holland, Suriname, Thailand, New Zealand and the U.S.A. This time around, she has set up just around the corner at The Walmer Castle pub in Notting Hill (London, UK). The address is 58 Ledbury Road, W11 2AJ. I'm not exactly sure how long the works will be up but I do know there will be a three day celebration in the upstairs bar area on the 1st, 2nd, and 3rd of March, so if you are interested in seeing some performances, hearing speeches, and mysterious improvisational happenstance intrinsic to the nature of the project, find yourself there within that window of time. On the evening of Wednesday the 1st of March, I will be DJing so if you are around and care to experience the exhibition with a soundtrack of rare spiritual Jazz potentially among other things, it's a good time to peruse. I'll leave it at that.
Until later..
Carlo
29 Dec 2015, 2:50pm
Boy shows you his... Boy talks: Ahmed Abdullah Amina Claudine Myers Carlo Keshishian Castlefield Gallery David Wertman David Wertman & The Sun Ensemble diary drawings Ed Blackwell Eternod/Mermod Collection Galerie Du Marche Joel Lorand John Sprague La Maison Rouge louis soutter Madge Gill Marion Brown Mehrdad Rashidi Nick Blinko Outside In Outsider Art Outsider Art Fair Outsider Art Fair Paris Stephen McCraven Sun Ra Sweet Earth Records The Sun Ensemble theo
by
admin
leave a comment
Outsider Art Fair Paris 2015…
Greetings friends, family, fans, followers and spies. I thought I'd write one of these posts to update everyone on some of my activities before the year is out. Firstly, as I mentioned in the previous post in September, I had two drawings shown at the Outsider Art Fair Paris thanks to Galerie du Marché and the Eternod/Mermod Collection from Lausanne, Switzerland. I must reiterate how much of an honour it is to have my drawings in their incredible collection and to be shown at their consistently strong booth, having attended the fair for several years and been absorbed by the potency and selection. This was the first time that my works have been exhibited at the fair, and I was in good company on the wall with a Louis Soutter  above me and a Theo below me, with a Madge Gill below that. As I said in my entry of reflections on the Outsider Art Fair Paris for Outside In's blog which can be read here: "In a weird way, I quite like being in the company of dead people who manage to speak from beyond the grave (and particularly in this way)." Quoting myself from other blogs, into my own. The future has arrived. Anyhow, for my perspective on the fair, click on the aforementioned link. The two diary drawings of mine that were shown were bought by the La Maison Rouge collection and a private collector. 
Diary Drawing…
I am currently drawing the 9th in my series of diary drawings, with the intention to stop at the 12th, as I'd like to continue a painting that I began in 2011 and hopefully build a series around it. Below, you can see an image capturing a moment in the process of my current diary in progress..
Castlefield Gallery… Inside Out
I am pleased to announce that some of my work will be shown in Inside Out, an exhibition with a very interesting roster of artists, at the Castlefield Gallery in Manchester, UK. The show will be on from 4th March until 24th of April. For (a lot of) additional info, check out the first link in this paragraph. I'll go into some more detail about this exhibition in my next blog post, but for now I will say I am very excited to discover I'll have works shown alongside Nick Blinko, Joel Lorand and Mehrdad Rashidi.
Sweet Earth Records
I undertook a most pleasurable adventure in recent months, in an attempt to shed light on a somewhat obscure, short-lived record company that was active between 1977-1979. My curiosity resulted from a variety of 'coincidences' in regards to the records that were released on the label, most of which are rare and all out of print with the exception of Sun Ra's The Other Side Of The Sun which saw a reissue through another label in recent years. In my attempt to demystify the story of Sweet Earth Records, I managed to speak with John Sprague who kindly elaborates on his memories of performing and recording with David Wertman and The Sun Ensemble, as well as his involvement with the label and their releases. I also speak with the legendary Amina Claudine Myers about her album Poems For Piano 'The Piano Music of Marion Brown', I chat with the charismatic Stephen McCraven who kindly invited me in his home to speak on his classic Wooley The Newt LP, and lastly I interview the great Ahmed Abdullah about a Sweet Earth Records non-release and what would have been Ed Blackwell's first album as leader. As far as I know, there isn't really even a synopsis of what Sweet Earth Records were about, online, let alone an exploratory show containing interviews with someone associated with each release to come out on the label, which is what I've managed to piece together. I hope you enjoy it. With that, I'll stop typing and leave you with those two hours of audio Sweet Earth Records special / See's To Exist show. Happy New Year!
Bright moments,
Carlo
23 Sep 2015, 12:43pm
Boy shows you his... Boy talks Uncategorized: Adolf Wolfli Aloise Corbaz Artlicks Carlo Zinelli diary drawings Edmund Monsiel Eternod/Mermod Collection Galerie Du Marche Hotel Elephant Madge Gill Outsider Art Fair Outsider Art Fair Paris Raphael Lonne Scottie Wilson
by
admin
leave a comment
Artlicks Weekend/Hotel Elephant…
Welcome once again or for the first time. If you are sitting in silence, let me take this opportunity to momentarily redirect you to the archive of my weekly radio shows, in case you'd like a soundtrack to reading my blog. Go here and pick any of the hundred or so shows I've executed in my life as a radio DJ thus far. Don't forget to come back though.
My first bit of news is that I'll have some work showing in London (UK) again, finally. This will occur between the 1st-4th October. The opening is on the evening of Thursday the 1st of October from 6-9pm and then you will be able to come and see the following few days (Fri, Sat, Sun) from 12-6pm. Courtesy of Hotel Elephant as part of the Artlicks Weekend. The address is 23 Harper Road SE1 6AW. This location is just a few minutes walk from Borough station, or Elephant & Castle. For further info, you can use your search engine(s) or try these links: 1 and 2 and here's another.. 3
Outsider Art Fair Paris 2015
I'm very pleased to announce that some of my work will be shown at this year's Paris edition of the Outsider Art Fair, thanks to Galerie du Marché and the Eternod/Mermod Collection from Lausanne, Switzerland. It is an honour to have works in their highly impressive collection containing master works by Aloïse Corbaz, as well as works by some of my favourite artists (Edmund Monsiel, Carlo Zinelli, and Raphaël Lonné). Madge Gill, Scottie Wilson, and Adolf Wölfli are among the legendary names whose works can also be seen in the Eternod/Mermod Collection. The fair runs from October 22nd-25th. See website for further details. Here. 
Diary Drawing, March-September 2015
I'm very pleased to announce that I've completed another diary drawing. This time surpassing any previous shift in increments by a surprising amount, in regards to the amount of words contained in the drawing, which on this occasion clocks in at 11,273 words. The last couple of drawings were around 7,000 words each, and the one before that had the highest word count previously, at 9,539. Here is an image of the latest drawing.. (click on it for a larger view).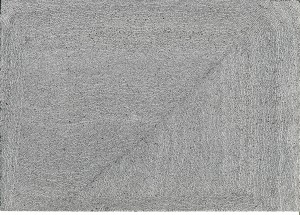 Thanks for reading (and listening?)                                                                                                                    Bright moments,                                                                                                                                                      Carlo