3 Sep 2019, 1:51pm
Boy shows you his... Uncategorized: AACM Adamson Collection Trust Adolf Wolfli African Skies Aloise Corbaz Amelie Ravalec Art & Mind Artistic Heritage Ensemble Augustin Lesage David O Flynn Derk Reklaw diary drawings Earth Wind and Fire Edmund Monsiel Edvard Munch Francisco Goya frankiphone Hieronymus Bosch ICA John Maizels Josefe Marie Verna Kelan Phil Cohran and Legacy Mad Pride Mad Pride All-dayer Madge Gill Nick Blinko NTS Radio Outsider Art Fair Outsider Art Fair Paris 2019 Phil Cohran Raw Vision Magazine Sun Ra Arkestra Timmy Miller Has a Heavy Head William Blake
by
admin
1 comment
…………………………………………………………………………………………
……………………………………….
.
It has been half a year or so since my last blog post.. Some updates as we transition into the climax of an unknown winter…
Manchester Mad Pride All-Dayer, Sunday September 8th
This subversive celebration is coming up very soon, at the end of this very week in fact. I was invited to partake and have contributed a couple of prints to the visual art exhibition, as well as my film Timmy Miller Has a Heavy Head which will be screened in a programme of short films throughout the day. It is a rare showing of the film and no other showings are currently planned to take place.  The event will showcase various artists spanning a vast spectrum of dynamic media for all your senses to glean. These are the co-ordinates:
Niamos, Chichester Road, Hulme, Manchester, M15 5EU
You can find further info here (where if you scroll down to a post from August 3rd, you can read my answers to a few questions that were put to me) or here.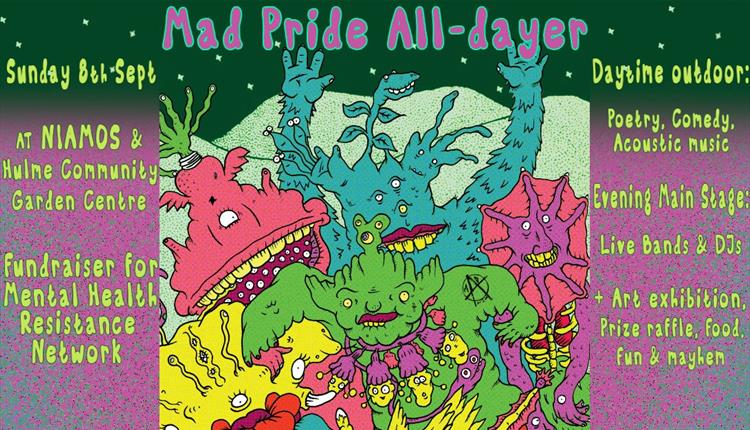 Outsider Art Fair Paris 2019, Thursday 17th – Sunday 20th October
I'm proud to announce that some of my work will be on show again with the Galerie du Marche (Lausanne, Switzerland) at the seventh edition of the annual Outsider Art Fair in Paris this October. It has been surreal to be included among highly potent artists such as Aloise Corbaz, Edmund Monsiel, Adolf Wolfli and Madge Gill on what I have always considered to be one of, if not the, strongest stands at the fair.
The most recently completed diary drawing is on an A5 format (21 x 14.8cm). In some sort of unexplainable phenomena, it has resulted in several thousand more words than the previous diary of the same size, and contains more words than eight out of the ten A4 diary pages that exist, at almost 11,000 words in 'bubble text'. Usually the word difference, especially in such close succession (months, not years), can be a few hundred more or less. This diary page will be on show at the fair. See here for further details.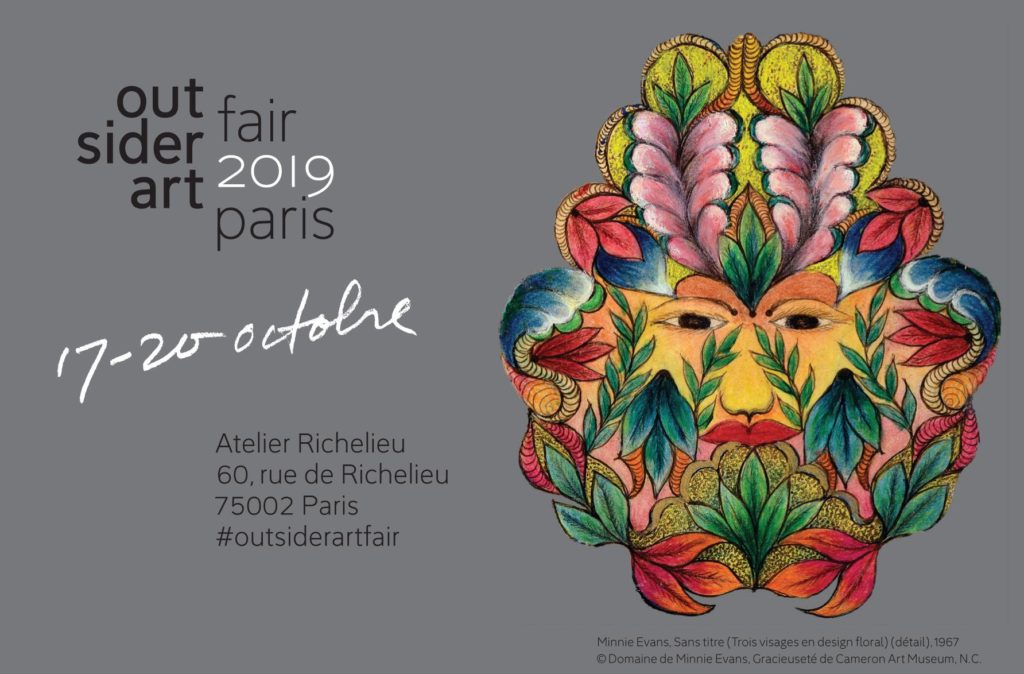 Art & Mind film
I should mention the manifestation of this truly ambitious documentary film, Art & Mind, which attempts to chart evolving opinions, views and research regarding the convergence of mental health and visual art whilst considering a period of give or take 500 years. I was present at the premiere which took place at the ICA in April (where it will be shown as part of a double bill on Sunday September 8th again). There are dozens of further screenings scheduled globally, which you can find here along with the trailer and further information. The film is narrated by the unparalleled John Maizels, editor of Raw Vision Magazine, who was on the Q & A panel at the premiere alongside chair of the Adamson Collection Trust, David O Flynn and director of the film itself, Amelie Ravalec. From having viewed the film once, I recall my immediate response was a feeling of inundation. There were 350 or so images shown in the film (including one of mine), in a sort of suspended montage sequence. The film was divided into an array of sub-chapters, giving a short time to highlight each. It would not go amiss to re-edit this film and the extensive omitted footage, into a series of episodes, allowing more time for the information to flow. The sequence of images is beautiful and to see it on a big screen was fantastic. With such an amount to be tackled within the time frame of a feature film, and to summarise the centuries explored, naturally there is a lot left unsaid and, for example, failing to include non-Western art and non-Western interpretations of mental health assessment and behaviour, is significantly detrimental. I found the relentlessness of the on-going music under the interviewees words contributed to a somewhat suffocating viewing process, but paradoxically find the alignment of that to the subject, an interesting choice of formatting and that perhaps it in some way can work to the film's advantage. Needless to say, I can't wait to re-watch this film, probably several times. To see works by Bosch, Goya, Blake, and Munch contextualised with Lesage, Wolfli, Blinko, and an endless list of incredible artists, and practitioners active in various aspects of the field pondering on these works and how they were viewed in their time and since, is incredibly fascinating.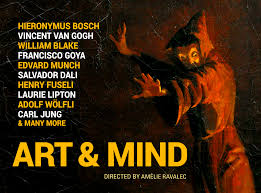 See's To Exist Show, edition 179 – The Sphereology of Phil Cohran
I recently put a pre-recorded radio show together focussing on the extraordinary music of self-proclaimed 'sphereologist', Phil Cohran. A difficult task to fit what I can into two hours, especially after a very rich hour and twenty minute conversation recorded between myself and harpist Josefe Marie Verna (who's majestic opening notes on White Nile, from the African Skies LP recorded in 1993 were my introduction to Phil Cohran's music) , which I edited parts of into the show, as well as fragments of a phone conversation I had with Derf Reklaw who was involved in Phil Cohran's Artistic Heritage Ensemble in the late 1960s. Cohran played in Sun Ra's Arkestra for a couple of years as the 1950s turned into the 1960s, and is known for being co-founder of the legendary AACM. He invented the Frankiphone, a sort of electrified thumb piano, which was popularised by disciples of his who went on to form Earth, Wind and Fire. I get into details about all of that and much more. Most importantly, you can hear some of this great music in the show here.
My show is monthly and you can hear the next show in its usual format of me playing some of my records live and talking about them on September 22nd, 3-5pm (UK time) over at NTS Radio.
That's All Folks!
I have some exciting news simmering and hope to report back soon. Meanwhile, back to your lives.
Take care,
Carlo.
20 Sep 2016, 10:00am
Boy shows you his... Boy talks Uncategorized: 27 Beats Alex 75 Art Brut Doug Shorts Edmund Monsiel Friedrich Nagler Galerie Du Marche Itch FM Joe Dub Mixcloud OAF Outside In Outsider Art Outsider Art Fair Outsider Art Fair Paris Pallant House Gallery Raphael Lonne S.F.S.M. San Fransisco Street Music See's To Exist Show SFSM Three Quarters Westcoast Workforce
by
admin
leave a comment
Outside In 10th Anniversary
Greetings. As usual, it has been a while since the last time I have posted here. Time passes, things accumulate, etc.. So, let's get on with it!
Outside In have put a show together at Pallant House Gallery, in order to celebrate 10 years of Outside In, which is quite an achievement. It's great that they can continue to carry out the work that they do and seem to be going from strength to strength. I have a couple of diary drawings in the exhibition alongside the works of other award winners. The show is on until the 30th October, so if you are nearby, do check it out! Also imperative to mention, something that really blew me away and was a total surprise, on exhibition in the DeLonghi Room at Pallant House, are some (many) collected works by Friedrich Nagler. Seriously incredible, faces created out of all sorts of materials throughout his adult life.. Some simple, others quite detailed and complex.. I can't stress how great this exhibition is and urge anyone remotely near to go take a look, I'm not sure what the probability of seeing them again is, where or when, but I do hope it can tour for others to share this experience. These shows aren't on for much longer, so check it out while you can!
Three Quarters Records
By now, I do have a somewhat dynamic history with a figure known to some as Joe Dub. He resides in Hawaii and first came to my attention in the last few years of the previous millennium for his work with the group San Francisco Street Music. He has gone through a few name changes and it is about to happen again, on this occasion to be coinciding with the launch of his new record label, Three Quarters. For their first release, Joe, alongside longtime collaborator Alex 75, handles the production for singer Doug Shorts on a 7″ called 'Throwing Our Love Away/Slow Poison'.
I am proud to present to you all, a wooden 45/7″ record adapter that I've designed for the Three Quarters record label. It is my understanding that these will be available as a limited edition promotional gift with orders of the first release by Doug Shorts very soon.. Stay tuned for more info! In the meantime, you can read a bit more about Doug Shorts here.
Additionally, I have included part of an interview that I recently conducted with Joe Dub, in my 100th radio show for Itch FM (It is my 140th in total). The show focuses on the historical development of my interest in Jazz and I'll be uploading it to my Mixcloud archive soon. It can be found on Itch FM's archive already. Furthermore, I am in the process of putting together quite a thorough show focusing on Joe Dub and his music, which will include the full interview. I'll provide a link to both of these as they become available.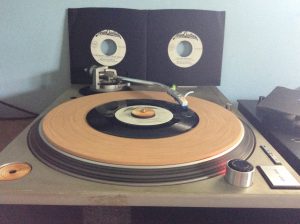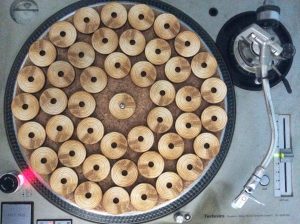 Outsider Art Fair Paris 2016
It's that time again..  October 20-23rd. Outsider Art Fair Paris, at Hôtel du Duc. A few dozen galleries and organisations from around the world will be exhibiting. I will have works on display with the Galerie du Marché (Lausanne, Switzerland). I'm in great company alongside favourite artists of mine such as Raphael Lonne and Edmund Monsiel, whose pieces are very rarely exhibited, so treat yourself to a trip and journey. Come see us! I will be writing my opinion piece for Outside In as per usual, so if you can't make it, perhaps you'll be able to gauge and glean something from that once it's published. I'll keep you posted, in any case..
Right, that will be all for now! I'll be in touch again in due course..
Bright moments,
Carlo
23 Sep 2015, 12:43pm
Boy shows you his... Boy talks Uncategorized: Adolf Wolfli Aloise Corbaz Artlicks Carlo Zinelli diary drawings Edmund Monsiel Eternod/Mermod Collection Galerie Du Marche Hotel Elephant Madge Gill Outsider Art Fair Outsider Art Fair Paris Raphael Lonne Scottie Wilson
by
admin
leave a comment
Artlicks Weekend/Hotel Elephant…
Welcome once again or for the first time. If you are sitting in silence, let me take this opportunity to momentarily redirect you to the archive of my weekly radio shows, in case you'd like a soundtrack to reading my blog. Go here and pick any of the hundred or so shows I've executed in my life as a radio DJ thus far. Don't forget to come back though.
My first bit of news is that I'll have some work showing in London (UK) again, finally. This will occur between the 1st-4th October. The opening is on the evening of Thursday the 1st of October from 6-9pm and then you will be able to come and see the following few days (Fri, Sat, Sun) from 12-6pm. Courtesy of Hotel Elephant as part of the Artlicks Weekend. The address is 23 Harper Road SE1 6AW. This location is just a few minutes walk from Borough station, or Elephant & Castle. For further info, you can use your search engine(s) or try these links: 1 and 2 and here's another.. 3
Outsider Art Fair Paris 2015
I'm very pleased to announce that some of my work will be shown at this year's Paris edition of the Outsider Art Fair, thanks to Galerie du Marché and the Eternod/Mermod Collection from Lausanne, Switzerland. It is an honour to have works in their highly impressive collection containing master works by Aloïse Corbaz, as well as works by some of my favourite artists (Edmund Monsiel, Carlo Zinelli, and Raphaël Lonné). Madge Gill, Scottie Wilson, and Adolf Wölfli are among the legendary names whose works can also be seen in the Eternod/Mermod Collection. The fair runs from October 22nd-25th. See website for further details. Here. 
Diary Drawing, March-September 2015
I'm very pleased to announce that I've completed another diary drawing. This time surpassing any previous shift in increments by a surprising amount, in regards to the amount of words contained in the drawing, which on this occasion clocks in at 11,273 words. The last couple of drawings were around 7,000 words each, and the one before that had the highest word count previously, at 9,539. Here is an image of the latest drawing.. (click on it for a larger view).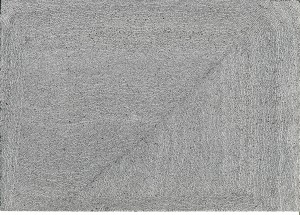 Thanks for reading (and listening?)                                                                                                                    Bright moments,                                                                                                                                                      Carlo