20 Sep 2016, 10:00am
Boy shows you his... Boy talks Uncategorized: 27 Beats Alex 75 Art Brut Doug Shorts Edmund Monsiel Friedrich Nagler Galerie Du Marche Itch FM Joe Dub Mixcloud OAF Outside In Outsider Art Outsider Art Fair Outsider Art Fair Paris Pallant House Gallery Raphael Lonne S.F.S.M. San Fransisco Street Music See's To Exist Show SFSM Three Quarters Westcoast Workforce
by
admin
leave a comment
Outside In 10th Anniversary
Greetings. As usual, it has been a while since the last time I have posted here. Time passes, things accumulate, etc.. So, let's get on with it!
Outside In have put a show together at Pallant House Gallery, in order to celebrate 10 years of Outside In, which is quite an achievement. It's great that they can continue to carry out the work that they do and seem to be going from strength to strength. I have a couple of diary drawings in the exhibition alongside the works of other award winners. The show is on until the 30th October, so if you are nearby, do check it out! Also imperative to mention, something that really blew me away and was a total surprise, on exhibition in the DeLonghi Room at Pallant House, are some (many) collected works by Friedrich Nagler. Seriously incredible, faces created out of all sorts of materials throughout his adult life.. Some simple, others quite detailed and complex.. I can't stress how great this exhibition is and urge anyone remotely near to go take a look, I'm not sure what the probability of seeing them again is, where or when, but I do hope it can tour for others to share this experience. These shows aren't on for much longer, so check it out while you can!
Three Quarters Records
By now, I do have a somewhat dynamic history with a figure known to some as Joe Dub. He resides in Hawaii and first came to my attention in the last few years of the previous millennium for his work with the group San Francisco Street Music. He has gone through a few name changes and it is about to happen again, on this occasion to be coinciding with the launch of his new record label, Three Quarters. For their first release, Joe, alongside longtime collaborator Alex 75, handles the production for singer Doug Shorts on a 7″ called 'Throwing Our Love Away/Slow Poison'.
I am proud to present to you all, a wooden 45/7″ record adapter that I've designed for the Three Quarters record label. It is my understanding that these will be available as a limited edition promotional gift with orders of the first release by Doug Shorts very soon.. Stay tuned for more info! In the meantime, you can read a bit more about Doug Shorts here.
Additionally, I have included part of an interview that I recently conducted with Joe Dub, in my 100th radio show for Itch FM (It is my 140th in total). The show focuses on the historical development of my interest in Jazz and I'll be uploading it to my Mixcloud archive soon. It can be found on Itch FM's archive already. Furthermore, I am in the process of putting together quite a thorough show focusing on Joe Dub and his music, which will include the full interview. I'll provide a link to both of these as they become available.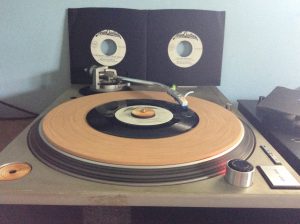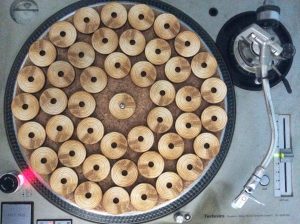 Outsider Art Fair Paris 2016
It's that time again..  October 20-23rd. Outsider Art Fair Paris, at Hôtel du Duc. A few dozen galleries and organisations from around the world will be exhibiting. I will have works on display with the Galerie du Marché (Lausanne, Switzerland). I'm in great company alongside favourite artists of mine such as Raphael Lonne and Edmund Monsiel, whose pieces are very rarely exhibited, so treat yourself to a trip and journey. Come see us! I will be writing my opinion piece for Outside In as per usual, so if you can't make it, perhaps you'll be able to gauge and glean something from that once it's published. I'll keep you posted, in any case..
Right, that will be all for now! I'll be in touch again in due course..
Bright moments,
Carlo