28 Jan 2019, 9:53pm
Boy shows you his... Boy travels Uncategorized: abcd collection Adolf Wolfli Aloise Corbaz Art Brut Japonais II Barbican Bruno Decharme Collection de l'Art Brut diary drawings Egon Schiele Fondation Louis Vuitton Galerie Atelier Herenplaats Galerie d'un Livre l'autre Galerie Du Marche George Widener Guggenheim Bilbao Halle Saint Pierre Jean-David Mermod Jean-Michel Basquiat Jennifer Lauren Gallery Julia Sisi L'Envol La Gazette Drouot La Maison Rouge Little Nemo in Slumberland Lucienne Peiry Madge Gill Maison Savant Norimitsu Kokubo Outsider Art Fair Outsider Art Fair New York 2019 Outsider Art Fair Paris 2018 Philippe Eternod squirrel Tim Ter Wal Wellcome Collection Winsor McCay
by
admin
leave a comment
…………………………………………………………………………………………
……………………………………….
.
Outsider Art Fair Paris, 18th-21st October, 2018
It came and went. And a lot has come and gone since. I haven't managed to post in the blog here, and it's all piled up and fragmented now. I'll see what I can recollect and hope not to leave anything 'significant' out. I recently returned from New York, where I experienced the Outsider Art Fair there, which was certainly a whirlwind. I use this metaphor a lot. In the end, time is the whirlwind!
Paris in October was destined to be an unparalleled moment for me, due to having the calendar-diary I'd spent a year and a half accumulating over 50,000 words within in response to becoming a father and detailing every day of that until the page was filled, shown. The weekly magazine of auction sales, La Gazette Drouot, must have caught wind of this and in turn mentioned me in their 'Vous Avez Dit <<Outsider Art>>?' article, published in No.35 on 12th October. (note: click on images to enlarge)
Lucienne Peiry, former director of the Collection de L'Art Brut (2001-2012) and still working as Director of Research and International Relations there, found my drawings interesting and we had a chat. The museum have since acquired one of my diary drawings, which leaves me somewhat speechless.
Of note at the fair, was encountering Tim Ter Wal (represented by Maison Savant at the Galerie Atelier Herenplaats (Rotterdam, Netherlands) booth in a moment of working on his drawing. I noticed people just photographing him without actually speaking to him, which I found quite unsettling. I didn't want to interrupt him though, but got talking to the gallerist whom I'd had contact with in the past, and in an opportune moment I got to speak with the artist and ask him if he minded me taking any photos while he is working. He said he didn't mind. So, here are a couple of photos below.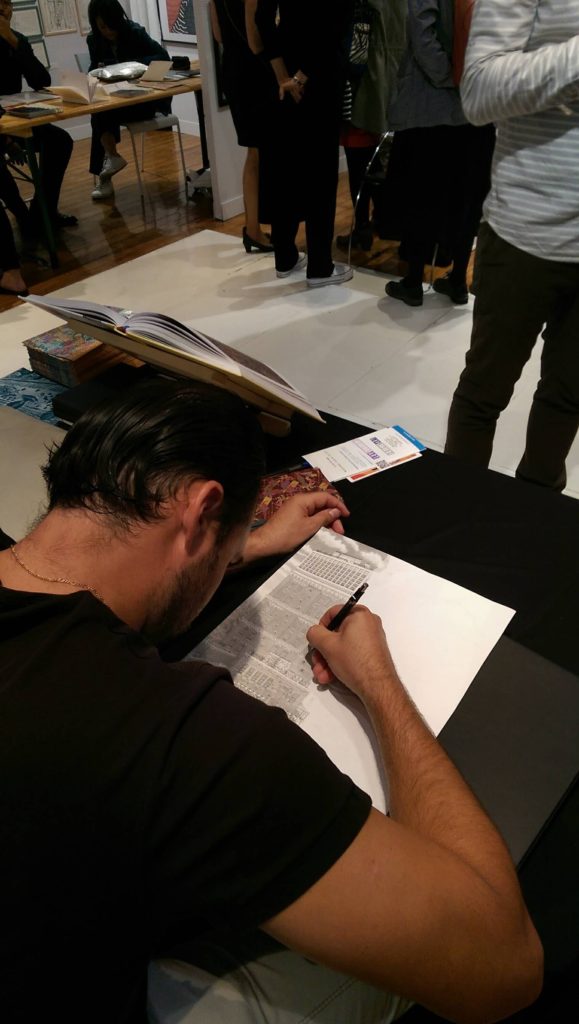 I took the opportunity to visit some other exhibitions while I was in Paris and was glad to catch my friend Julia Sisi's solo show 'Hypnagogies' at the Galerie d'un Livre l'autre which had been extended, making it possible for me to see it. I don't have any photos but spent quite some time absorbing all the energy and wonder. I also managed to see La Maison Rouge's final exhibition, 'L'Envol', which was an inspired and enjoyable exploration of (some of) our collective desire to fly, physically and metaphorically.
I also managed to see the Jean-Michel Basquiat and Egon Schiele exhibitions at the Fondation Louis Vuitton. It took an hour to get in and was very busy, but the Basquiat was well curated, unlike the recent Barbican show in London. A few years ago I saw a refreshingly unpretentious Basquiat retrospective at the Guggenheim in Bilbao, which was exciting. It was also the first time I'd managed to see an exhibition of his work. The Paris show possibly had the right balance though, overall.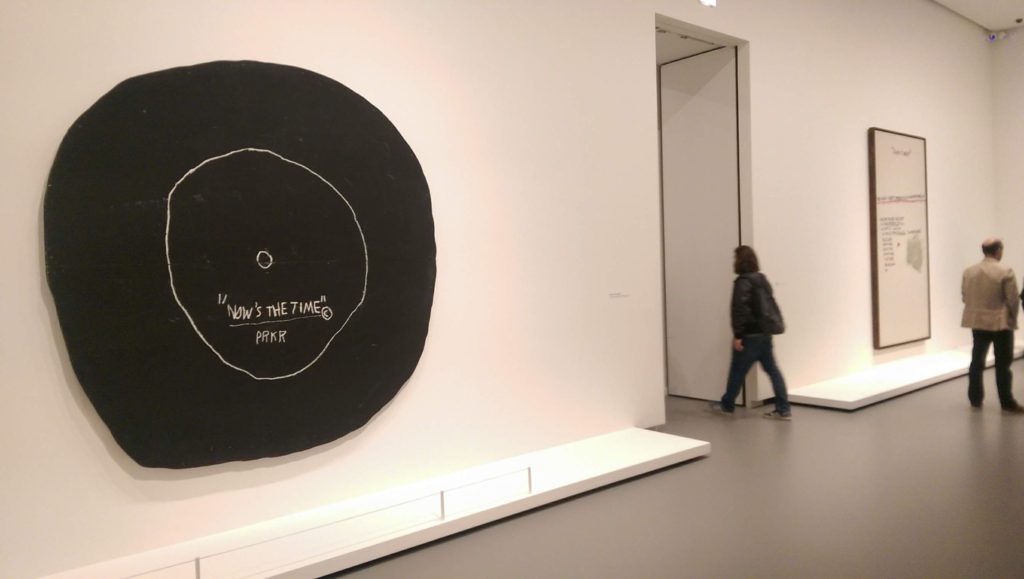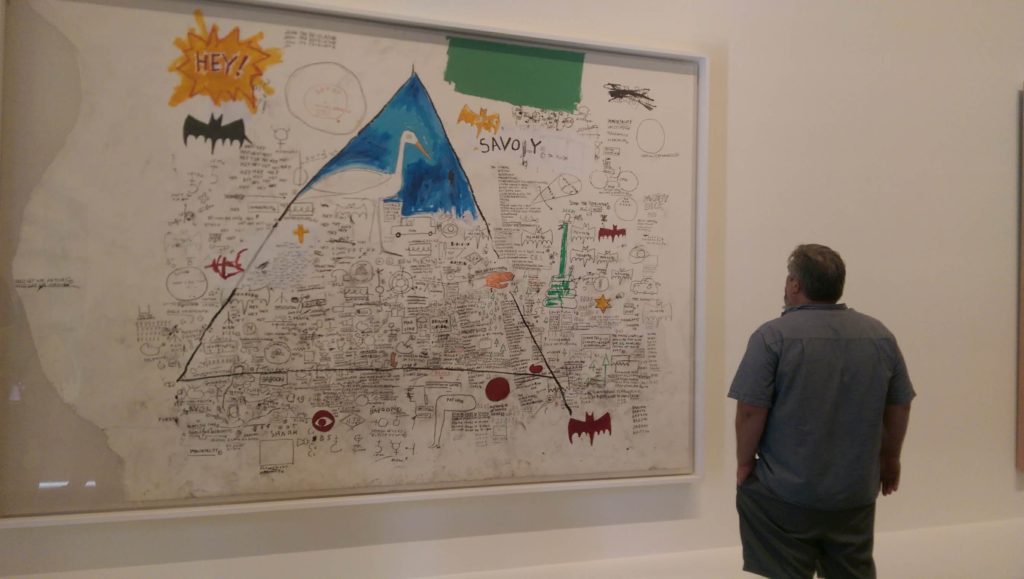 Finally, I caught the dynamic and rich Halle Saint Pierre exhibition 'Art Brut Japonais II' which featured all manner of work by many interesting and intriguing artists whom I sadly cannot do justice to here due to time restrictions but the catalogue looked quite fantastic, so perhaps seek that out. One highlight was this epic piece (seen below) by Norimitsu Kokubo, who's work I think I first saw at an exhibition at the Wellcome Collection in London a few years ago. Incidentally, we were both represented by the Jennifer Lauren Gallery at the Outsider Art Fair in New York last week (at time of writing this). More on that in the next blog entry…
Yes, so all of the above should have been put together and posted months ago. The writing would have most likely been more detailed, precise, and poignant.. but even in these short months, things fade with time.. I was going to write about the New York Outsider Art Fair now, but certainly 1) do not have enough time 2) I would use up way too much space, which also means you'll most likely not have enough time to read it all either. I really hope to post it very soon. In the next few days.. or.. next week?
Meanwhile, if I'd managed to get my phone out to film it a bit sooner, you'd get a better view but if you watch this on a loop a few times, here is a squirrel down my road, getting confused by some fake 2D trees. I guess the designers didn't think that through, or they simply did not care, or were curious to see what would happen, etc.. Anyhow, here it is, from around the same time as all the above (according to my phone)..
2 Jan 2018, 11:10am
Uncategorized: abcd collection Achilles G. Rizolli Adolf Wolfli Aloise Corbaz American Folk Art Museum Antoine de Galbert Arthur Blythe Eternod/Mermod Henry Darger Itch FM Juini Booth La Maison Rouge Malcolm McKesson Manuel Bonifacio NTS Outside In Pallant House Gallery Phil Baird SFSM Sotheby's Susan T King
by
admin
leave a comment
…………………………………………………………………………………………
……………………………………….
.
Where to Begin…
The logic and boundaries of my world do require suspending disbelief, as does the semblance of my creative output reflected by its absence through the lack of newsletters I send out. Fear not, I am edging forward daily in my little corner, with the support of sporadic sessions at the osteopath. Some of my efforts have been acknowledged and will be celebrated in both London and New York this January.
————————————————————————————————————————-
Outside In: Journeys…
11-19th January, 2018
Sotheby's, London, UK
The succinctly titled Journeys exhibition explores the spectacular journey that the organisation Outside In have experienced since their conception twelve or so years ago. The art works on show will revisit examples from the trodden path, highlighting the journeys that each of the selected artists have found themselves on since and in many ways probably as a result of having crossed paths with Outside In. I have written at length about Outside In and their singular identity elsewhere, as have others, so if you aren't aware of their work, do spend a few minutes on your search engine or simply visit their website here. My relationship with them began in 2009 when I exhibited a painting (illustrated here) as part of their competition/exhibition at Pallant House Gallery. My painting was chosen along with five others from the several hundred submitted from various artists across the region, and as a result I was offered a solo exhibition which took place the following year, where I sold my first diary drawing. A lot has happened since then, in regards to my multi-disciplinary work with Outside In and otherwise. To see the painting I had shown in the 2009 exhibition, now on loan from the Rose Know-Peebles collection, alongside some great works by Aradne, Phil Baird, Manuel Bonifacio, and James Lake among others, find your way to Sotheby's in London. For further information, follow through to the Sotheby's website here.
Vestiges & Verse: Notes from the Newfangled Epic…
Jan 21st – 27th May, 2018
American Folk Art Museum, New York City, USA
For the first time, my drawings will officially be on show in New York, at the American Folk Art Museum, no less. I am excited to announce that several of my diary drawings, on loan from various collections including the ABCD Collection, the Antoine de Galbert/La Maison Rouge Collection, and the Eternod/Mermod Collection will be included alongside works by seminal artists such as Aloise Corbaz, Henry Darger, Malcolm McKesson, Achilles G. Rizzoli and Adolf Wölfli. It is not lost on me that among the 21 artists included in this fascinatingly contextualised exhibition, I am among the minority of living artists, and seemingly the youngest by a few decades. I am not sure what this might mean, if anything, but certainly something for me to ponder on in the grand scheme of things. Another of the living artist who's work I admire very much, Susan T King will be leading a workshop, Drawing With Susan as part of the exhibition program on January 23rd. You can get tickets, which are free, here. Another intriguing event related to the exhibition, called Discussion: Invisible Dialogues & Invented Languages will take place on February 22nd. Tickets are available at $10-12 and are available here. Lastly, a book will be published to coincide with the exhibition which I am of course excited and intrigued to peruse. This will inevitably be available online and in some physical bookshops very soon.
See's To Exist Show 
After a short hiatus at the beginning of 2017, my radio show returned to the world in its current monthly incarnation, which is much more manageable than doing the show weekly for me at this point. I migrated from my family at Itch FM  to the globally active NTS. I am still archiving my shows on Mixcloud here. I did a couple of 'special' shows last year. The most recent being a focus on bassist Juini Booth in celebration of his 50 years of engaging with the instrument. We lost quite a few giants in the world of progressive Jazz last year, including Muhal Richard Abrams, Kelan Phil Cohran and Sunny Murray. I was pleased to be able to send off a much overlooked saxophonist, Arthur Blythe, with a show dedicated to his memory which you can hear here. Something I find interesting about his chronology is that he got his start playing with Horace Tapscott in the 1960s on the West Coast, in Los Angeles, influencing many and leaving myth behind upon arriving in New York where he wasn't so known. In the show I speak with both Gary Bias who came up playing saxophone with Horace Tapscott and the Pan Afrikan Peoples Arkestra a decade or so later than Blythe, and then trumpeter Ahmed Abdullah who played and recorded with Blythe in New York in the 1970s.
I've got my schedule of radio shows for the year, if you want to listen live on NTS, take note of the following dates and I will be on on these Sundays between 3-5pm (UK time).
Jan 14 / Feb 11 / Mar 11 / Apr 8 / May 6 / June 3 / Jul 1 / Jul 29 / Aug 26 / Sept 23 / Oct 21 / Nov 18 / Dec 16
On the topic of radio shows, I decided to start a podcast Who Cares? And Unknowns also last year. These will be very few and far between considering other commitments and priorities, but I was glad to put the first episode out there in two parts, focussed on rapper, producer, and musician Joe Dub from San Francisco. In the last newsletter I mentioned working collaboratively in terms of my designing some limited edition 45rpm/7″ record adapters. I think there were only 100 made which went out free with orders of the first release on his new record label Three Quarters. There are still copies of the record for sale, though I don't know if they are beyond the 100 by now, but check it out here if interested. The podcast in two parts nears the five hour mark, as I go into near obsessive detail in regards to the development of Joe's music through the years, touching on many an underground West Coast Hip Hop side story along the way. You can listen to those here and then here for part two.
Timmy Miller Has a Heavy Head
This is most probably the first time I haven't shown any images of my work (or images altogether) in the blog/newsletter. As some sort of solution, I will take the opportunity to let you know that I've slowly been working on a short film over the last couple of years. At this point I am not sure what life it will live, nor how much I want to say about it. But here is a still image from the film. Something ambiguous to sign off with.
Bright Moments,
Carlo
14 Feb 2017, 7:26pm
Boy shows you his... Uncategorized: abcd collection Adolf Wolfli Aloise Corbaz Brian Robert Gibson Carlo Keshishian Cathy Ward Circus Terminal diary drawings Eternod/Mermod Collection Ian Pyper Itch FM Joe Dub Liz Parkinson NTS Outside In Outsider Art Fair Outsider Art Fair Paris Pier Makanda San Fransisco Street Music See's To Exist Show SFSM Uncooked Culture Who Cares? And Unkowns
by
admin
leave a comment
Outsider Art Fair Paris 2016
Greetings. As the last update was left on the ponderous note of anticipation for what was to come in the form of the Outsider Art Fair Paris, I shall provide you with the outcome.. firstly, I have written at length about it here for Outside In. Having just revisited this writing now, I don't think I need to add much more here. The New York edition of the fair celebrated its 25th year earlier this month and it seems the momentum has really picked up in the last few years with more attendance, media coverage and general awareness seemingly bringing the field noticeably within view from in the shadows.
ABDC Collection
Following on from the Paris fair, I'm pleased to announce some of my recordings have found a home in the unparalleled ABCD collection. See here.
Radio Shows, Itch FM, NTS and Mixcloud: See's To Exist Show / Who Cares? And Unknowns
For those that have been following my See's To Exist Show Jazz based radio shows in the last few years, a metamorphosis is currently taking place. For various reasons, I've had to call it a day in regards to providing a weekly show at Itch FM, which has been a great experience and I will forever rep the Itch family. I wasn't sure what form, if any, See's To Exist Show will continue to exist as, and started to put in place the creation process of a new podcast which would not be restricted by genre or time in terms of how frequently new editions would come into being, or how much time they would each run for. This show is called Who Cares? And Unknowns, of which the first instalment has now been uploaded in two parts (clocking in altogether at somewhere around the 5 hour mark). This first instalment is focussed on Joe Dub, one of the West Coast's best kept secrets in terms of underground Hip Hop (of the Americas). I first came across his music in the form of a cassette that was given to me in 1997-98, containing material by his then group San Francisco Street Music, that I would years later find out is titled 'The Pride'. A cassette intrinsic to the development of my own approach to a lot of things, to this day. In a previous blog entry, I highlight some record adapters I designed for Joe's current project, and we have had an interesting exchange since the turn of the last century. He has recorded with the who's who of mythical underground West Coast artists such as Deeskee, 2Mex, Abstract Rude, Doc Lewd, Awol One, Circus, Liferexall, Neila, Dave Dub, Ellay Khule, and a near endless list of others. In these shows I provide a generous quantity of his recordings, more or less chronologically, including collaborations with Devin The Dude, Topic, Factor, Alex 75 and many more.. You can check part 1 and part 2 out now. Enjoy.
I am proud to announce that See's To Exist Show will continue, keeping more or less the same format, but will now be a monthly show courtesy of NTS. The new show will be live on Sundays, 3-5pm, the first of which can be streamed on March 12th. Tune in for more of the same unparalleled magical Jazz gems from the dusty depths of our world's near forgotten treasure crevices.
Toilet Diary
The current diary drawing I am working on has unexpectedly taken a different path. Firstly, it's is more than four times the size than the previous sequence which were all A4. Secondly, in theory the idea was to draw just one hour each day of the year, so as to contain the entire year in a measured manner. I've allocated a premeditated dimensional area divided 365 times within the page. I began drawing it a few weeks before another little collaborative creation I'm involved in, in the form of a little human, was born into being in our world. A spanner in the works of course presented itself just a few days into drawing, and with my back significantly compromised, causing me to be bed-bound for almost two weeks, I have quite some catching up to do with drawing and recollecting my thoughts, channeling the fresh impulses, etc.. I'm sure it will be an interesting challenge to the end. Other interesting new diaries being kept involve monitoring toilet activity. Who'd have thunk it. Anyhow, here is a photograph of my new diary drawing in progress, with new little human catching some z's alongside..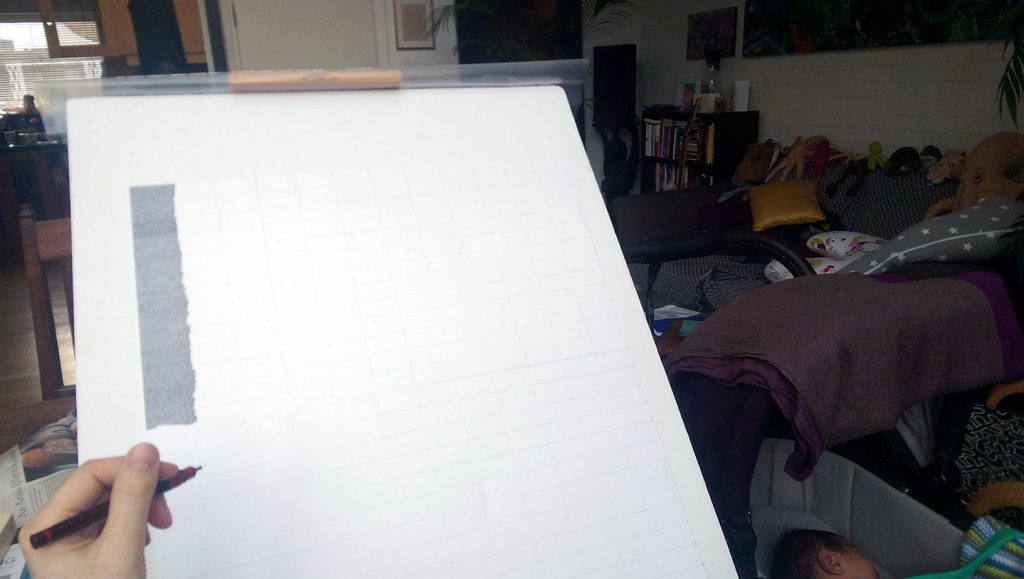 Short Film
I won't give much about this away at the moment because I'm still not sure exactly what I will do with it, but I have been working on a short film for some time now and it is near completion. I've been working on it, on and off, for the last couple of years or so in terms of filming and editing. The ideas for it, however, have slowly been simmering for over a decade and it somehow found its way into being created, which initially I hadn't intended on seeing through. More on this in the next blog entry (probably/possibly?!)..
Uncooked Culture 'Spring Showcase'
The mastermind behind the Uncooked Culture initiative and Circus Terminal touring exhibitions,The Bag Lady Nok has put in place another exhibition showcasing works by artists associated with the movement. On this occasion, you can find works by somewhere around a hundred artists. Other than myself, these include Ian Pyper, Cathy Ward, Pier Makanda, Liz Parkinson, Brian Robert Gibson and many many more. Nok's acquiring of the Bag Lady title relates to the near mythical process that has been her method in carrying hundreds of art works in one suitcase and putting exhibitions on in France, Spain, Solvenia, Holland, Suriname, Thailand, New Zealand and the U.S.A. This time around, she has set up just around the corner at The Walmer Castle pub in Notting Hill (London, UK). The address is 58 Ledbury Road, W11 2AJ. I'm not exactly sure how long the works will be up but I do know there will be a three day celebration in the upstairs bar area on the 1st, 2nd, and 3rd of March, so if you are interested in seeing some performances, hearing speeches, and mysterious improvisational happenstance intrinsic to the nature of the project, find yourself there within that window of time. On the evening of Wednesday the 1st of March, I will be DJing so if you are around and care to experience the exhibition with a soundtrack of rare spiritual Jazz potentially among other things, it's a good time to peruse. I'll leave it at that.
Until later..
Carlo
5 Nov 2014, 11:13am
Boy shows you his... Boy talks Boy travels: abcd collection Carlo Keshishian Chomo Circus Terminal David MacLagan diary drawings Halle Saint Pierre La Maison Rouge Outside In Outsider Art Fair Outsider Art Fair Paris Raw Vision Raw Vision Magazine Stephanie Lucas Uncooked Culture
by
admin
1 comment
…………………………………………………………………………………………
……………………………………….
.
What's new and still old…
In this entry of my seemingly biannual blog I have little to say that isn't said elsewhere but I have a couple of links to throw at you containing masses of information, should you be interested. Firstly, I'll draw attention to the latest diary page completed a couple of months ago. Click on it to see it in more detail. It may take a moment to load. And click on it again to see it in more detail: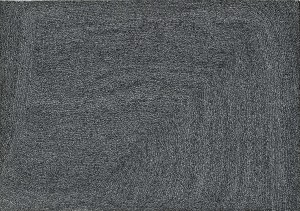 I'm currently working on the next diary drawing, which unlike previous diary drawings which have more of a stream of consciousness based approach in terms of structure, even though there are in depth and thorough explorations into ideas, topics and experiences, the new diary is a continuation of the one illustrated here, focussing on just one topic, an in depth analysis which I feel will most likely even carry through onto a third page.
In other news, I've recently gotten back from a trip to France. Mainly Paris. I was there for the Outsider Art Fair. Quite an indulgent affair. There was a lot going on in terms of exhibitions and I saw more art than I would usually see in at least half a year. I documented some of my experience of being there for the Outside In blog which you can read here: click here
Ah yes, also, a well rendered image of mine is used in the David Maclagan article Beyond the Doodle, printed in Raw Vision magazine issue #82. You can read an extract from the article here and/or buy the magazine which features the full article with the glorious accompanying images and rest of magazine full of fascinating art to ponder on, HERE.
Finally, something that I received a few days back, which terrified me (fittingly, for Halloween), was an eleven minute video interview that I did for Uncooked Culture TV. I'd almost forgotten about it and then it just appeared out of nowhere. I still don't understand how it spans eleven minutes but it does. Should you be interested in viewing this, you can find it below and it may be an idea to view it full screen if you want to see more clearly. That's all for now.
Until next time..
Carlo.