9 Oct 2018, 9:05am
Boy shows you his... Boy travels Uncategorized: Achilles G. Rizolli Adolf Wolfli Aloise Corbaz American Folk Art Museum Barbara Safarova Byard Lancaster Charles Mingus David Durrah diary drawings Doug Hammond Family of Percussion Galerie Du Marche Henry Darger NTS Outsider Art Fair Outsider Art Fair Paris Tribe Records Vestiges and Verse: Notes from the Newfangled Epic
by
admin
leave a comment
…………………………………………………………………………………………
……………………………………….
.
Outsider Art Fair Paris, 18th-21st October
It is nearly upon us. In just over a week, I shall be getting the train to Paris excited to be practicing iconolatry on such a scale yet again at the Outsider Art Fair. This year, at the new location –
Atelier Richelieu, 60, rue de Richelieu 75002, Paris.
More info here.
Some of my diary-related drawings will be on show with the Galerie Du Marché coming from Lausanne, Switzerland. I am especially pleased to be showing what I can only describe as the most monumental diary drawing to have been channeled through my nib. More on that below. . . No doubt I'll be on the wall there, in the company of the usual unusual array of non-living artists, as that is where I seem to fit in all this. I can't complain.
Diary, 1st January 2017- 8th May 2018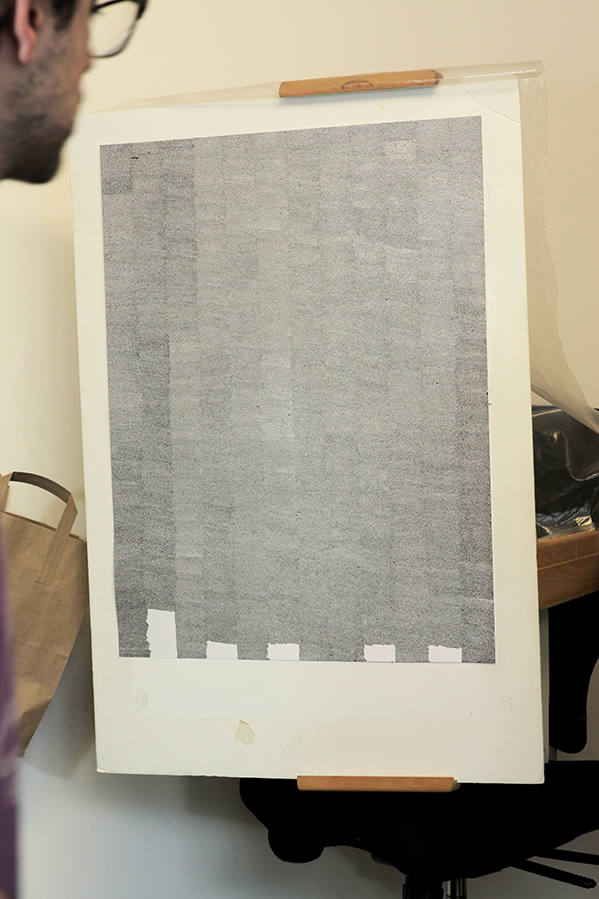 The photograph above was taken on the day of completion of my largest diary drawing. The format is different to the usual A4 landscape, and the text also follows a different pattern. I had intended to approach this with the idea of filling it daily, like a calendar, allocating specific spaces to each day of the year 2017. The result, however, spills into the following 2018 (8th of May to be precise, the day this photograph was taken, incidentally). The need to do this drawing came to me a few weeks before the end of 2016. My son was to be born late January/early February 2017. I felt to document the weeks leading up to the birth and capture the evolution of each day after until the end of the year. Expecting a whirlwind of developments and no time to process/retain a lot of the on-going nuanced details, this idea seemed like a way to capture these and keep them contained. Unfortunately, due to severe back issues which had me frequenting the osteopath, as well as other unforeseen instances/setbacks, I could not draw every day on this occasion, but did keep a written diary for the days I missed, which I could later include in the drawing. In any case, a somewhat uncanny thing happened. I had created the equivalent of around 5-6 usual A4 size diary drawings in under a year and a half. I am usually creating 2 a year, 3 at a push (there was one A4 diary that took me two and a half years to complete but that's another story), and that was with the more time I was able to give in the pre-parenting phase of life. I have never been very good at Math. But these contrasting results make little sense to me. Answers on a postcard. With over fifty thousand words in the drawing, the equivalent to the most densely packed of previous A4 diary drawings is more or less reached also.
So yes, this drawing will be shown for the first time at the Outsider Art Fair in Paris.. If you're able and willing, come to the fair and you can see it.
Vestiges & Verse: Notes from the Newfangled Epic book published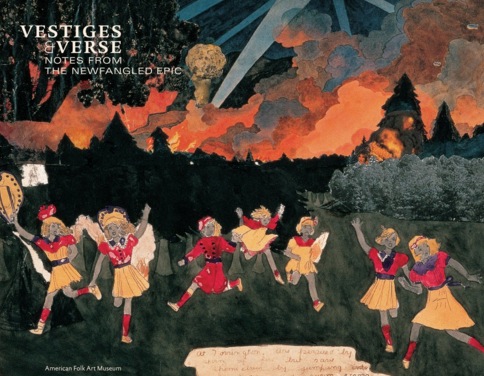 Earlier this year, a selection of my drawings were shown in the group exhibition Vestiges & Verse: Notes from the Newfangled Epic at the American Folk Art Museum in New York.  The accompanying publication is now available to purchase and has a profile on each of the twenty one artists who's work was shown including Henry Darger, Achilles Rizzoli, Adolf Wolfli, and Aloise Corbaz. The text on me and my work was written by Barbara Safarova.
See's To Exist Show – Doug Hammond special
I'm still at it, doing my monthly 'Jazz'-focussed radio show on NTS. Generally I am playing records from my collection and speaking a bit about some of them. Occasionally I find or make the time to shed light on particular artists or record labels and hone in on details of interest, gleaning what I can from the conversations I manage to arrange. The most recent of these comes in the form of edition 165, my special show on the fascinating drummer/percussionist Doug Hammond and you can hear that here.  We speak on some of the collaborations he's been involved in (David Durrah, Tribe Records, Charles Mingus, Byard Lancaster, Family of Percussion..), self releasing music, the recent documentary focussed on him and his work, and more. Enjoy.
Here is one of the recordings of Doug Hammond's that initially piqued my curiosity some years ago..
GDPR
I've saved the most mundane for last. Some months ago, new privacy safety measures were put into effect and I made some effort to comply with this in regards to the newsletter I send out only twice a year or so, through Mailchimp. I re-invited those that were subscribed and ended up with just 5% or so of them resubscribing. It seems some tried to but were unable also, which reflects either my ineptness or how complicated this process is for a lot of people like myself trying to keep these things going with minimal understanding of the necessary technologies. Long story short, I've just rejigged the subscription button on this blog (top left side of the page), so hopefully if you tick the GDPR box and the other box to subscribe, it will work. Please let me know if it doesn't, and if it does, please forward this on to anyone you know who may have previously been subscribed, that would be a great help, thanks.
That's all, folks. I'll be back.
Bright moments,
Carlo
8 Feb 2018, 1:30pm
Boy talks Boy travels Uncategorized: Achilles G. Rizolli Adolf Wolfli Albert Aloise Corbaz American Folk Art Museum Aradne Cloisonne de theatre James Edward Deeds Jr. James Lake Jarvis Cocker Jennifer Lauren Gallery Jerry Gretzinger Joe Coleman Kate Bradbury Manuel Bonifacio Marc Steene Nick Blinko Outside In Outside In: Journeys Paul Laffoley Phil Baird Sotheby's Susan T King The Alternative Guide to the Universe Valerie Rousseau Vestiges and Verse: Notes from the Newfangled Epic
by
admin
leave a comment
…………………………………………………………………………………………
……………………………………….
.
Outside In: Journeys at Sotheby's, New Bond Street (London, UK)…
I've just returned from New York and will use this space to recall some of what happened. Firstly, prior to embarking on that odyssey, I was excited to see the Outside In exhibition at Sotheby's, a bit closer to home in London. The opening night was quite extravagant and as busy as could be. Perhaps someone knew there would be bottomless champagne glasses handed out? I'd like to think all these new faces were there to marvel at some of the wondrous works on show. The works were nicely lit, with a strange blueish hue hovering around them (or was that just me seeing it?). In some ways it was the perfect setting to celebrate Outside In's certified charity status, and they did well in accumulating art works from throughout their journey, from 2006 to the present. In my case, Picture Worth a Thousand Words was on show. This was the painting I submitted for their competition/exhibition in 2009. I was one of the six 'winners' and they offered me my first solo exhibition as a result. At that point in time, the painting was a decade old already. Seeing it hung in Sotheby's a few weeks ago, I realised it had doubled in age since then. It returns every ten years to fuel and strengthen my belief in the power and propelling of cycles. And to think, this painting blew off the roof of a car twice on the motorway from London to Chichester when we were initially delivering it in 2009. It suffered wounds. Thankfully that was all! Anyhow, it was certainly touching to see it again and whilst waiting for my coat in the cloakroom on my way out, I had a sudden urge to go and see it once more and to touch it. In that moment, a strange sense of time and movement ran through me, much more effective than my words could reflect. Something I have never felt before. I did return a few days later to show my family. There were a healthy amount of people around, but it was much easier to speak and move around. I must give a mention to some of the other great work on show, courtesy of artists Phil Baird, Kate Bradbury, Nick Blinko, Aradne, Albert, Manuel Bonifacio and James Lake among others. Normally I would have taken some photos of the works in situ but am whirl-winding through life at the moment, so I hope the links contained within the aforementioned names typed will suffice. I did get a snapshot of Jarvis Cocker making a speech at the opening though (if you haven't seen his two part documentary on 'Outsider environments' for Channel 4 which screened in the late '90s of the previous millennium, check the internets). Also, a shot of me with Nemo (a few weeks prior to his first birthday) a few days later in front of my work (also from the late '90s). Big shout out to Marc Steene, founder and Director of Outside In and all round renaissance man for being unquestionably transcendental.
Vestiges and Verse: Notes from the Newfangled Epic at the American Folk Art Museum, Lincoln Square (NYC, USA)…
I've just returned from New York and will use this space to recall some of what happened. In terms of the exhibition, a very impressive and ambitious conceptual manifestation. It is an honour to be among the (mostly dead and few living) artists chosen to be featured. Five of my diary drawings are shown, spanning the years 2010 – 2016. Interestingly, that is the most of them that I have seen alongside each other at one time. Most probably I have never had that many in my possession at any one time, either. It was somewhat challenging negotiating time with little Nemo, considering the five hour time difference to back home but we took him along to the opening as planned. He fell asleep in a sea of noise and wonderment. It was a bizarre cocktail of adrenaline and tiredness. A surreal experience for sure. My works were hung in a space opposite a master work by Aloïse Corbaz and works by James Edward Deeds Jr. Some magnificent Adolf Wölfli works were displayed in the same area. It was a trip to be shown in an exhibition with so many works by  Achilles Rizzoli, which in this case heavily focussed on compositions comprised mainly of text rather than the phenomenal architectural imaginings he penned. I highly recommend this book. It was interesting to see some Paul Laffoley works again. His weighing out of systems is very intriguing to me. His work first caught my eye at the highly poignant The Alternative Guide to the Universe exhibition at the Hayward, in London in 2013. He was still alive then. Vestiges and Verse: Notes from the Newfangled Epic in some ways reminded me of that great show at the Hayward. So many interesting artists collected and put into a captivating context to provide a lens through which you observe the similarities, and sometimes somehow the similarities through the differences, based on how far in a direction they will each take you. 
My work was in view upon first glance beyond the entry point into the exhibition. Approaching it, it didn't take a nanosecond to realise one of the drawings was hung upside down. This has since been rectified. I thought not to mention it here, but human error occurs (and we should be thankful for that!). This incident raised the question for me, 'Am I so far down this road that only I can see how obvious it is that this drawing is upside down?'. Among attendees at the opening were, aside from myself, two other living artists being shown in the exhibition. Susan T King and Jerry Gretzinger. The former, I have admired and written a bit about in recent years. Jerry, on the other hand, I was not aware of. It was a great pleasure to meet him and speak at some length with him specifically/personally, but also as someone else included in the show, sharing stories about our paths and how we end up where we end up. I'm completely in awe of his map project which began in the 1960s and is on-going. Mesmerising. Find yourself ten minutes, get yourself a hot drink and watch this. An artist I was not expecting to meet that night was Joe Coleman, which was a more than pleasant surprise. It began with a "look who's behind you, Carlo", and there he was beside my work. Thanks to Jennie we got talking a bit, about Henry Darger (who has some incredible work in the show), The curator Valérie Rousseau, and other artists in the show. He left me with the words "Welcome to the family". The family? The family?? Thanks Joe. Below are some photos from the opening. The exhibition runs for a duration of three months or so. Check it out if you can! 
I feel like there was more I wanted to write but it escapes me now. I need to stop writing here and continue writing in the current diary drawing, so will let this be for now. I hope to update the blog more frequently, yadda yadda.. let's see..
Bright moments, Carlo.
2 Jan 2018, 11:10am
Uncategorized: abcd collection Achilles G. Rizolli Adolf Wolfli Aloise Corbaz American Folk Art Museum Antoine de Galbert Arthur Blythe Eternod/Mermod Henry Darger Itch FM Juini Booth La Maison Rouge Malcolm McKesson Manuel Bonifacio NTS Outside In Pallant House Gallery Phil Baird SFSM Sotheby's Susan T King
by
admin
leave a comment
…………………………………………………………………………………………
……………………………………….
.
Where to Begin…
The logic and boundaries of my world do require suspending disbelief, as does the semblance of my creative output reflected by its absence through the lack of newsletters I send out. Fear not, I am edging forward daily in my little corner, with the support of sporadic sessions at the osteopath. Some of my efforts have been acknowledged and will be celebrated in both London and New York this January.
————————————————————————————————————————-
Outside In: Journeys…
11-19th January, 2018
Sotheby's, London, UK
The succinctly titled Journeys exhibition explores the spectacular journey that the organisation Outside In have experienced since their conception twelve or so years ago. The art works on show will revisit examples from the trodden path, highlighting the journeys that each of the selected artists have found themselves on since and in many ways probably as a result of having crossed paths with Outside In. I have written at length about Outside In and their singular identity elsewhere, as have others, so if you aren't aware of their work, do spend a few minutes on your search engine or simply visit their website here. My relationship with them began in 2009 when I exhibited a painting (illustrated here) as part of their competition/exhibition at Pallant House Gallery. My painting was chosen along with five others from the several hundred submitted from various artists across the region, and as a result I was offered a solo exhibition which took place the following year, where I sold my first diary drawing. A lot has happened since then, in regards to my multi-disciplinary work with Outside In and otherwise. To see the painting I had shown in the 2009 exhibition, now on loan from the Rose Know-Peebles collection, alongside some great works by Aradne, Phil Baird, Manuel Bonifacio, and James Lake among others, find your way to Sotheby's in London. For further information, follow through to the Sotheby's website here.
Vestiges & Verse: Notes from the Newfangled Epic…
Jan 21st – 27th May, 2018
American Folk Art Museum, New York City, USA
For the first time, my drawings will officially be on show in New York, at the American Folk Art Museum, no less. I am excited to announce that several of my diary drawings, on loan from various collections including the ABCD Collection, the Antoine de Galbert/La Maison Rouge Collection, and the Eternod/Mermod Collection will be included alongside works by seminal artists such as Aloise Corbaz, Henry Darger, Malcolm McKesson, Achilles G. Rizzoli and Adolf Wölfli. It is not lost on me that among the 21 artists included in this fascinatingly contextualised exhibition, I am among the minority of living artists, and seemingly the youngest by a few decades. I am not sure what this might mean, if anything, but certainly something for me to ponder on in the grand scheme of things. Another of the living artist who's work I admire very much, Susan T King will be leading a workshop, Drawing With Susan as part of the exhibition program on January 23rd. You can get tickets, which are free, here. Another intriguing event related to the exhibition, called Discussion: Invisible Dialogues & Invented Languages will take place on February 22nd. Tickets are available at $10-12 and are available here. Lastly, a book will be published to coincide with the exhibition which I am of course excited and intrigued to peruse. This will inevitably be available online and in some physical bookshops very soon.
See's To Exist Show 
After a short hiatus at the beginning of 2017, my radio show returned to the world in its current monthly incarnation, which is much more manageable than doing the show weekly for me at this point. I migrated from my family at Itch FM  to the globally active NTS. I am still archiving my shows on Mixcloud here. I did a couple of 'special' shows last year. The most recent being a focus on bassist Juini Booth in celebration of his 50 years of engaging with the instrument. We lost quite a few giants in the world of progressive Jazz last year, including Muhal Richard Abrams, Kelan Phil Cohran and Sunny Murray. I was pleased to be able to send off a much overlooked saxophonist, Arthur Blythe, with a show dedicated to his memory which you can hear here. Something I find interesting about his chronology is that he got his start playing with Horace Tapscott in the 1960s on the West Coast, in Los Angeles, influencing many and leaving myth behind upon arriving in New York where he wasn't so known. In the show I speak with both Gary Bias who came up playing saxophone with Horace Tapscott and the Pan Afrikan Peoples Arkestra a decade or so later than Blythe, and then trumpeter Ahmed Abdullah who played and recorded with Blythe in New York in the 1970s.
I've got my schedule of radio shows for the year, if you want to listen live on NTS, take note of the following dates and I will be on on these Sundays between 3-5pm (UK time).
Jan 14 / Feb 11 / Mar 11 / Apr 8 / May 6 / June 3 / Jul 1 / Jul 29 / Aug 26 / Sept 23 / Oct 21 / Nov 18 / Dec 16
On the topic of radio shows, I decided to start a podcast Who Cares? And Unknowns also last year. These will be very few and far between considering other commitments and priorities, but I was glad to put the first episode out there in two parts, focussed on rapper, producer, and musician Joe Dub from San Francisco. In the last newsletter I mentioned working collaboratively in terms of my designing some limited edition 45rpm/7″ record adapters. I think there were only 100 made which went out free with orders of the first release on his new record label Three Quarters. There are still copies of the record for sale, though I don't know if they are beyond the 100 by now, but check it out here if interested. The podcast in two parts nears the five hour mark, as I go into near obsessive detail in regards to the development of Joe's music through the years, touching on many an underground West Coast Hip Hop side story along the way. You can listen to those here and then here for part two.
Timmy Miller Has a Heavy Head
This is most probably the first time I haven't shown any images of my work (or images altogether) in the blog/newsletter. As some sort of solution, I will take the opportunity to let you know that I've slowly been working on a short film over the last couple of years. At this point I am not sure what life it will live, nor how much I want to say about it. But here is a still image from the film. Something ambiguous to sign off with.
Bright Moments,
Carlo