2 Jan 2018, 11:10am
Uncategorized: abcd collection Achilles G. Rizolli Adolf Wolfli Aloise Corbaz American Folk Art Museum Antoine de Galbert Arthur Blythe Eternod/Mermod Henry Darger Itch FM Juini Booth La Maison Rouge Malcolm McKesson Manuel Bonifacio NTS Outside In Pallant House Gallery Phil Baird SFSM Sotheby's Susan T King
by
admin
leave a comment
…………………………………………………………………………………………
……………………………………….
.
Where to Begin…
The logic and boundaries of my world do require suspending disbelief, as does the semblance of my creative output reflected by its absence through the lack of newsletters I send out. Fear not, I am edging forward daily in my little corner, with the support of sporadic sessions at the osteopath. Some of my efforts have been acknowledged and will be celebrated in both London and New York this January.
————————————————————————————————————————-
Outside In: Journeys…
11-19th January, 2018
Sotheby's, London, UK
The succinctly titled Journeys exhibition explores the spectacular journey that the organisation Outside In have experienced since their conception twelve or so years ago. The art works on show will revisit examples from the trodden path, highlighting the journeys that each of the selected artists have found themselves on since and in many ways probably as a result of having crossed paths with Outside In. I have written at length about Outside In and their singular identity elsewhere, as have others, so if you aren't aware of their work, do spend a few minutes on your search engine or simply visit their website here. My relationship with them began in 2009 when I exhibited a painting (illustrated here) as part of their competition/exhibition at Pallant House Gallery. My painting was chosen along with five others from the several hundred submitted from various artists across the region, and as a result I was offered a solo exhibition which took place the following year, where I sold my first diary drawing. A lot has happened since then, in regards to my multi-disciplinary work with Outside In and otherwise. To see the painting I had shown in the 2009 exhibition, now on loan from the Rose Know-Peebles collection, alongside some great works by Aradne, Phil Baird, Manuel Bonifacio, and James Lake among others, find your way to Sotheby's in London. For further information, follow through to the Sotheby's website here.
Vestiges & Verse: Notes from the Newfangled Epic…
Jan 21st – 27th May, 2018
American Folk Art Museum, New York City, USA
For the first time, my drawings will officially be on show in New York, at the American Folk Art Museum, no less. I am excited to announce that several of my diary drawings, on loan from various collections including the ABCD Collection, the Antoine de Galbert/La Maison Rouge Collection, and the Eternod/Mermod Collection will be included alongside works by seminal artists such as Aloise Corbaz, Henry Darger, Malcolm McKesson, Achilles G. Rizzoli and Adolf Wölfli. It is not lost on me that among the 21 artists included in this fascinatingly contextualised exhibition, I am among the minority of living artists, and seemingly the youngest by a few decades. I am not sure what this might mean, if anything, but certainly something for me to ponder on in the grand scheme of things. Another of the living artist who's work I admire very much, Susan T King will be leading a workshop, Drawing With Susan as part of the exhibition program on January 23rd. You can get tickets, which are free, here. Another intriguing event related to the exhibition, called Discussion: Invisible Dialogues & Invented Languages will take place on February 22nd. Tickets are available at $10-12 and are available here. Lastly, a book will be published to coincide with the exhibition which I am of course excited and intrigued to peruse. This will inevitably be available online and in some physical bookshops very soon.
See's To Exist Show 
After a short hiatus at the beginning of 2017, my radio show returned to the world in its current monthly incarnation, which is much more manageable than doing the show weekly for me at this point. I migrated from my family at Itch FM  to the globally active NTS. I am still archiving my shows on Mixcloud here. I did a couple of 'special' shows last year. The most recent being a focus on bassist Juini Booth in celebration of his 50 years of engaging with the instrument. We lost quite a few giants in the world of progressive Jazz last year, including Muhal Richard Abrams, Kelan Phil Cohran and Sunny Murray. I was pleased to be able to send off a much overlooked saxophonist, Arthur Blythe, with a show dedicated to his memory which you can hear here. Something I find interesting about his chronology is that he got his start playing with Horace Tapscott in the 1960s on the West Coast, in Los Angeles, influencing many and leaving myth behind upon arriving in New York where he wasn't so known. In the show I speak with both Gary Bias who came up playing saxophone with Horace Tapscott and the Pan Afrikan Peoples Arkestra a decade or so later than Blythe, and then trumpeter Ahmed Abdullah who played and recorded with Blythe in New York in the 1970s.
I've got my schedule of radio shows for the year, if you want to listen live on NTS, take note of the following dates and I will be on on these Sundays between 3-5pm (UK time).
Jan 14 / Feb 11 / Mar 11 / Apr 8 / May 6 / June 3 / Jul 1 / Jul 29 / Aug 26 / Sept 23 / Oct 21 / Nov 18 / Dec 16
On the topic of radio shows, I decided to start a podcast Who Cares? And Unknowns also last year. These will be very few and far between considering other commitments and priorities, but I was glad to put the first episode out there in two parts, focussed on rapper, producer, and musician Joe Dub from San Francisco. In the last newsletter I mentioned working collaboratively in terms of my designing some limited edition 45rpm/7″ record adapters. I think there were only 100 made which went out free with orders of the first release on his new record label Three Quarters. There are still copies of the record for sale, though I don't know if they are beyond the 100 by now, but check it out here if interested. The podcast in two parts nears the five hour mark, as I go into near obsessive detail in regards to the development of Joe's music through the years, touching on many an underground West Coast Hip Hop side story along the way. You can listen to those here and then here for part two.
Timmy Miller Has a Heavy Head
This is most probably the first time I haven't shown any images of my work (or images altogether) in the blog/newsletter. As some sort of solution, I will take the opportunity to let you know that I've slowly been working on a short film over the last couple of years. At this point I am not sure what life it will live, nor how much I want to say about it. But here is a still image from the film. Something ambiguous to sign off with.
Bright Moments,
Carlo
7 Mar 2015, 4:25pm
Boy shows you his... Boy talks Uncategorized: Circus Terminal Darryl Moore Freestyle Fellowship Horace Tapscott Itch FM JMD Joe Bonner Joseph Bonner Juini Booth Michael Session Outside In Pan-Afrikan Peoples Arkestra Project Blowed RR Gallery See's To Exist Steven Isoardi The Pharcyde
by
admin
leave a comment
It's March…
Winter is behind us, or is at least subsiding temporarily. One thing is apparent, each day stays brighter by 40 seconds or so. Certainly beneficial to my creation process nowadays! Light at the end of the tunnel.
I recently completed the most recent diary page which began on the first of January, 2015. Here is an image of it.. Click on it to see a larger version (which you can then click on again)..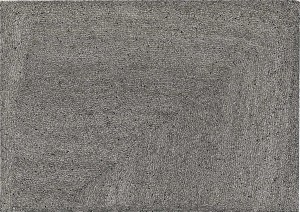 In other news, there is currently an exhibition on in London (UK), Circus In Terminal 15, featuring a large painting of mine from 2009. It is also text based but more of a word association than diary-like. It's on until Saturday 14th of March. On Friday the 13th there is a sort of 'closing party' which will feature performances (musical, theatrical, poetical, existential, un-categorisable) from 6.30-9pm. It's at the RR Gallery, St.Peter's Church, Kensington Park Road, London W11 2PN. Come along if you are in the vicinity. Here is an image of my piece at the opening..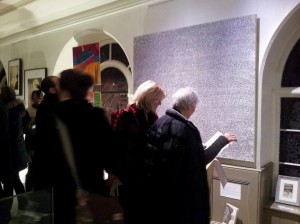 And here's a lengthy bit of blog I recently wrote for Outside In, focussed on my experience with the Circus Terminal project. It contains some historical, ideological, philosophical, and other otical contexts. And some images. Check it out HERE
Lastly, I'm gonna plug a couple of my recent radio show uploads. As I've mentioned before, I do a weekly radio show called See's To Exist show every Friday 4-6pm GMT on Itch FM which streams live on the internets via their website. I archive the shows here.
But what I wanted to draw particular attention to are two shows. The first being –
1) a special edition I did live at the station in dedication to the music of Joe Bonner, a favourite pianist of mine who sadly passed away a couple of weeks prior. There is a magical quality to his playing as is exemplified in the selections I have included from my record collection. I also speak a bit with Juini Booth who played bass on Bonner's classic Angel Eyes LP. You can hear this show / here/ 
2) A more thoroughly put together show, and a first instalment in a series of three shows, is my focus on the overlooked pianist, composer, and conductor Horace Tapscott and the movement that he put in motion from the 1960s onwards. I interview several affiliates for this. The author Steven Isoardi, who edited Horace Tapscott's autobiography and wrote an extensive account of the Pan Afrikan People's Arkestra and their history. Michael Session, who joined Horace and the Arkestra initially in the late 1970s and who is currently leading the group since Tapscott's passing. Darryl Moore, also known as JMD, who was drumming and touring with Tapscott in the 1990s, and is known for his work with the Project Blowed and production work with Hip Hop groups Freestyle Fellowship and The Pharcyde among others. You can hear the first instalment – /here/
That's all for now, folks.
Be well..
Carlo