28 Jan 2019, 9:53pm
Boy shows you his... Boy travels Uncategorized: abcd collection Adolf Wolfli Aloise Corbaz Art Brut Japonais II Barbican Bruno Decharme Collection de l'Art Brut diary drawings Egon Schiele Fondation Louis Vuitton Galerie Atelier Herenplaats Galerie d'un Livre l'autre Galerie Du Marche George Widener Guggenheim Bilbao Halle Saint Pierre Jean-David Mermod Jean-Michel Basquiat Jennifer Lauren Gallery Julia Sisi L'Envol La Gazette Drouot La Maison Rouge Little Nemo in Slumberland Lucienne Peiry Madge Gill Maison Savant Norimitsu Kokubo Outsider Art Fair Outsider Art Fair New York 2019 Outsider Art Fair Paris 2018 Philippe Eternod squirrel Tim Ter Wal Wellcome Collection Winsor McCay
by
admin
leave a comment
…………………………………………………………………………………………
……………………………………….
.
Outsider Art Fair Paris, 18th-21st October, 2018
It came and went. And a lot has come and gone since. I haven't managed to post in the blog here, and it's all piled up and fragmented now. I'll see what I can recollect and hope not to leave anything 'significant' out. I recently returned from New York, where I experienced the Outsider Art Fair there, which was certainly a whirlwind. I use this metaphor a lot. In the end, time is the whirlwind!
Paris in October was destined to be an unparalleled moment for me, due to having the calendar-diary I'd spent a year and a half accumulating over 50,000 words within in response to becoming a father and detailing every day of that until the page was filled, shown. The weekly magazine of auction sales, La Gazette Drouot, must have caught wind of this and in turn mentioned me in their 'Vous Avez Dit <<Outsider Art>>?' article, published in No.35 on 12th October. (note: click on images to enlarge)
Lucienne Peiry, former director of the Collection de L'Art Brut (2001-2012) and still working as Director of Research and International Relations there, found my drawings interesting and we had a chat. The museum have since acquired one of my diary drawings, which leaves me somewhat speechless.
Of note at the fair, was encountering Tim Ter Wal (represented by Maison Savant at the Galerie Atelier Herenplaats (Rotterdam, Netherlands) booth in a moment of working on his drawing. I noticed people just photographing him without actually speaking to him, which I found quite unsettling. I didn't want to interrupt him though, but got talking to the gallerist whom I'd had contact with in the past, and in an opportune moment I got to speak with the artist and ask him if he minded me taking any photos while he is working. He said he didn't mind. So, here are a couple of photos below.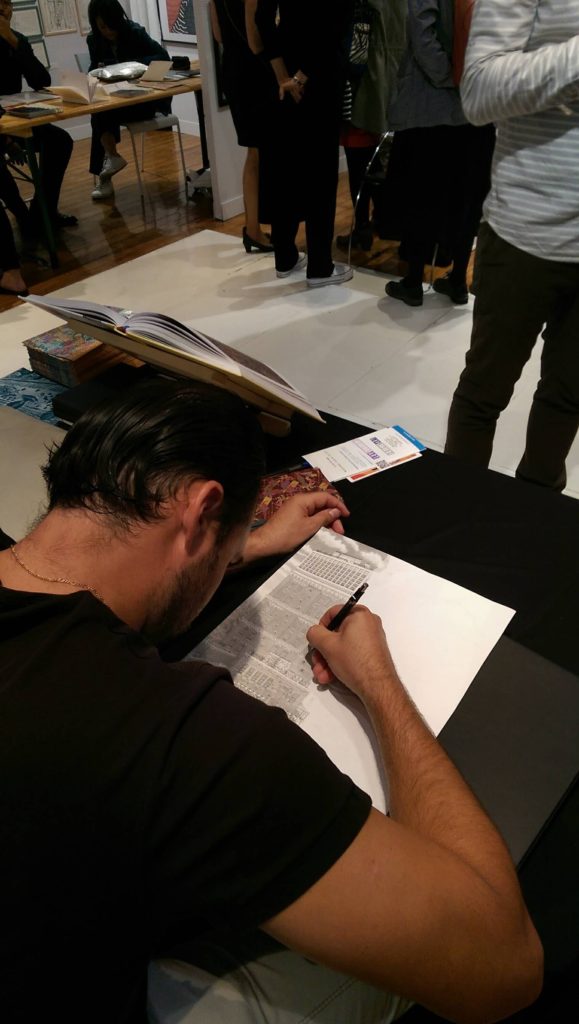 I took the opportunity to visit some other exhibitions while I was in Paris and was glad to catch my friend Julia Sisi's solo show 'Hypnagogies' at the Galerie d'un Livre l'autre which had been extended, making it possible for me to see it. I don't have any photos but spent quite some time absorbing all the energy and wonder. I also managed to see La Maison Rouge's final exhibition, 'L'Envol', which was an inspired and enjoyable exploration of (some of) our collective desire to fly, physically and metaphorically.
I also managed to see the Jean-Michel Basquiat and Egon Schiele exhibitions at the Fondation Louis Vuitton. It took an hour to get in and was very busy, but the Basquiat was well curated, unlike the recent Barbican show in London. A few years ago I saw a refreshingly unpretentious Basquiat retrospective at the Guggenheim in Bilbao, which was exciting. It was also the first time I'd managed to see an exhibition of his work. The Paris show possibly had the right balance though, overall.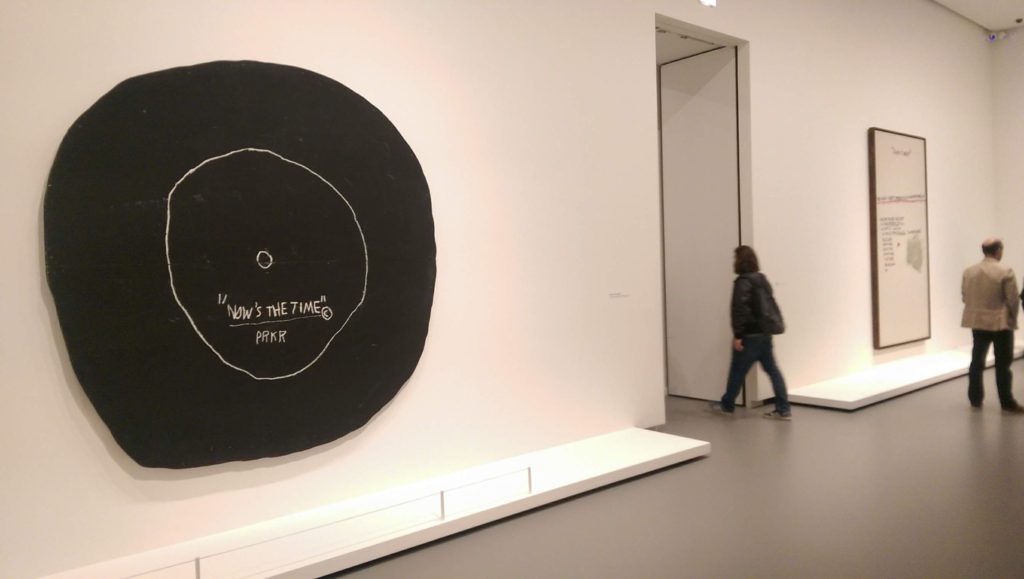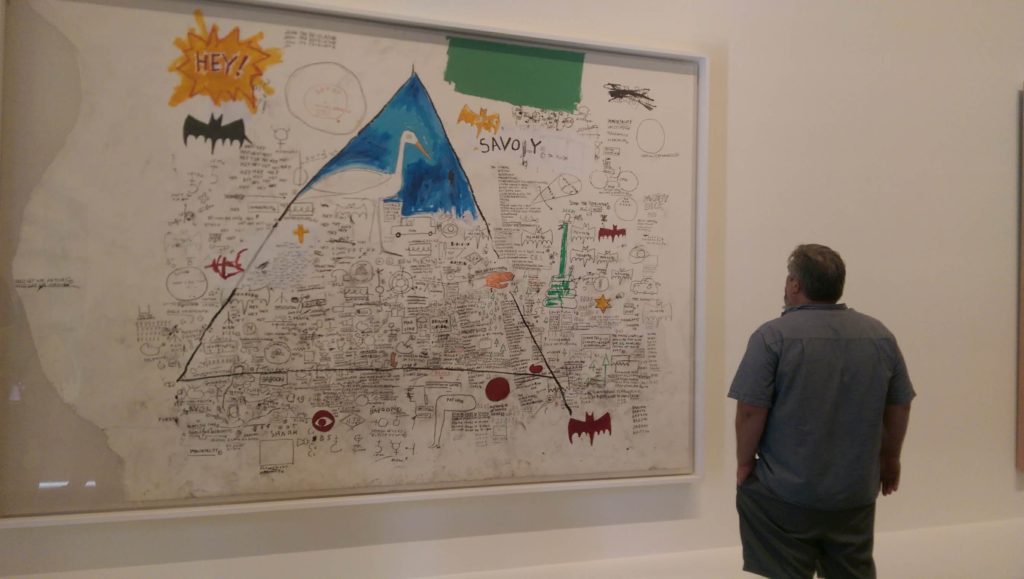 Finally, I caught the dynamic and rich Halle Saint Pierre exhibition 'Art Brut Japonais II' which featured all manner of work by many interesting and intriguing artists whom I sadly cannot do justice to here due to time restrictions but the catalogue looked quite fantastic, so perhaps seek that out. One highlight was this epic piece (seen below) by Norimitsu Kokubo, who's work I think I first saw at an exhibition at the Wellcome Collection in London a few years ago. Incidentally, we were both represented by the Jennifer Lauren Gallery at the Outsider Art Fair in New York last week (at time of writing this). More on that in the next blog entry…
Yes, so all of the above should have been put together and posted months ago. The writing would have most likely been more detailed, precise, and poignant.. but even in these short months, things fade with time.. I was going to write about the New York Outsider Art Fair now, but certainly 1) do not have enough time 2) I would use up way too much space, which also means you'll most likely not have enough time to read it all either. I really hope to post it very soon. In the next few days.. or.. next week?
Meanwhile, if I'd managed to get my phone out to film it a bit sooner, you'd get a better view but if you watch this on a loop a few times, here is a squirrel down my road, getting confused by some fake 2D trees. I guess the designers didn't think that through, or they simply did not care, or were curious to see what would happen, etc.. Anyhow, here it is, from around the same time as all the above (according to my phone)..