18 May 2020, 7:20pm
Boy shows you his... Uncategorized: Agatha Wojciechowsky Albert Candid Arts Centre Cathy Ward Chris Neate chronomancer Dan Miller deviation street diary drawings Evelyne Postic gerard sendrey Harald Stoffers Jan Arden Jean Dubuffet Jennifer Lauren Gallery judith mcnicol Kate Bradbury leslie thompson Lines of Revelation Liz Parkinson Margot Mehrdad Rashidi Monochromatic Minds neuve invention Nick Blinko Outsider Art Rashidi Ted Gordon Terence Wilde Valerie Potter
by
admin
leave a comment
…………………………………………………………………………………………
……………………………………….
Greetings. As we try to channel our inner chronomancer, the significance of these devices and means of communication acutely rings true. In the midst of everything, I'm just getting on with my diary writing/drawing, seemingly obsolete but also perhaps an important time to be recording thoughts and observations. Fathoming the unravelling repercussions and predicaments triggers a knee-jerk reaction into the foetal position, and the over-load of analytical elements and angles factored in diffuse any potential succinct message, but broadly amount to The Mess Age. It is not unique of course, and like other times and places, transformations will result and continue. As I've not posthumously written here about the wonderful Monochromatic Minds: Line of Revelation exhibition that took place not long before everything changed, I'll include some reflections in this instalment. I will also touch on other bits and bobs. Onwards..
Monochromatic Minds – Jennifer Lauren Gallery – Candid Arts Centre, London, UK. 25th Feb – 4th March, 2020
As anticipated, this celebration of black and white art works within the field of Outsider/Self Taught/Neuve Invention/Visionary art did not disappoint. The majority of artists' names who's work was included, alone, made for a very exciting cumulative concoction. The actual works aligned well to that aura. The space was also very well suited. The majority of works in the show could easily command your attention for an indefinite amount of time individually. Imagine a room full of that. The show was on for a mere week or so but felt alive while it was on the entire time with a variety of events taking place within the programme. There were art workshops and artist talks delivered by artists from around the globe. Below are some photos that should help contextualise things if you couldn't be there and care to absorb an attempt at documenting my experience.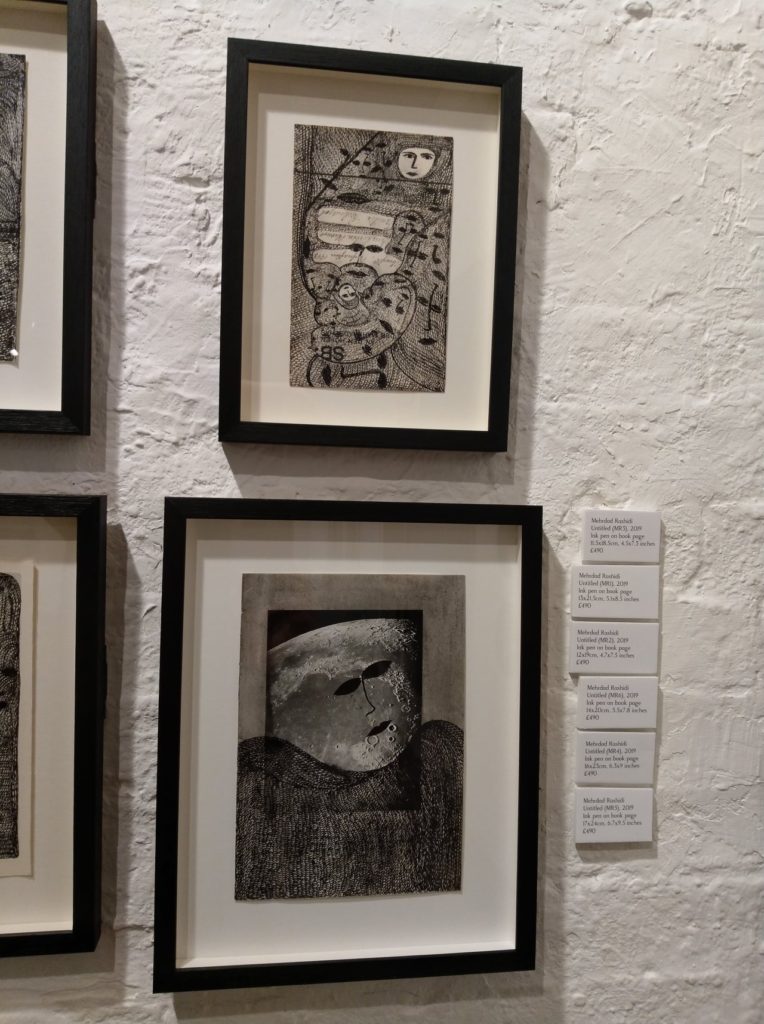 If you'd like to check out the short documentary I mentioned above, you can do so here.
Diary drawing and Deviations…
I'm working on the first A4 size diary drawing since 2016. There are several reasons why the format changed and I haven't returned to A4, though was intending to. Anyhow, the time arrived. After I'd finished drawing in it a few days ago, I realised that I could see that day in the drawing. The reason being, I changed both the nib on the pen and its ink at the same time before starting that day. Usually these occurrences don't coincide. The result being a distinction that is visible on the page. I took a photo so as to see what a day of drawing looks like when it's not at the very beginning (as that is the other time/place where it is easily discernible, on day one). There are other contrasts on the page where the text takes on different shades and textures, for other reasons, but this one highlights a single day of drawing at this stage. Of course, after working on it again the following day, it won't be visible anymore. Hence the significance of photographing it when I did. You might assume the lockdown is driving me to such pedantic measures. I'll let you assume!
Last month, I had an email exchange with the the good people over at Deviation Street and they included some of that in their lockdown series of posts. You can find that post here.
I feel like there was something else I wanted to include, but if it was significant I'll get it in next time. I've incrementally been returning to this post for weeks now, so who knows anymore. Stay smart, and until the next time…
Carlo.
9 Jan 2020, 4:07pm
Boy shows you his... Boy travels Uncategorized: Adolf Wolfli Agatha Wojciechowsky Akio Kontani Albert Aloise Corbaz Andrea Bellini Aradne August Walla Ben Wilson Bethlem Gallery Candid Arts Centre Carlo Zinelli Cathy Ward Centre d'Art Contemporain Geneve Chewing Gum Man Chris Neate Codex Seraphinianus Collection de l'Art Brut Dan Miller Daniel Goncalves Darren Adcock diary drawings Dolly Sen Evelyne Postic Gaston Chaissac George Widener Harald Stoffers Henri Michaux J.B. Murray James Moss Jean Dubbuffet Jennifer Lauren Gallery Julia Sisi Kate Bradbury Laure Pigeon Leonhard Fink Lines of Revelation Liz Parkinson Luigi Serafini Madge Gill Malcolm McKesson Margaret Mousseau Margot Melvin Way Michel Nedjar Michel Thevoz Monochromatic Minds Nick Blinko Nigel Kingsbury Norimistsu Kokubo Octopus Ody Saban Outside In Outsider Art Outsider Art Fair Outsider Art Fair New York 2020 Phil Baird Portico Library Rashidi Raw Vision Magazine Roger Cardinal Sarah Lombardi Scrivere Disegnando Shinichi Sawada Sugarglider Susan Hiller Talking Sense Ted Gordon The Changing Vocabulary of Mind and Brain The Horse Hospital When Language Seeks Its Other Writing by Drawing
by
admin
leave a comment
…………………………………………………………………………………………
……………………………………….
Greetings. Here it is, part 2. Part 1 had me tying up last year's loose ends. Part 2 looks at the near future and which walls you'll find my work on. As usual, everything happens at once. I'm in exhibitions at the Portico Library in Manchester (UK), the Centre d'Art Contemporain in Geneva (Switzerland), and with Jennifer Lauren Gallery at the Candid Arts Center in London (UK) as well as at the Outsider Art Fair in New York (USA).
Outsider Art Fair – Jennifer Lauren Gallery /// January 16-19th. Metropolitan Pavilion. New York, USA
I'm not sure exactly what happened during the fabrefaction of my July 31st – November 28th, 2019 diary drawing, but the result is 12,627 words in my bubble text on A5 card. This is almost 2,000 more words than were recorded on the previous page and by now more than have been recorded on any of the ten A4 size diary drawings. If you want to go see the combobulation for yourself, find yourself at the Jennifer Lauren Gallery booth for their third year at the fair. Jennifer Lauren will also be showing work by Shinichi Sawada, Akio Kontani, Margaret Mousseau, Leonhard Fink, Chris Neate, Norimistsu Kokubo and more.
For further info on the fair, opening hours, special events etc.. see here.
Talking Sense: The Changing Vocabulary of Mind and Brain. /// January 17th-April 13th. The Portico Library. Manchester, UK 
James Moss curates the works and minds of 50 artists in this playfully conceptual exhibition fitting to the ethos of the Portico Library, a 200+ year old subscription library in Manchester's city center. The exhibition "explores the idea of "mind/brain-then/now" – combining 18th and 19th century literature with new artworks to create a space for conversations around the vocabulary of neurodiversity, mental health and psychology". Sugar Glider vs. Octopus, a painting I did in 2009 will be included along with works by the homies Darren Adcock and Dolly Sen. Quite pleasantly, we are accompanied by 47 artists I can't say I am aware of by name. I look forward to discovering their work and how all this might fit together in the context! The public preview is from 6-8pm on Thursday 16th January.
Scrivere Disegnando ('Writing By Drawing'): When Language Seeks Its Other /// January 29th- May 3rd. Centre d'Art Contemporain. Geneva, Switzerland
I'm thrilled to have several diary drawings included in this near-exhaustive exploration of writing as drawing and how this leaves the communicative aspect in ambivalence and/or ambiguity, focussing on work from the early 19th century to the present day. At least that's my reading of it so far. I impatiently await experiencing the exhibition for myself at the opening on Tuesday, January 28th. I understand the exhibition will be accompanied by an elaborately produced book of 300+ pages. I will report back with details regarding that as I learn them. Co-curated by Andrea Bellini (Centre d'Art Contemporain, Director) and Sarah Lombardi (Collection de l'Art Brut Lausanne, Director), it will be interesting to see works by artists associated with Art Brut side by side with contemporary artists, brought together through the context of this theme. On those walls I'll be in the very good company of Nick Blinko, Gaston Chaissac, Aloise Corbaz, Jean Dubbuffet, Susan Hiller, Henri Michaux, Laure Pigeon, Luigi Serafini (Codex Seraphinianus!), J.B. Murray, August Walla, Melvin Way and Adolf Wolfli among others.. In my previous blog entry I spoke on the writer Michel Thevoz and the artist Carlo Zinelli. Thevoz is contributing text to the book published in conjunction with this exhibition, and there is a big Zinelli exhibition at the Collection l'Art Brut in Lausanne, so I'll also be able to experience that, which should be wonderful. I'll report back upon returning.
Monochromatic Minds: Lines Of Revelation – Jennifer Lauren Gallery /// February 25th- March 4th. Candid Arts Centre. London, UK
I can't help but feel this will be a historic exhibition relentlessly championing works in black and white, through a roster of 62 artists, most of which I admire immensely, and some I'd not heard of or seen but am thus far impressed with based on images revealed here. Jennifer Lauren has taken on quite a task and brought together an extremely impressive group of artists, which I'm overwhelmingly excited to see curated together in one space. On these walls I am joined by my PPP crew (Posca Pen Pals) Liz Parkinson and Julia Sisi, the highly potent Albert who I've met through the Bethlem, Madge Gill who needs no introduction, the great Aradne, it's an endless list and I'd love to think of specific words to describe each artist but I must go and do my tax returns. It's very tempting though.. Ody Saban who's work I've admired over the last fifteen years, Cathy Ward whom I've crossed paths with since encountering her work at The Horse Hospital (which is in grave danger of being shut down after over 25 years, spread the word to your powerful and caring friends please!) around the time they offered to show my work for the first time in 2007/8, Nick Blinko who I've written about quite a lot over the years (here are a couple of bits: 2011, 2016), Rashidi, Margot, Harald Stoffers, George Widener, Ben Wilson, Malcolm McKesson, Dan Miller, Kate Bradbury, Nigel Kingsbury, Daniel Goncalves, Michel Nedjar, Evelyne Postic, Agatha Wojciechowsky, Ted Gordon, and the list goes on! I just wish brother Phil was here. Right,.. I feel like I'm about to malfunction. For full details check this  and I'll reiterate all this in a more succinct and informative manner within the next blog entry in a few weeks, with updated specifics regarding the series of events surrounding the exhibition including presentations by some of the artists and more. 
Roger Cardinal (1940-2019)
It was saddening to hear that Roger Cardinal, the man who first used the controversial term 'Outsider Art' with having his book titled as such (published in 1972), has transcended the Earth at the end of last year. The forthcoming issue (104) of Raw Vision magazine will be a special tribute edition. I was privileged to meet him several times. My first encounter with him was interesting, I had been writing in my diary drawing for a couple of hours, alone at a table and he walks into the room and asks if I mind him sitting beside me. He then asked if I minded him taking some notes as we conversed. We went from there into another smaller room where a video interview with Jean Dubuffet was showing and we sat there for a short time before he nodded off for a while in an armchair. We crossed paths a handful of times or so after that and began a somewhat intense email exchange, which began with him actually saying he would be "honoured" to write about my drawings (too much!). He could also be quite playful in his approach. Referring back to that email, he wrote: I would be honoured to write something about your work, which is definitely on my personal list of a site of "outstanding natural beauty" (that's a quotation from the Kent County Council road sign that you'll find at the entrance to our local villages!). I regret not having resolved the unusual and perplexing tone of our last emails. Irrespective of that, Roger Cardinal will forever be gargantuan.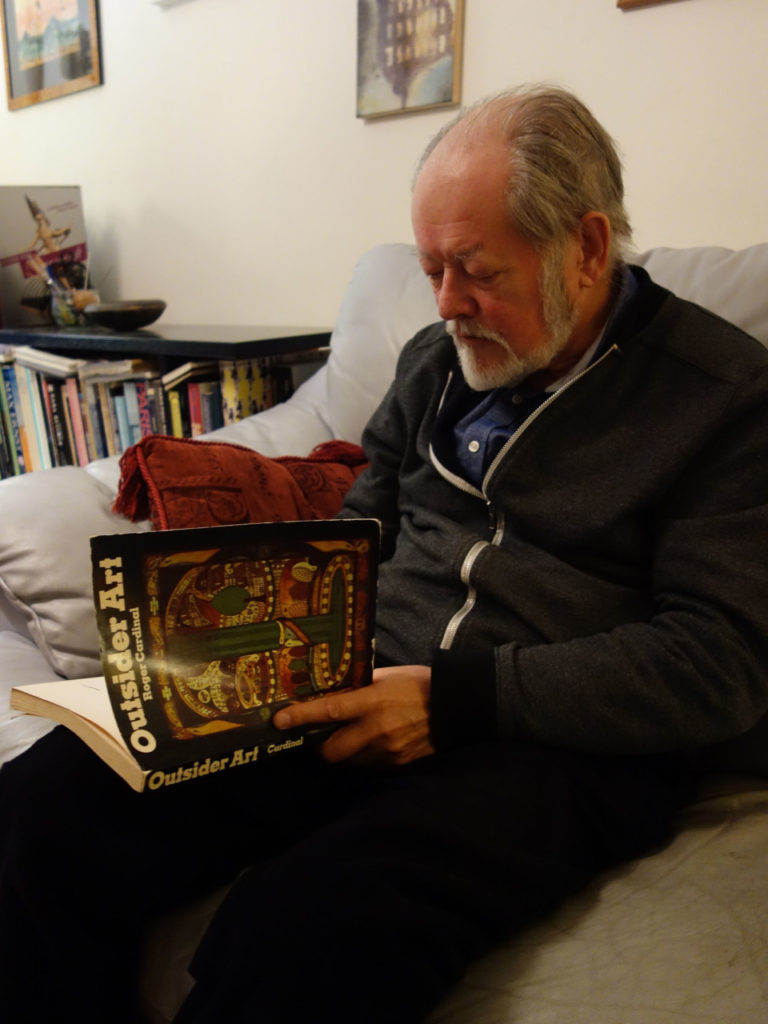 3 Sep 2019, 1:51pm
Boy shows you his... Uncategorized: AACM Adamson Collection Trust Adolf Wolfli African Skies Aloise Corbaz Amelie Ravalec Art & Mind Artistic Heritage Ensemble Augustin Lesage David O Flynn Derk Reklaw diary drawings Earth Wind and Fire Edmund Monsiel Edvard Munch Francisco Goya frankiphone Hieronymus Bosch ICA John Maizels Josefe Marie Verna Kelan Phil Cohran and Legacy Mad Pride Mad Pride All-dayer Madge Gill Nick Blinko NTS Radio Outsider Art Fair Outsider Art Fair Paris 2019 Phil Cohran Raw Vision Magazine Sun Ra Arkestra Timmy Miller Has a Heavy Head William Blake
by
admin
leave a comment
…………………………………………………………………………………………
……………………………………….
.
It has been half a year or so since my last blog post.. Some updates as we transition into the climax of an unknown winter…
Manchester Mad Pride All-Dayer, Sunday September 8th
This subversive celebration is coming up very soon, at the end of this very week in fact. I was invited to partake and have contributed a couple of prints to the visual art exhibition, as well as my film Timmy Miller Has a Heavy Head which will be screened in a programme of short films throughout the day. It is a rare showing of the film and no other showings are currently planned to take place.  The event will showcase various artists spanning a vast spectrum of dynamic media for all your senses to glean. These are the co-ordinates:
Niamos, Chichester Road, Hulme, Manchester, M15 5EU
You can find further info here (where if you scroll down to a post from August 3rd, you can read my answers to a few questions that were put to me) or here.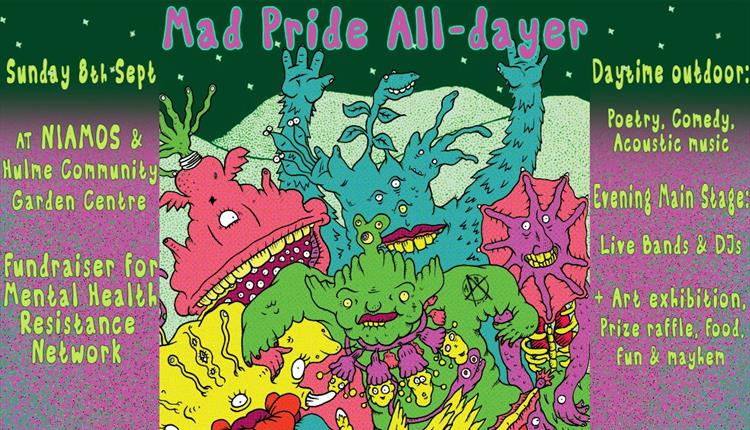 Outsider Art Fair Paris 2019, Thursday 17th – Sunday 20th October
I'm proud to announce that some of my work will be on show again with the Galerie du Marche (Lausanne, Switzerland) at the seventh edition of the annual Outsider Art Fair in Paris this October. It has been surreal to be included among highly potent artists such as Aloise Corbaz, Edmund Monsiel, Adolf Wolfli and Madge Gill on what I have always considered to be one of, if not the, strongest stands at the fair.
The most recently completed diary drawing is on an A5 format (21 x 14.8cm). In some sort of unexplainable phenomena, it has resulted in several thousand more words than the previous diary of the same size, and contains more words than eight out of the ten A4 diary pages that exist, at almost 11,000 words in 'bubble text'. Usually the word difference, especially in such close succession (months, not years), can be a few hundred more or less. This diary page will be on show at the fair. See here for further details.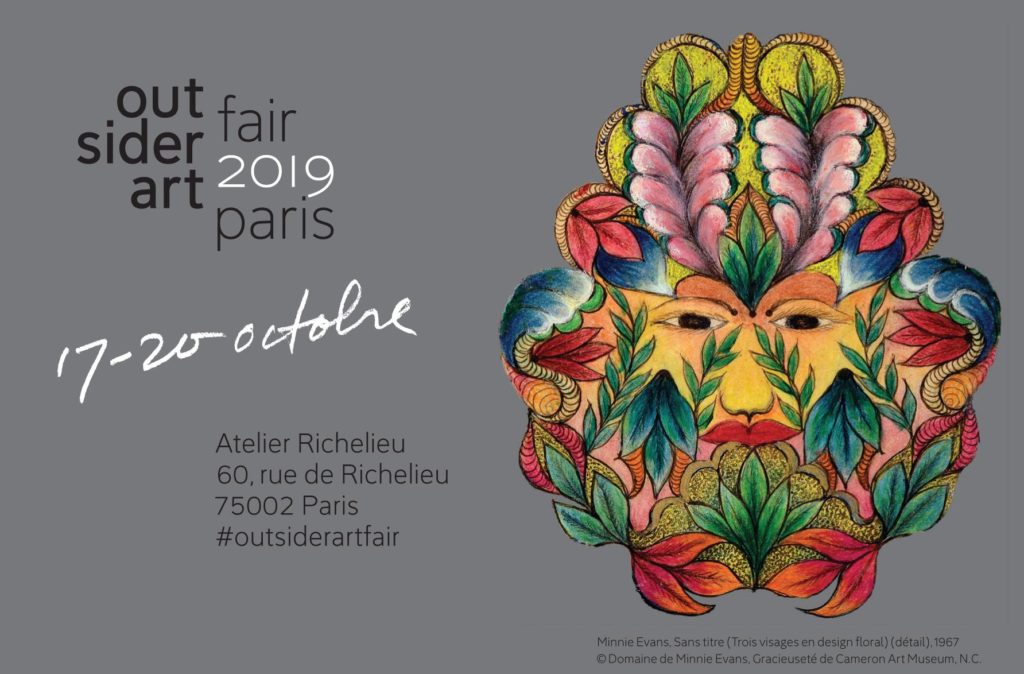 Art & Mind film
I should mention the manifestation of this truly ambitious documentary film, Art & Mind, which attempts to chart evolving opinions, views and research regarding the convergence of mental health and visual art whilst considering a period of give or take 500 years. I was present at the premiere which took place at the ICA in April (where it will be shown as part of a double bill on Sunday September 8th again). There are dozens of further screenings scheduled globally, which you can find here along with the trailer and further information. The film is narrated by the unparalleled John Maizels, editor of Raw Vision Magazine, who was on the Q & A panel at the premiere alongside chair of the Adamson Collection Trust, David O Flynn and director of the film itself, Amelie Ravalec. From having viewed the film once, I recall my immediate response was a feeling of inundation. There were 350 or so images shown in the film (including one of mine), in a sort of suspended montage sequence. The film was divided into an array of sub-chapters, giving a short time to highlight each. It would not go amiss to re-edit this film and the extensive omitted footage, into a series of episodes, allowing more time for the information to flow. The sequence of images is beautiful and to see it on a big screen was fantastic. With such an amount to be tackled within the time frame of a feature film, and to summarise the centuries explored, naturally there is a lot left unsaid and, for example, failing to include non-Western art and non-Western interpretations of mental health assessment and behaviour, is significantly detrimental. I found the relentlessness of the on-going music under the interviewees words contributed to a somewhat suffocating viewing process, but paradoxically find the alignment of that to the subject, an interesting choice of formatting and that perhaps it in some way can work to the film's advantage. Needless to say, I can't wait to re-watch this film, probably several times. To see works by Bosch, Goya, Blake, and Munch contextualised with Lesage, Wolfli, Blinko, and an endless list of incredible artists, and practitioners active in various aspects of the field pondering on these works and how they were viewed in their time and since, is incredibly fascinating.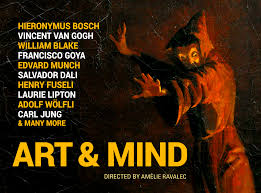 See's To Exist Show, edition 179 – The Sphereology of Phil Cohran
I recently put a pre-recorded radio show together focussing on the extraordinary music of self-proclaimed 'sphereologist', Phil Cohran. A difficult task to fit what I can into two hours, especially after a very rich hour and twenty minute conversation recorded between myself and harpist Josefe Marie Verna (who's majestic opening notes on White Nile, from the African Skies LP recorded in 1993 were my introduction to Phil Cohran's music) , which I edited parts of into the show, as well as fragments of a phone conversation I had with Derf Reklaw who was involved in Phil Cohran's Artistic Heritage Ensemble in the late 1960s. Cohran played in Sun Ra's Arkestra for a couple of years as the 1950s turned into the 1960s, and is known for being co-founder of the legendary AACM. He invented the Frankiphone, a sort of electrified thumb piano, which was popularised by disciples of his who went on to form Earth, Wind and Fire. I get into details about all of that and much more. Most importantly, you can hear some of this great music in the show here.
My show is monthly and you can hear the next show in its usual format of me playing some of my records live and talking about them on September 22nd, 3-5pm (UK time) over at NTS Radio.
That's All Folks!
I have some exciting news simmering and hope to report back soon. Meanwhile, back to your lives.
Take care,
Carlo.
28 Jan 2019, 9:53pm
Boy shows you his... Boy travels Uncategorized: abcd collection Adolf Wolfli Aloise Corbaz Art Brut Japonais II Barbican Bruno Decharme Collection de l'Art Brut diary drawings Egon Schiele Fondation Louis Vuitton Galerie Atelier Herenplaats Galerie d'un Livre l'autre Galerie Du Marche George Widener Guggenheim Bilbao Halle Saint Pierre Jean-David Mermod Jean-Michel Basquiat Jennifer Lauren Gallery Julia Sisi L'Envol La Gazette Drouot La Maison Rouge Little Nemo in Slumberland Lucienne Peiry Madge Gill Maison Savant Norimitsu Kokubo Outsider Art Fair Outsider Art Fair New York 2019 Outsider Art Fair Paris 2018 Philippe Eternod squirrel Tim Ter Wal Wellcome Collection Winsor McCay
by
admin
leave a comment
…………………………………………………………………………………………
……………………………………….
.
Outsider Art Fair Paris, 18th-21st October, 2018
It came and went. And a lot has come and gone since. I haven't managed to post in the blog here, and it's all piled up and fragmented now. I'll see what I can recollect and hope not to leave anything 'significant' out. I recently returned from New York, where I experienced the Outsider Art Fair there, which was certainly a whirlwind. I use this metaphor a lot. In the end, time is the whirlwind!
Paris in October was destined to be an unparalleled moment for me, due to having the calendar-diary I'd spent a year and a half accumulating over 50,000 words within in response to becoming a father and detailing every day of that until the page was filled, shown. The weekly magazine of auction sales, La Gazette Drouot, must have caught wind of this and in turn mentioned me in their 'Vous Avez Dit <<Outsider Art>>?' article, published in No.35 on 12th October. (note: click on images to enlarge)
Lucienne Peiry, former director of the Collection de L'Art Brut (2001-2012) and still working as Director of Research and International Relations there, found my drawings interesting and we had a chat. The museum have since acquired one of my diary drawings, which leaves me somewhat speechless.
Of note at the fair, was encountering Tim Ter Wal (represented by Maison Savant at the Galerie Atelier Herenplaats (Rotterdam, Netherlands) booth in a moment of working on his drawing. I noticed people just photographing him without actually speaking to him, which I found quite unsettling. I didn't want to interrupt him though, but got talking to the gallerist whom I'd had contact with in the past, and in an opportune moment I got to speak with the artist and ask him if he minded me taking any photos while he is working. He said he didn't mind. So, here are a couple of photos below.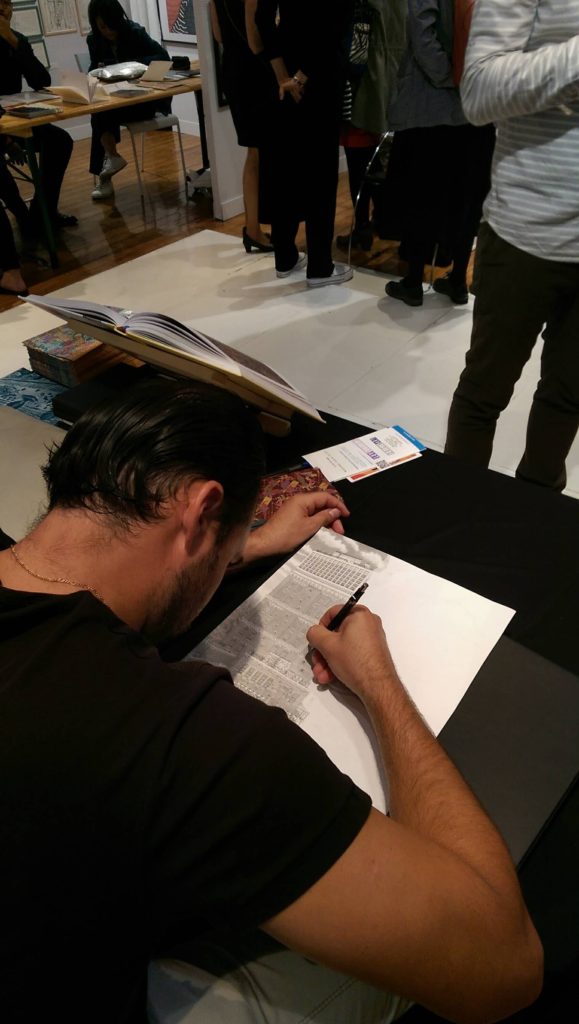 I took the opportunity to visit some other exhibitions while I was in Paris and was glad to catch my friend Julia Sisi's solo show 'Hypnagogies' at the Galerie d'un Livre l'autre which had been extended, making it possible for me to see it. I don't have any photos but spent quite some time absorbing all the energy and wonder. I also managed to see La Maison Rouge's final exhibition, 'L'Envol', which was an inspired and enjoyable exploration of (some of) our collective desire to fly, physically and metaphorically.
I also managed to see the Jean-Michel Basquiat and Egon Schiele exhibitions at the Fondation Louis Vuitton. It took an hour to get in and was very busy, but the Basquiat was well curated, unlike the recent Barbican show in London. A few years ago I saw a refreshingly unpretentious Basquiat retrospective at the Guggenheim in Bilbao, which was exciting. It was also the first time I'd managed to see an exhibition of his work. The Paris show possibly had the right balance though, overall.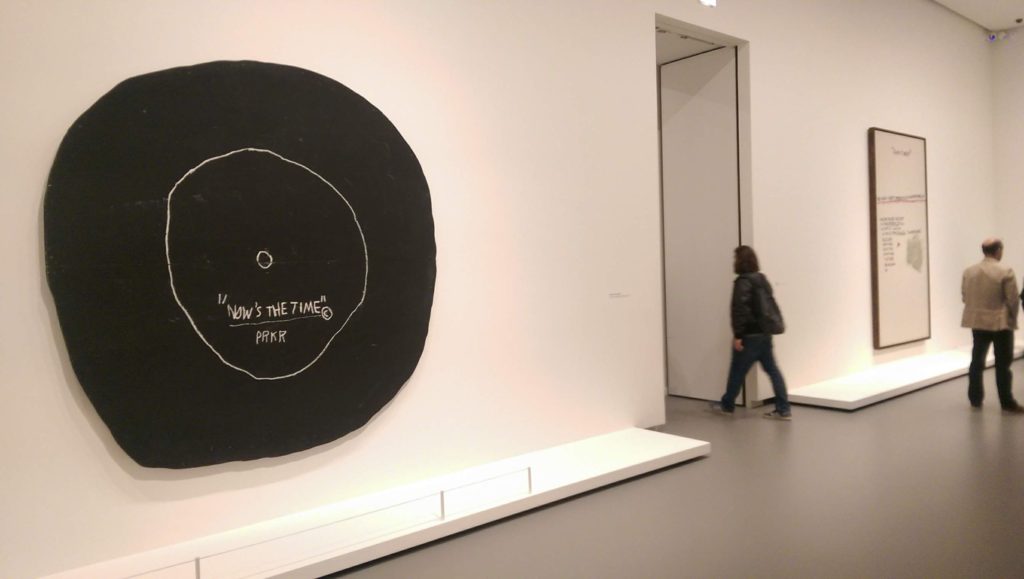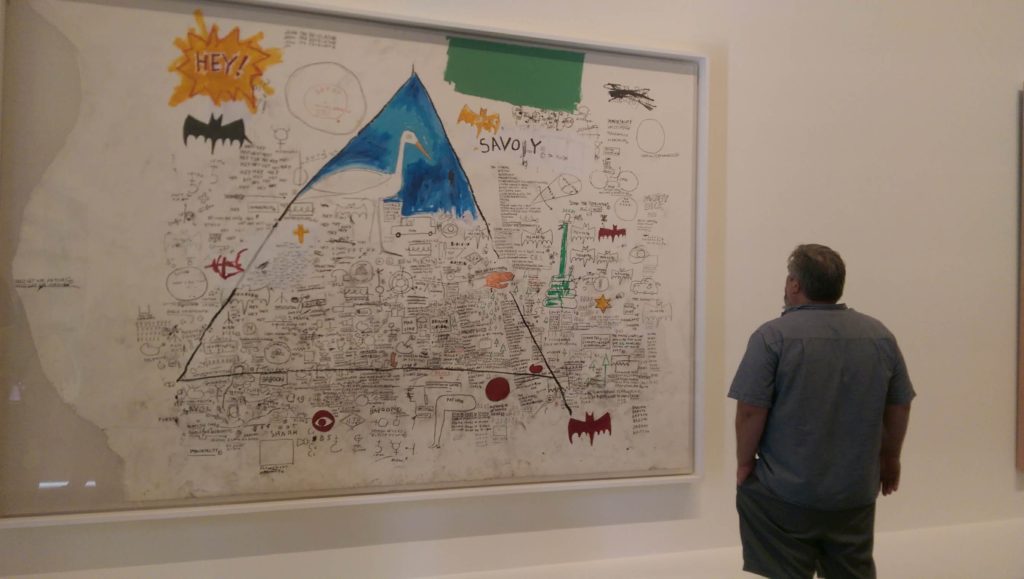 Finally, I caught the dynamic and rich Halle Saint Pierre exhibition 'Art Brut Japonais II' which featured all manner of work by many interesting and intriguing artists whom I sadly cannot do justice to here due to time restrictions but the catalogue looked quite fantastic, so perhaps seek that out. One highlight was this epic piece (seen below) by Norimitsu Kokubo, who's work I think I first saw at an exhibition at the Wellcome Collection in London a few years ago. Incidentally, we were both represented by the Jennifer Lauren Gallery at the Outsider Art Fair in New York last week (at time of writing this). More on that in the next blog entry…
Yes, so all of the above should have been put together and posted months ago. The writing would have most likely been more detailed, precise, and poignant.. but even in these short months, things fade with time.. I was going to write about the New York Outsider Art Fair now, but certainly 1) do not have enough time 2) I would use up way too much space, which also means you'll most likely not have enough time to read it all either. I really hope to post it very soon. In the next few days.. or.. next week?
Meanwhile, if I'd managed to get my phone out to film it a bit sooner, you'd get a better view but if you watch this on a loop a few times, here is a squirrel down my road, getting confused by some fake 2D trees. I guess the designers didn't think that through, or they simply did not care, or were curious to see what would happen, etc.. Anyhow, here it is, from around the same time as all the above (according to my phone)..
9 Oct 2018, 9:05am
Boy shows you his... Boy travels Uncategorized: Achilles G. Rizolli Adolf Wolfli Aloise Corbaz American Folk Art Museum Barbara Safarova Byard Lancaster Charles Mingus David Durrah diary drawings Doug Hammond Family of Percussion Galerie Du Marche Henry Darger NTS Outsider Art Fair Outsider Art Fair Paris Tribe Records Vestiges and Verse: Notes from the Newfangled Epic
by
admin
leave a comment
…………………………………………………………………………………………
……………………………………….
.
Outsider Art Fair Paris, 18th-21st October
It is nearly upon us. In just over a week, I shall be getting the train to Paris excited to be practicing iconolatry on such a scale yet again at the Outsider Art Fair. This year, at the new location –
Atelier Richelieu, 60, rue de Richelieu 75002, Paris.
More info here.
Some of my diary-related drawings will be on show with the Galerie Du Marché coming from Lausanne, Switzerland. I am especially pleased to be showing what I can only describe as the most monumental diary drawing to have been channeled through my nib. More on that below. . . No doubt I'll be on the wall there, in the company of the usual unusual array of non-living artists, as that is where I seem to fit in all this. I can't complain.
Diary, 1st January 2017- 8th May 2018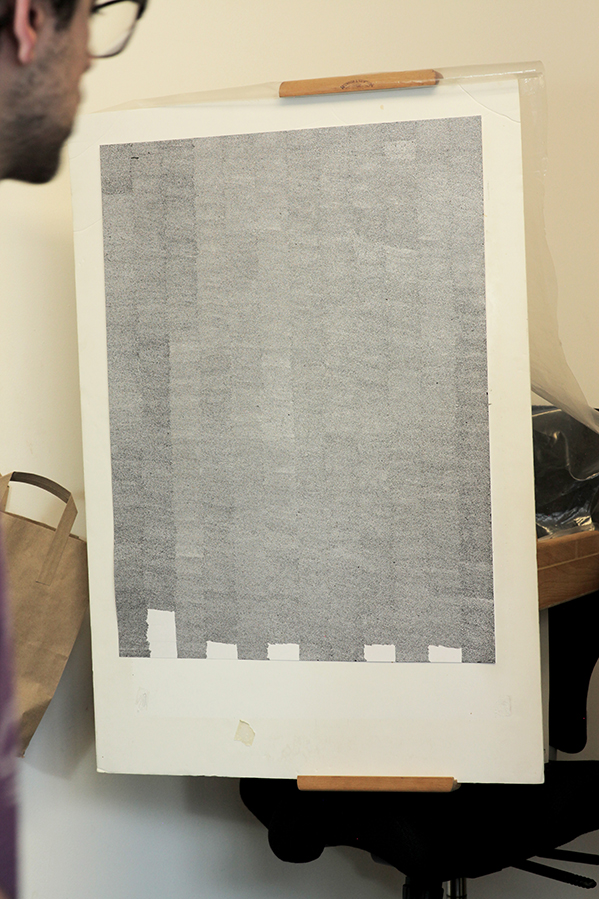 The photograph above was taken on the day of completion of my largest diary drawing. The format is different to the usual A4 landscape, and the text also follows a different pattern. I had intended to approach this with the idea of filling it daily, like a calendar, allocating specific spaces to each day of the year 2017. The result, however, spills into the following 2018 (8th of May to be precise, the day this photograph was taken, incidentally). The need to do this drawing came to me a few weeks before the end of 2016. My son was to be born late January/early February 2017. I felt to document the weeks leading up to the birth and capture the evolution of each day after until the end of the year. Expecting a whirlwind of developments and no time to process/retain a lot of the on-going nuanced details, this idea seemed like a way to capture these and keep them contained. Unfortunately, due to severe back issues which had me frequenting the osteopath, as well as other unforeseen instances/setbacks, I could not draw every day on this occasion, but did keep a written diary for the days I missed, which I could later include in the drawing. In any case, a somewhat uncanny thing happened. I had created the equivalent of around 5-6 usual A4 size diary drawings in under a year and a half. I am usually creating 2 a year, 3 at a push (there was one A4 diary that took me two and a half years to complete but that's another story), and that was with the more time I was able to give in the pre-parenting phase of life. I have never been very good at Math. But these contrasting results make little sense to me. Answers on a postcard. With over fifty thousand words in the drawing, the equivalent to the most densely packed of previous A4 diary drawings is more or less reached also.
So yes, this drawing will be shown for the first time at the Outsider Art Fair in Paris.. If you're able and willing, come to the fair and you can see it.
Vestiges & Verse: Notes from the Newfangled Epic book published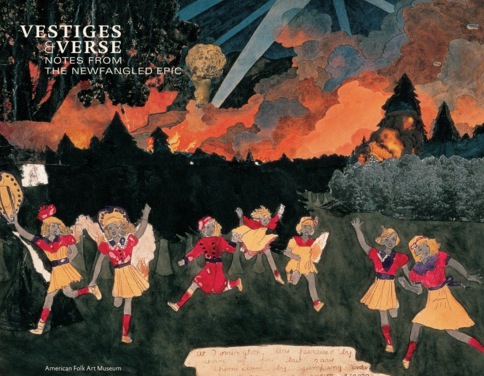 Earlier this year, a selection of my drawings were shown in the group exhibition Vestiges & Verse: Notes from the Newfangled Epic at the American Folk Art Museum in New York.  The accompanying publication is now available to purchase and has a profile on each of the twenty one artists who's work was shown including Henry Darger, Achilles Rizzoli, Adolf Wolfli, and Aloise Corbaz. The text on me and my work was written by Barbara Safarova.
See's To Exist Show – Doug Hammond special
I'm still at it, doing my monthly 'Jazz'-focussed radio show on NTS. Generally I am playing records from my collection and speaking a bit about some of them. Occasionally I find or make the time to shed light on particular artists or record labels and hone in on details of interest, gleaning what I can from the conversations I manage to arrange. The most recent of these comes in the form of edition 165, my special show on the fascinating drummer/percussionist Doug Hammond and you can hear that here.  We speak on some of the collaborations he's been involved in (David Durrah, Tribe Records, Charles Mingus, Byard Lancaster, Family of Percussion..), self releasing music, the recent documentary focussed on him and his work, and more. Enjoy.
Here is one of the recordings of Doug Hammond's that initially piqued my curiosity some years ago..
GDPR
I've saved the most mundane for last. Some months ago, new privacy safety measures were put into effect and I made some effort to comply with this in regards to the newsletter I send out only twice a year or so, through Mailchimp. I re-invited those that were subscribed and ended up with just 5% or so of them resubscribing. It seems some tried to but were unable also, which reflects either my ineptness or how complicated this process is for a lot of people like myself trying to keep these things going with minimal understanding of the necessary technologies. Long story short, I've just rejigged the subscription button on this blog (top left side of the page), so hopefully if you tick the GDPR box and the other box to subscribe, it will work. Please let me know if it doesn't, and if it does, please forward this on to anyone you know who may have previously been subscribed, that would be a great help, thanks.
That's all, folks. I'll be back.
Bright moments,
Carlo
14 Feb 2017, 7:26pm
Boy shows you his... Uncategorized: abcd collection Adolf Wolfli Aloise Corbaz Brian Robert Gibson Carlo Keshishian Cathy Ward Circus Terminal diary drawings Eternod/Mermod Collection Ian Pyper Itch FM Joe Dub Liz Parkinson NTS Outside In Outsider Art Fair Outsider Art Fair Paris Pier Makanda San Fransisco Street Music See's To Exist Show SFSM Uncooked Culture Who Cares? And Unkowns
by
admin
leave a comment
Outsider Art Fair Paris 2016
Greetings. As the last update was left on the ponderous note of anticipation for what was to come in the form of the Outsider Art Fair Paris, I shall provide you with the outcome.. firstly, I have written at length about it here for Outside In. Having just revisited this writing now, I don't think I need to add much more here. The New York edition of the fair celebrated its 25th year earlier this month and it seems the momentum has really picked up in the last few years with more attendance, media coverage and general awareness seemingly bringing the field noticeably within view from in the shadows.
ABDC Collection
Following on from the Paris fair, I'm pleased to announce some of my recordings have found a home in the unparalleled ABCD collection. See here.
Radio Shows, Itch FM, NTS and Mixcloud: See's To Exist Show / Who Cares? And Unknowns
For those that have been following my See's To Exist Show Jazz based radio shows in the last few years, a metamorphosis is currently taking place. For various reasons, I've had to call it a day in regards to providing a weekly show at Itch FM, which has been a great experience and I will forever rep the Itch family. I wasn't sure what form, if any, See's To Exist Show will continue to exist as, and started to put in place the creation process of a new podcast which would not be restricted by genre or time in terms of how frequently new editions would come into being, or how much time they would each run for. This show is called Who Cares? And Unknowns, of which the first instalment has now been uploaded in two parts (clocking in altogether at somewhere around the 5 hour mark). This first instalment is focussed on Joe Dub, one of the West Coast's best kept secrets in terms of underground Hip Hop (of the Americas). I first came across his music in the form of a cassette that was given to me in 1997-98, containing material by his then group San Francisco Street Music, that I would years later find out is titled 'The Pride'. A cassette intrinsic to the development of my own approach to a lot of things, to this day. In a previous blog entry, I highlight some record adapters I designed for Joe's current project, and we have had an interesting exchange since the turn of the last century. He has recorded with the who's who of mythical underground West Coast artists such as Deeskee, 2Mex, Abstract Rude, Doc Lewd, Awol One, Circus, Liferexall, Neila, Dave Dub, Ellay Khule, and a near endless list of others. In these shows I provide a generous quantity of his recordings, more or less chronologically, including collaborations with Devin The Dude, Topic, Factor, Alex 75 and many more.. You can check part 1 and part 2 out now. Enjoy.
I am proud to announce that See's To Exist Show will continue, keeping more or less the same format, but will now be a monthly show courtesy of NTS. The new show will be live on Sundays, 3-5pm, the first of which can be streamed on March 12th. Tune in for more of the same unparalleled magical Jazz gems from the dusty depths of our world's near forgotten treasure crevices.
Toilet Diary
The current diary drawing I am working on has unexpectedly taken a different path. Firstly, it's is more than four times the size than the previous sequence which were all A4. Secondly, in theory the idea was to draw just one hour each day of the year, so as to contain the entire year in a measured manner. I've allocated a premeditated dimensional area divided 365 times within the page. I began drawing it a few weeks before another little collaborative creation I'm involved in, in the form of a little human, was born into being in our world. A spanner in the works of course presented itself just a few days into drawing, and with my back significantly compromised, causing me to be bed-bound for almost two weeks, I have quite some catching up to do with drawing and recollecting my thoughts, channeling the fresh impulses, etc.. I'm sure it will be an interesting challenge to the end. Other interesting new diaries being kept involve monitoring toilet activity. Who'd have thunk it. Anyhow, here is a photograph of my new diary drawing in progress, with new little human catching some z's alongside..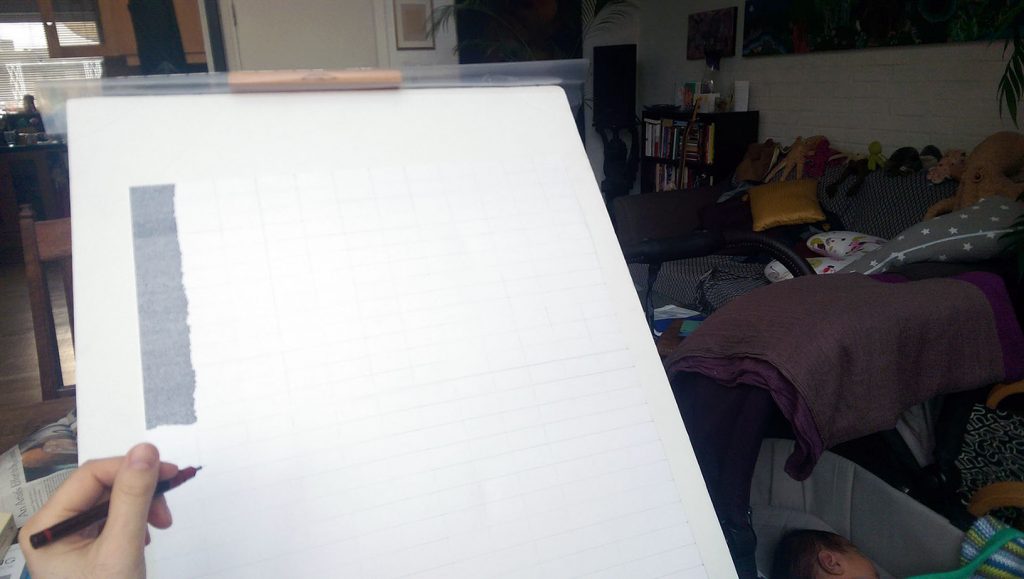 Short Film
I won't give much about this away at the moment because I'm still not sure exactly what I will do with it, but I have been working on a short film for some time now and it is near completion. I've been working on it, on and off, for the last couple of years or so in terms of filming and editing. The ideas for it, however, have slowly been simmering for over a decade and it somehow found its way into being created, which initially I hadn't intended on seeing through. More on this in the next blog entry (probably/possibly?!)..
Uncooked Culture 'Spring Showcase'
The mastermind behind the Uncooked Culture initiative and Circus Terminal touring exhibitions,The Bag Lady Nok has put in place another exhibition showcasing works by artists associated with the movement. On this occasion, you can find works by somewhere around a hundred artists. Other than myself, these include Ian Pyper, Cathy Ward, Pier Makanda, Liz Parkinson, Brian Robert Gibson and many many more. Nok's acquiring of the Bag Lady title relates to the near mythical process that has been her method in carrying hundreds of art works in one suitcase and putting exhibitions on in France, Spain, Solvenia, Holland, Suriname, Thailand, New Zealand and the U.S.A. This time around, she has set up just around the corner at The Walmer Castle pub in Notting Hill (London, UK). The address is 58 Ledbury Road, W11 2AJ. I'm not exactly sure how long the works will be up but I do know there will be a three day celebration in the upstairs bar area on the 1st, 2nd, and 3rd of March, so if you are interested in seeing some performances, hearing speeches, and mysterious improvisational happenstance intrinsic to the nature of the project, find yourself there within that window of time. On the evening of Wednesday the 1st of March, I will be DJing so if you are around and care to experience the exhibition with a soundtrack of rare spiritual Jazz potentially among other things, it's a good time to peruse. I'll leave it at that.
Until later..
Carlo
29 Dec 2015, 2:50pm
Boy shows you his... Boy talks: Ahmed Abdullah Amina Claudine Myers Carlo Keshishian Castlefield Gallery David Wertman David Wertman & The Sun Ensemble diary drawings Ed Blackwell Eternod/Mermod Collection Galerie Du Marche Joel Lorand John Sprague La Maison Rouge louis soutter Madge Gill Marion Brown Mehrdad Rashidi Nick Blinko Outside In Outsider Art Outsider Art Fair Outsider Art Fair Paris Stephen McCraven Sun Ra Sweet Earth Records The Sun Ensemble theo
by
admin
leave a comment
Outsider Art Fair Paris 2015…
Greetings friends, family, fans, followers and spies. I thought I'd write one of these posts to update everyone on some of my activities before the year is out. Firstly, as I mentioned in the previous post in September, I had two drawings shown at the Outsider Art Fair Paris thanks to Galerie du Marché and the Eternod/Mermod Collection from Lausanne, Switzerland. I must reiterate how much of an honour it is to have my drawings in their incredible collection and to be shown at their consistently strong booth, having attended the fair for several years and been absorbed by the potency and selection. This was the first time that my works have been exhibited at the fair, and I was in good company on the wall with a Louis Soutter  above me and a Theo below me, with a Madge Gill below that. As I said in my entry of reflections on the Outsider Art Fair Paris for Outside In's blog which can be read here: "In a weird way, I quite like being in the company of dead people who manage to speak from beyond the grave (and particularly in this way)." Quoting myself from other blogs, into my own. The future has arrived. Anyhow, for my perspective on the fair, click on the aforementioned link. The two diary drawings of mine that were shown were bought by the La Maison Rouge collection and a private collector. 
Diary Drawing…
I am currently drawing the 9th in my series of diary drawings, with the intention to stop at the 12th, as I'd like to continue a painting that I began in 2011 and hopefully build a series around it. Below, you can see an image capturing a moment in the process of my current diary in progress..
Castlefield Gallery… Inside Out
I am pleased to announce that some of my work will be shown in Inside Out, an exhibition with a very interesting roster of artists, at the Castlefield Gallery in Manchester, UK. The show will be on from 4th March until 24th of April. For (a lot of) additional info, check out the first link in this paragraph. I'll go into some more detail about this exhibition in my next blog post, but for now I will say I am very excited to discover I'll have works shown alongside Nick Blinko, Joel Lorand and Mehrdad Rashidi.
Sweet Earth Records
I undertook a most pleasurable adventure in recent months, in an attempt to shed light on a somewhat obscure, short-lived record company that was active between 1977-1979. My curiosity resulted from a variety of 'coincidences' in regards to the records that were released on the label, most of which are rare and all out of print with the exception of Sun Ra's The Other Side Of The Sun which saw a reissue through another label in recent years. In my attempt to demystify the story of Sweet Earth Records, I managed to speak with John Sprague who kindly elaborates on his memories of performing and recording with David Wertman and The Sun Ensemble, as well as his involvement with the label and their releases. I also speak with the legendary Amina Claudine Myers about her album Poems For Piano 'The Piano Music of Marion Brown', I chat with the charismatic Stephen McCraven who kindly invited me in his home to speak on his classic Wooley The Newt LP, and lastly I interview the great Ahmed Abdullah about a Sweet Earth Records non-release and what would have been Ed Blackwell's first album as leader. As far as I know, there isn't really even a synopsis of what Sweet Earth Records were about, online, let alone an exploratory show containing interviews with someone associated with each release to come out on the label, which is what I've managed to piece together. I hope you enjoy it. With that, I'll stop typing and leave you with those two hours of audio Sweet Earth Records special / See's To Exist show. Happy New Year!
Bright moments,
Carlo
23 Sep 2015, 12:43pm
Boy shows you his... Boy talks Uncategorized: Adolf Wolfli Aloise Corbaz Artlicks Carlo Zinelli diary drawings Edmund Monsiel Eternod/Mermod Collection Galerie Du Marche Hotel Elephant Madge Gill Outsider Art Fair Outsider Art Fair Paris Raphael Lonne Scottie Wilson
by
admin
leave a comment
Artlicks Weekend/Hotel Elephant…
Welcome once again or for the first time. If you are sitting in silence, let me take this opportunity to momentarily redirect you to the archive of my weekly radio shows, in case you'd like a soundtrack to reading my blog. Go here and pick any of the hundred or so shows I've executed in my life as a radio DJ thus far. Don't forget to come back though.
My first bit of news is that I'll have some work showing in London (UK) again, finally. This will occur between the 1st-4th October. The opening is on the evening of Thursday the 1st of October from 6-9pm and then you will be able to come and see the following few days (Fri, Sat, Sun) from 12-6pm. Courtesy of Hotel Elephant as part of the Artlicks Weekend. The address is 23 Harper Road SE1 6AW. This location is just a few minutes walk from Borough station, or Elephant & Castle. For further info, you can use your search engine(s) or try these links: 1 and 2 and here's another.. 3
Outsider Art Fair Paris 2015
I'm very pleased to announce that some of my work will be shown at this year's Paris edition of the Outsider Art Fair, thanks to Galerie du Marché and the Eternod/Mermod Collection from Lausanne, Switzerland. It is an honour to have works in their highly impressive collection containing master works by Aloïse Corbaz, as well as works by some of my favourite artists (Edmund Monsiel, Carlo Zinelli, and Raphaël Lonné). Madge Gill, Scottie Wilson, and Adolf Wölfli are among the legendary names whose works can also be seen in the Eternod/Mermod Collection. The fair runs from October 22nd-25th. See website for further details. Here. 
Diary Drawing, March-September 2015
I'm very pleased to announce that I've completed another diary drawing. This time surpassing any previous shift in increments by a surprising amount, in regards to the amount of words contained in the drawing, which on this occasion clocks in at 11,273 words. The last couple of drawings were around 7,000 words each, and the one before that had the highest word count previously, at 9,539. Here is an image of the latest drawing.. (click on it for a larger view).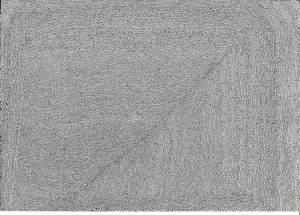 Thanks for reading (and listening?)                                                                                                                    Bright moments,                                                                                                                                                      Carlo
5 Nov 2014, 11:13am
Boy shows you his... Boy talks Boy travels: abcd collection Carlo Keshishian Chomo Circus Terminal David MacLagan diary drawings Halle Saint Pierre La Maison Rouge Outside In Outsider Art Fair Outsider Art Fair Paris Raw Vision Raw Vision Magazine Stephanie Lucas Uncooked Culture
by
admin
1 comment
…………………………………………………………………………………………
……………………………………….
.
What's new and still old…
In this entry of my seemingly biannual blog I have little to say that isn't said elsewhere but I have a couple of links to throw at you containing masses of information, should you be interested. Firstly, I'll draw attention to the latest diary page completed a couple of months ago. Click on it to see it in more detail. It may take a moment to load. And click on it again to see it in more detail: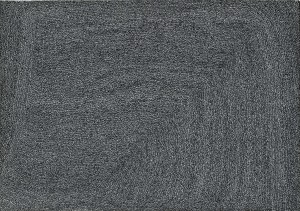 I'm currently working on the next diary drawing, which unlike previous diary drawings which have more of a stream of consciousness based approach in terms of structure, even though there are in depth and thorough explorations into ideas, topics and experiences, the new diary is a continuation of the one illustrated here, focussing on just one topic, an in depth analysis which I feel will most likely even carry through onto a third page.
In other news, I've recently gotten back from a trip to France. Mainly Paris. I was there for the Outsider Art Fair. Quite an indulgent affair. There was a lot going on in terms of exhibitions and I saw more art than I would usually see in at least half a year. I documented some of my experience of being there for the Outside In blog which you can read here: click here
Ah yes, also, a well rendered image of mine is used in the David Maclagan article Beyond the Doodle, printed in Raw Vision magazine issue #82. You can read an extract from the article here and/or buy the magazine which features the full article with the glorious accompanying images and rest of magazine full of fascinating art to ponder on, HERE.
Finally, something that I received a few days back, which terrified me (fittingly, for Halloween), was an eleven minute video interview that I did for Uncooked Culture TV. I'd almost forgotten about it and then it just appeared out of nowhere. I still don't understand how it spans eleven minutes but it does. Should you be interested in viewing this, you can find it below and it may be an idea to view it full screen if you want to see more clearly. That's all for now.
Until next time..
Carlo.