12 Feb 2020, 12:40pm
Boy travels Uncategorized: Adolf Wolfli Agatha Wojciechowsky Ahmed Abdullah Aloise Corbaz Andrea Bellini Art Brut Ben Wilson Candid Arts Centre Carlo Zinelli Cathy Ward Centre d'Art Contemporain Geneve Codex Seraphinianus Collection de l'Art Brut Dan Miller Daniel Goncalves Ed Blackwell Eugene von Burenchenhein Evelyne Postic George Widener Harald Stoffers Henri Michaux Jan Arden Jennifer Lauren Gallery Julia Sisi karl berger Kate Bradbury Laure Pigeon Liz Parkinson Luigi Serafini Madge Gill Malcolm McKesson Margot marie von bruenchenhein Mehrdad Rashidi Michel Nedjar Nick Blinko Nigel Kingsbury Ody Saban Philippe Eternod Raphael Lonne Sarah Lombardi Scrivere Disegnando See's To Exist Show Sun Ra Sweet Earth Records Ted Gordon Terence Wilde The Gallery of Everything vahan poladian Valerie Potter
by
admin
leave a comment
…………………………………………………………………………………………
……………………………………….
Greetings,
In recent days (weeks??), I flew out to Switzerland for the opening of Scrivere Disegnando: When Language Seeks Its Other at the Centre d'Art Contemporain Geneve. Co-curated by Andrea Bellini (Centre d'Art Contemporain, Director) and Sarah Lombardi (Collection de l'Art Brut Lausanne, Director), it was very interesting. Works by 'contemporary artists' and 'Art Brut artists' were curated together, without biographies in sight. In some ways, three floors of diverse work focussed on language, writing, drawing, communication, coding, decipherability, secrecy, ambiguity and ambivalence through various media takes one on a journey through something which as a result is quite intangible. In some ways this is confusing and can raise questions about the curation, but on the other hand feels very much like an achievement in creatively exploring the very theme the show is relentlessly tackling head on. There is also a poetry to the moving through all these documents, rendering text in one way or another to express or describe or do something different to the previous or next thing which approaches from and to elsewhere. All these morphing forms of writing, recorded and reflecting or problem-solving, or foreseeing. There is an unknown geography to it. Certainly worth the trip! The experience of course also meant I can see where or how I fit in to all this, with three of my drawings included. If you think you'll make it to the show, below are some photographs I've taken and perhaps you don't want to spoil any surprises, but if you know you won't make it, take a look… (and look out for the 300+ page accompanying book to be published soon)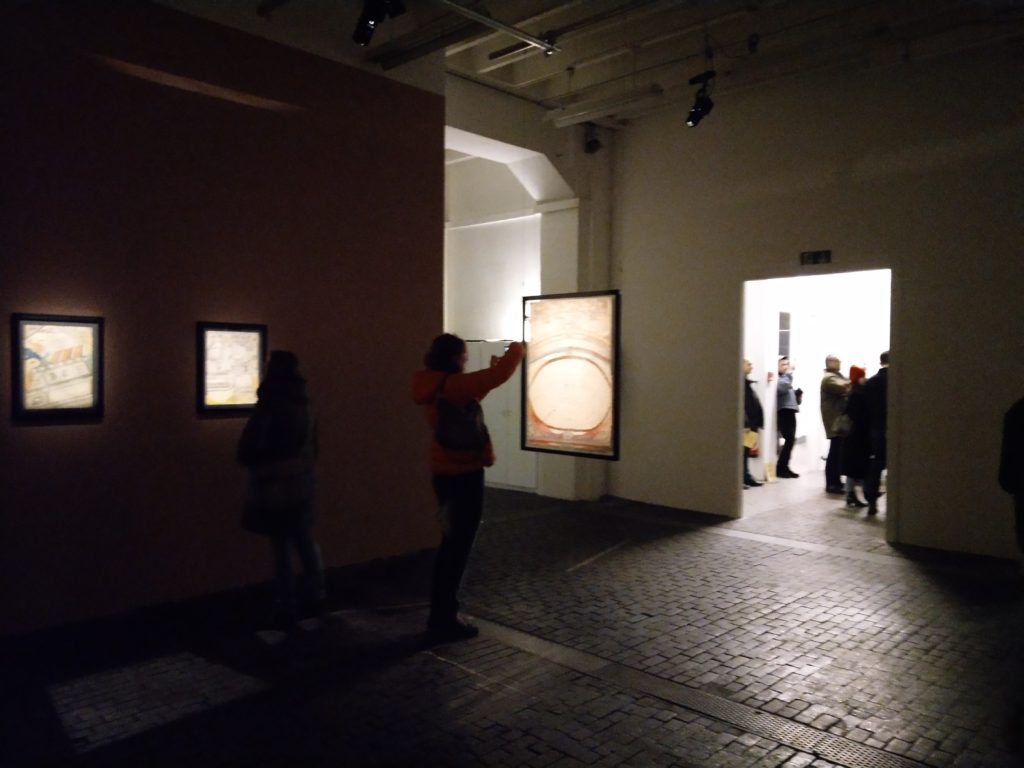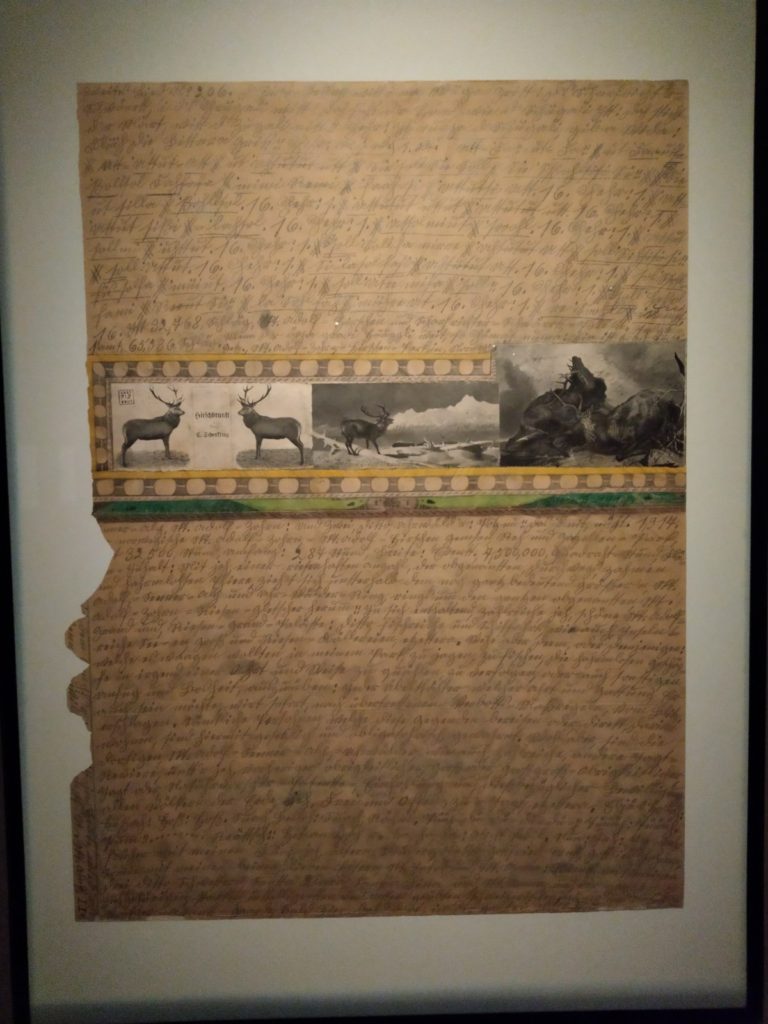 Needless to say, the images I have included here are just a few snapshots barely skimming the surface of this delicious soup. The show has all the potential for a vastly immersive experience, requiring a chunk of your day to absorb to threshold. I was delighted to see pages from Serafini's Codex Seraphinianus and that they had a room to themselves. I came across the Codex perhaps six or seven years ago and my curiosity was piqued by its surreal and absurdist nature. Speaking to Serafini, I learned of his upcoming exhibition of sculptures in London in May.
Scrivere Disegnando ('Writing By Drawing'): When Language Seeks Its Other is on until May 3rd at the Centre d'Art Contemporain, Geneva Switzerland.
The following day I went from Geneva to Lausanne to see the
Carlo Zinelli
exhibition at the Collection L'Art Brut, and to potter around. I dragged
Philippe Eternod
around several record shops. I had visited a couple in Geneva also. I came away with just one record, the duet between
Karl Berger and Ed Blackwell 'Just Play'
which I'd been after for a few years. Its price was not dissimilar to that of the few copies attainable online, but I save on shipping.
See's To Exist show
(a two hour Jazz radio show), which I've been running for seven years, is currently on hiatus. Hopefully I can get back to it towards the end of the year. If interested, you can check out
the special I did a few years ago on Sweet Earth Records
, at a time when there was virtually no information about this short lived 1970s record label available online. Since then at least two of the records originally released on the label have been reissued, the
Sun Ra
record getting its reissue after the Sun Ra Estate got in touch with me to acquire contact details for someone involved with Sweet Earth Records. Anyhow, in the show, I speak with trumpeter
Ahmed Abdullah
about and uncover what would have been Ed Blackwell's first LP as leader, which never saw the light of day. A point of interest for some. I digress, Eternod kindly took me to a great cheese shop and schooled me on various aspects of the cheesemaking processes. He was enthusiastic and knowledgeable. As well as the Zinelli exhibition, I saw the Theatre exhibition at the Collection l'Art Brut, which was also great. I have some reservations about how some of the work is sensationalised, but at the same time, some of the work is sensational. In any case, the museum is incredible. Undeniable quality at every turn. The Zinelli exhibition was fantastic. I've never seen so many of his double sided drawings side by side in one space, and the show was enhanced by images of Zinelli working and in his daily life, as well as a great documentary film I sadly just got to see 15-20 minutes of, as I had a schedule to keep. Had I known, I would have made time to see the entire thing. It had strong production values, with wonderfully shot panning across details of his work, and interviews with his friends and family. I'd love to get ahold of this film.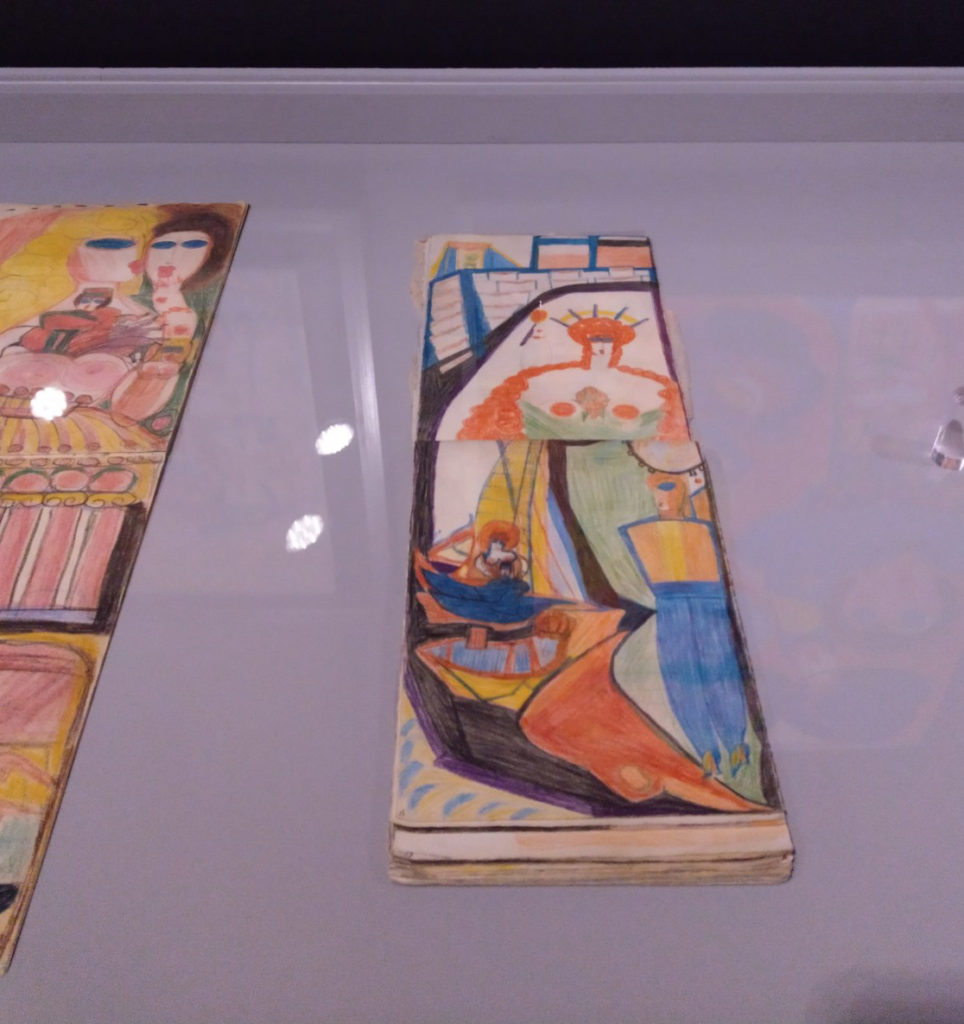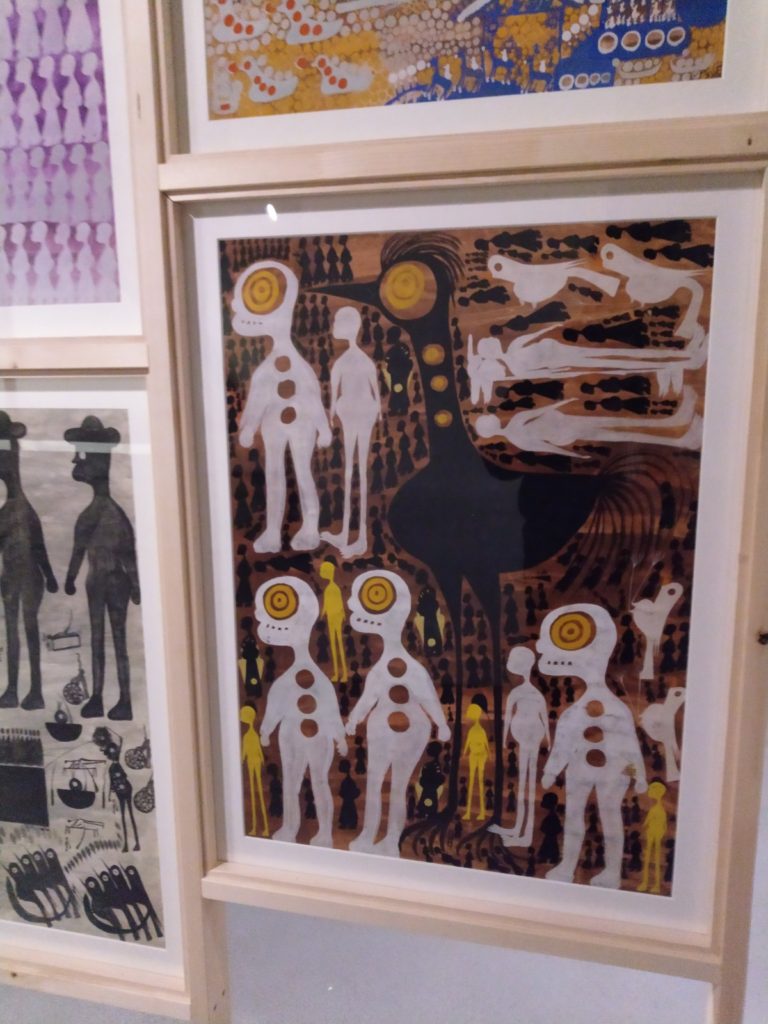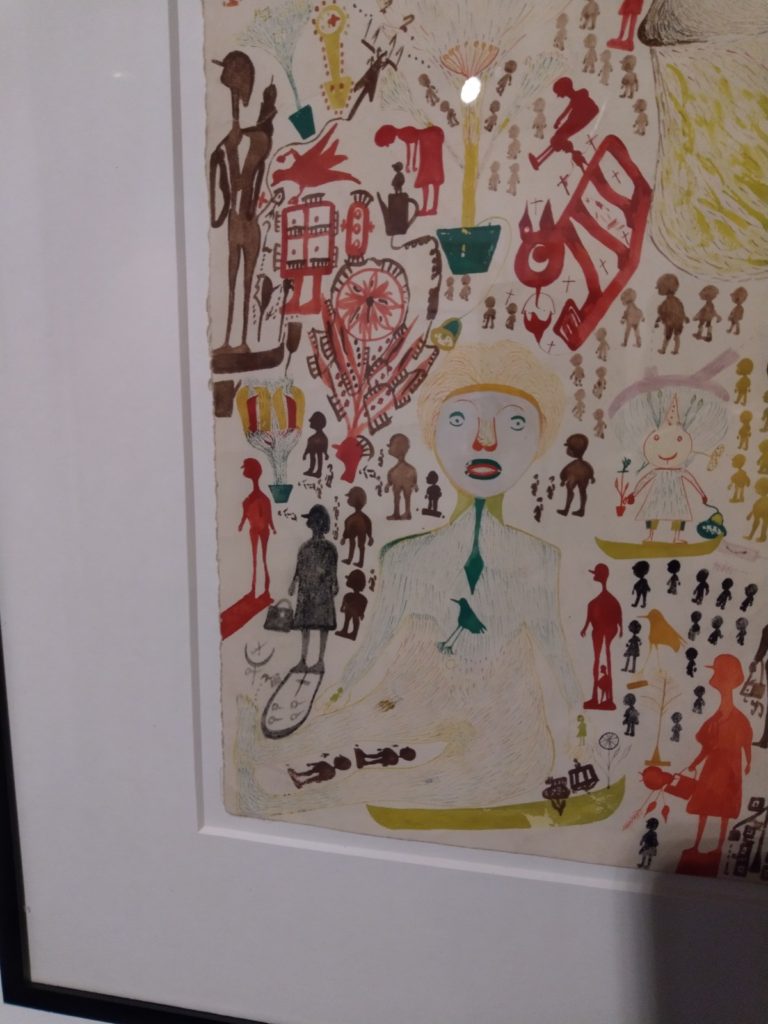 Monochromatic Minds: Lines Of Revelation – Jennifer Lauren Gallery /// February 25th- March 4th. Candid Arts Centre. London, UK
In my previous blog post, I gave details regarding this groundbreaking exhibition about to take place in London. All the information about the exhibition and information about the artists can be found here. The opening is on Tuesday the 25th. On Wednesday the 26th, there are some artist talks that I'm very much looking forward to, with Liz Parkinson visiting from Australia and Julia Sisi journeying from France, among others. Further talks will take place on Sunday March 1st. I hope to make it along then as well. I think Cathy Ward will be speaking then. A few days ago I was visited by film makers at my studio, so as to include me speaking a bit about my work for a short documentary highlighting five of the artists in this exhibition, along with Cathy Ward, Valerie Potter (who currently has another exhibition on at The Gallery of Everything in London), Jan Arden and Terence Wilde. I think Terence Wilde will be running a workshop as part of the programme also. Talks and workshops need to be booked, so see website for details. The exhibition boasts a highly potent roster of artists which should be a joy to experience contextualised together. Other artists in the show include Albert, Aradne, Nick Blinko, Kate Bradbury, Madge Gill, Daniel Goncalves, Ted Gordon, Nigel Kingsbury, Margot, Malcolm McKesson, Dan Miller, Michel Nedjar, Evelyne Postic, Mehrdad Rashidi, Ody Saban, Harald Stoffers, George Widener, Ben Wilson and Agatha Wojciechowsky and more!
My next entry will manifest sometime after the exhibition opens. See you on the other side. Take care,
Carlo
9 Jan 2020, 4:07pm
Boy shows you his... Boy travels Uncategorized: Adolf Wolfli Agatha Wojciechowsky Akio Kontani Albert Aloise Corbaz Andrea Bellini Aradne August Walla Ben Wilson Bethlem Gallery Candid Arts Centre Carlo Zinelli Cathy Ward Centre d'Art Contemporain Geneve Chewing Gum Man Chris Neate Codex Seraphinianus Collection de l'Art Brut Dan Miller Daniel Goncalves Darren Adcock diary drawings Dolly Sen Evelyne Postic Gaston Chaissac George Widener Harald Stoffers Henri Michaux J.B. Murray James Moss Jean Dubbuffet Jennifer Lauren Gallery Julia Sisi Kate Bradbury Laure Pigeon Leonhard Fink Lines of Revelation Liz Parkinson Luigi Serafini Madge Gill Malcolm McKesson Margaret Mousseau Margot Melvin Way Michel Nedjar Michel Thevoz Monochromatic Minds Nick Blinko Nigel Kingsbury Norimistsu Kokubo Octopus Ody Saban Outside In Outsider Art Outsider Art Fair Outsider Art Fair New York 2020 Phil Baird Portico Library Rashidi Raw Vision Magazine Roger Cardinal Sarah Lombardi Scrivere Disegnando Shinichi Sawada Sugarglider Susan Hiller Talking Sense Ted Gordon The Changing Vocabulary of Mind and Brain The Horse Hospital When Language Seeks Its Other Writing by Drawing
by
admin
leave a comment
…………………………………………………………………………………………
……………………………………….
Greetings. Here it is, part 2. Part 1 had me tying up last year's loose ends. Part 2 looks at the near future and which walls you'll find my work on. As usual, everything happens at once. I'm in exhibitions at the Portico Library in Manchester (UK), the Centre d'Art Contemporain in Geneva (Switzerland), and with Jennifer Lauren Gallery at the Candid Arts Center in London (UK) as well as at the Outsider Art Fair in New York (USA).
Outsider Art Fair – Jennifer Lauren Gallery /// January 16-19th. Metropolitan Pavilion. New York, USA
I'm not sure exactly what happened during the fabrefaction of my July 31st – November 28th, 2019 diary drawing, but the result is 12,627 words in my bubble text on A5 card. This is almost 2,000 more words than were recorded on the previous page and by now more than have been recorded on any of the ten A4 size diary drawings. If you want to go see the combobulation for yourself, find yourself at the Jennifer Lauren Gallery booth for their third year at the fair. Jennifer Lauren will also be showing work by Shinichi Sawada, Akio Kontani, Margaret Mousseau, Leonhard Fink, Chris Neate, Norimistsu Kokubo and more.
For further info on the fair, opening hours, special events etc.. see here.
Talking Sense: The Changing Vocabulary of Mind and Brain. /// January 17th-April 13th. The Portico Library. Manchester, UK 
James Moss curates the works and minds of 50 artists in this playfully conceptual exhibition fitting to the ethos of the Portico Library, a 200+ year old subscription library in Manchester's city center. The exhibition "explores the idea of "mind/brain-then/now" – combining 18th and 19th century literature with new artworks to create a space for conversations around the vocabulary of neurodiversity, mental health and psychology". Sugar Glider vs. Octopus, a painting I did in 2009 will be included along with works by the homies Darren Adcock and Dolly Sen. Quite pleasantly, we are accompanied by 47 artists I can't say I am aware of by name. I look forward to discovering their work and how all this might fit together in the context! The public preview is from 6-8pm on Thursday 16th January.
Scrivere Disegnando ('Writing By Drawing'): When Language Seeks Its Other /// January 29th- May 3rd. Centre d'Art Contemporain. Geneva, Switzerland
I'm thrilled to have several diary drawings included in this near-exhaustive exploration of writing as drawing and how this leaves the communicative aspect in ambivalence and/or ambiguity, focussing on work from the early 19th century to the present day. At least that's my reading of it so far. I impatiently await experiencing the exhibition for myself at the opening on Tuesday, January 28th. I understand the exhibition will be accompanied by an elaborately produced book of 300+ pages. I will report back with details regarding that as I learn them. Co-curated by Andrea Bellini (Centre d'Art Contemporain, Director) and Sarah Lombardi (Collection de l'Art Brut Lausanne, Director), it will be interesting to see works by artists associated with Art Brut side by side with contemporary artists, brought together through the context of this theme. On those walls I'll be in the very good company of Nick Blinko, Gaston Chaissac, Aloise Corbaz, Jean Dubbuffet, Susan Hiller, Henri Michaux, Laure Pigeon, Luigi Serafini (Codex Seraphinianus!), J.B. Murray, August Walla, Melvin Way and Adolf Wolfli among others.. In my previous blog entry I spoke on the writer Michel Thevoz and the artist Carlo Zinelli. Thevoz is contributing text to the book published in conjunction with this exhibition, and there is a big Zinelli exhibition at the Collection l'Art Brut in Lausanne, so I'll also be able to experience that, which should be wonderful. I'll report back upon returning.
Monochromatic Minds: Lines Of Revelation – Jennifer Lauren Gallery /// February 25th- March 4th. Candid Arts Centre. London, UK
I can't help but feel this will be a historic exhibition relentlessly championing works in black and white, through a roster of 62 artists, most of which I admire immensely, and some I'd not heard of or seen but am thus far impressed with based on images revealed here. Jennifer Lauren has taken on quite a task and brought together an extremely impressive group of artists, which I'm overwhelmingly excited to see curated together in one space. On these walls I am joined by my PPP crew (Posca Pen Pals) Liz Parkinson and Julia Sisi, the highly potent Albert who I've met through the Bethlem, Madge Gill who needs no introduction, the great Aradne, it's an endless list and I'd love to think of specific words to describe each artist but I must go and do my tax returns. It's very tempting though.. Ody Saban who's work I've admired over the last fifteen years, Cathy Ward whom I've crossed paths with since encountering her work at The Horse Hospital (which is in grave danger of being shut down after over 25 years, spread the word to your powerful and caring friends please!) around the time they offered to show my work for the first time in 2007/8, Nick Blinko who I've written about quite a lot over the years (here are a couple of bits: 2011, 2016), Rashidi, Margot, Harald Stoffers, George Widener, Ben Wilson, Malcolm McKesson, Dan Miller, Kate Bradbury, Nigel Kingsbury, Daniel Goncalves, Michel Nedjar, Evelyne Postic, Agatha Wojciechowsky, Ted Gordon, and the list goes on! I just wish brother Phil was here. Right,.. I feel like I'm about to malfunction. For full details check this  and I'll reiterate all this in a more succinct and informative manner within the next blog entry in a few weeks, with updated specifics regarding the series of events surrounding the exhibition including presentations by some of the artists and more. 
Roger Cardinal (1940-2019)
It was saddening to hear that Roger Cardinal, the man who first used the controversial term 'Outsider Art' with having his book titled as such (published in 1972), has transcended the Earth at the end of last year. The forthcoming issue (104) of Raw Vision magazine will be a special tribute edition. I was privileged to meet him several times. My first encounter with him was interesting, I had been writing in my diary drawing for a couple of hours, alone at a table and he walks into the room and asks if I mind him sitting beside me. He then asked if I minded him taking some notes as we conversed. We went from there into another smaller room where a video interview with Jean Dubuffet was showing and we sat there for a short time before he nodded off for a while in an armchair. We crossed paths a handful of times or so after that and began a somewhat intense email exchange, which began with him actually saying he would be "honoured" to write about my drawings (too much!). He could also be quite playful in his approach. Referring back to that email, he wrote: I would be honoured to write something about your work, which is definitely on my personal list of a site of "outstanding natural beauty" (that's a quotation from the Kent County Council road sign that you'll find at the entrance to our local villages!). I regret not having resolved the unusual and perplexing tone of our last emails. Irrespective of that, Roger Cardinal will forever be gargantuan.