18 May 2020, 7:20pm
Boy shows you his... Uncategorized: Agatha Wojciechowsky Albert Candid Arts Centre Cathy Ward Chris Neate chronomancer Dan Miller deviation street diary drawings Evelyne Postic gerard sendrey Harald Stoffers Jan Arden Jean Dubuffet Jennifer Lauren Gallery judith mcnicol Kate Bradbury leslie thompson Lines of Revelation Liz Parkinson Margot Mehrdad Rashidi Monochromatic Minds neuve invention Nick Blinko Outsider Art Rashidi Ted Gordon Terence Wilde Valerie Potter
by
admin
leave a comment
…………………………………………………………………………………………
……………………………………….
Greetings. As we try to channel our inner chronomancer, the significance of these devices and means of communication acutely rings true. In the midst of everything, I'm just getting on with my diary writing/drawing, seemingly obsolete but also perhaps an important time to be recording thoughts and observations. Fathoming the unravelling repercussions and predicaments triggers a knee-jerk reaction into the foetal position, and the over-load of analytical elements and angles factored in diffuse any potential succinct message, but broadly amount to The Mess Age. It is not unique of course, and like other times and places, transformations will result and continue. As I've not posthumously written here about the wonderful Monochromatic Minds: Line of Revelation exhibition that took place not long before everything changed, I'll include some reflections in this instalment. I will also touch on other bits and bobs. Onwards..
Monochromatic Minds – Jennifer Lauren Gallery – Candid Arts Centre, London, UK. 25th Feb – 4th March, 2020
As anticipated, this celebration of black and white art works within the field of Outsider/Self Taught/Neuve Invention/Visionary art did not disappoint. The majority of artists' names who's work was included, alone, made for a very exciting cumulative concoction. The actual works aligned well to that aura. The space was also very well suited. The majority of works in the show could easily command your attention for an indefinite amount of time individually. Imagine a room full of that. The show was on for a mere week or so but felt alive while it was on the entire time with a variety of events taking place within the programme. There were art workshops and artist talks delivered by artists from around the globe. Below are some photos that should help contextualise things if you couldn't be there and care to absorb an attempt at documenting my experience.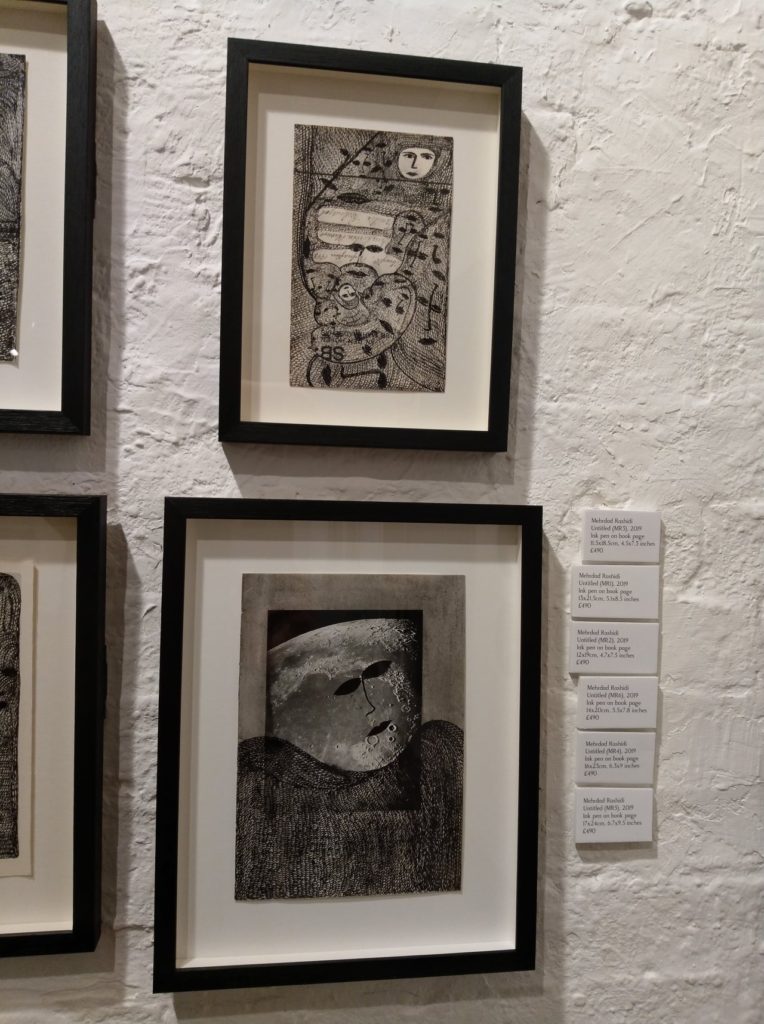 If you'd like to check out the short documentary I mentioned above, you can do so here.
Diary drawing and Deviations…
I'm working on the first A4 size diary drawing since 2016. There are several reasons why the format changed and I haven't returned to A4, though was intending to. Anyhow, the time arrived. After I'd finished drawing in it a few days ago, I realised that I could see that day in the drawing. The reason being, I changed both the nib on the pen and its ink at the same time before starting that day. Usually these occurrences don't coincide. The result being a distinction that is visible on the page. I took a photo so as to see what a day of drawing looks like when it's not at the very beginning (as that is the other time/place where it is easily discernible, on day one). There are other contrasts on the page where the text takes on different shades and textures, for other reasons, but this one highlights a single day of drawing at this stage. Of course, after working on it again the following day, it won't be visible anymore. Hence the significance of photographing it when I did. You might assume the lockdown is driving me to such pedantic measures. I'll let you assume!
Last month, I had an email exchange with the the good people over at Deviation Street and they included some of that in their lockdown series of posts. You can find that post here.
I feel like there was something else I wanted to include, but if it was significant I'll get it in next time. I've incrementally been returning to this post for weeks now, so who knows anymore. Stay smart, and until the next time…
Carlo.