9 Jan 2020, 4:07pm
Boy shows you his... Boy travels Uncategorized: Adolf Wolfli Agatha Wojciechowsky Akio Kontani Albert Aloise Corbaz Andrea Bellini Aradne August Walla Ben Wilson Bethlem Gallery Candid Arts Centre Carlo Zinelli Cathy Ward Centre d'Art Contemporain Geneve Chewing Gum Man Chris Neate Codex Seraphinianus Collection de l'Art Brut Dan Miller Daniel Goncalves Darren Adcock diary drawings Dolly Sen Evelyne Postic Gaston Chaissac George Widener Harald Stoffers Henri Michaux J.B. Murray James Moss Jean Dubbuffet Jennifer Lauren Gallery Julia Sisi Kate Bradbury Laure Pigeon Leonhard Fink Lines of Revelation Liz Parkinson Luigi Serafini Madge Gill Malcolm McKesson Margaret Mousseau Margot Melvin Way Michel Nedjar Michel Thevoz Monochromatic Minds Nick Blinko Nigel Kingsbury Norimistsu Kokubo Octopus Ody Saban Outside In Outsider Art Outsider Art Fair Outsider Art Fair New York 2020 Phil Baird Portico Library Rashidi Raw Vision Magazine Roger Cardinal Sarah Lombardi Scrivere Disegnando Shinichi Sawada Sugarglider Susan Hiller Talking Sense Ted Gordon The Changing Vocabulary of Mind and Brain The Horse Hospital When Language Seeks Its Other Writing by Drawing
by
admin
leave a comment
…………………………………………………………………………………………
……………………………………….
Greetings. Here it is, part 2. Part 1 had me tying up last year's loose ends. Part 2 looks at the near future and which walls you'll find my work on. As usual, everything happens at once. I'm in exhibitions at the Portico Library in Manchester (UK), the Centre d'Art Contemporain in Geneva (Switzerland), and with Jennifer Lauren Gallery at the Candid Arts Center in London (UK) as well as at the Outsider Art Fair in New York (USA).
Outsider Art Fair – Jennifer Lauren Gallery /// January 16-19th. Metropolitan Pavilion. New York, USA
I'm not sure exactly what happened during the fabrefaction of my July 31st – November 28th, 2019 diary drawing, but the result is 12,627 words in my bubble text on A5 card. This is almost 2,000 more words than were recorded on the previous page and by now more than have been recorded on any of the ten A4 size diary drawings. If you want to go see the combobulation for yourself, find yourself at the Jennifer Lauren Gallery booth for their third year at the fair. Jennifer Lauren will also be showing work by Shinichi Sawada, Akio Kontani, Margaret Mousseau, Leonhard Fink, Chris Neate, Norimistsu Kokubo and more.
For further info on the fair, opening hours, special events etc.. see here.
Talking Sense: The Changing Vocabulary of Mind and Brain. /// January 17th-April 13th. The Portico Library. Manchester, UK 
James Moss curates the works and minds of 50 artists in this playfully conceptual exhibition fitting to the ethos of the Portico Library, a 200+ year old subscription library in Manchester's city center. The exhibition "explores the idea of "mind/brain-then/now" – combining 18th and 19th century literature with new artworks to create a space for conversations around the vocabulary of neurodiversity, mental health and psychology". Sugar Glider vs. Octopus, a painting I did in 2009 will be included along with works by the homies Darren Adcock and Dolly Sen. Quite pleasantly, we are accompanied by 47 artists I can't say I am aware of by name. I look forward to discovering their work and how all this might fit together in the context! The public preview is from 6-8pm on Thursday 16th January.
Scrivere Disegnando ('Writing By Drawing'): When Language Seeks Its Other /// January 29th- May 3rd. Centre d'Art Contemporain. Geneva, Switzerland
I'm thrilled to have several diary drawings included in this near-exhaustive exploration of writing as drawing and how this leaves the communicative aspect in ambivalence and/or ambiguity, focussing on work from the early 19th century to the present day. At least that's my reading of it so far. I impatiently await experiencing the exhibition for myself at the opening on Tuesday, January 28th. I understand the exhibition will be accompanied by an elaborately produced book of 300+ pages. I will report back with details regarding that as I learn them. Co-curated by Andrea Bellini (Centre d'Art Contemporain, Director) and Sarah Lombardi (Collection de l'Art Brut Lausanne, Director), it will be interesting to see works by artists associated with Art Brut side by side with contemporary artists, brought together through the context of this theme. On those walls I'll be in the very good company of Nick Blinko, Gaston Chaissac, Aloise Corbaz, Jean Dubbuffet, Susan Hiller, Henri Michaux, Laure Pigeon, Luigi Serafini (Codex Seraphinianus!), J.B. Murray, August Walla, Melvin Way and Adolf Wolfli among others.. In my previous blog entry I spoke on the writer Michel Thevoz and the artist Carlo Zinelli. Thevoz is contributing text to the book published in conjunction with this exhibition, and there is a big Zinelli exhibition at the Collection l'Art Brut in Lausanne, so I'll also be able to experience that, which should be wonderful. I'll report back upon returning.
Monochromatic Minds: Lines Of Revelation – Jennifer Lauren Gallery /// February 25th- March 4th. Candid Arts Centre. London, UK
I can't help but feel this will be a historic exhibition relentlessly championing works in black and white, through a roster of 62 artists, most of which I admire immensely, and some I'd not heard of or seen but am thus far impressed with based on images revealed here. Jennifer Lauren has taken on quite a task and brought together an extremely impressive group of artists, which I'm overwhelmingly excited to see curated together in one space. On these walls I am joined by my PPP crew (Posca Pen Pals) Liz Parkinson and Julia Sisi, the highly potent Albert who I've met through the Bethlem, Madge Gill who needs no introduction, the great Aradne, it's an endless list and I'd love to think of specific words to describe each artist but I must go and do my tax returns. It's very tempting though.. Ody Saban who's work I've admired over the last fifteen years, Cathy Ward whom I've crossed paths with since encountering her work at The Horse Hospital (which is in grave danger of being shut down after over 25 years, spread the word to your powerful and caring friends please!) around the time they offered to show my work for the first time in 2007/8, Nick Blinko who I've written about quite a lot over the years (here are a couple of bits: 2011, 2016), Rashidi, Margot, Harald Stoffers, George Widener, Ben Wilson, Malcolm McKesson, Dan Miller, Kate Bradbury, Nigel Kingsbury, Daniel Goncalves, Michel Nedjar, Evelyne Postic, Agatha Wojciechowsky, Ted Gordon, and the list goes on! I just wish brother Phil was here. Right,.. I feel like I'm about to malfunction. For full details check this  and I'll reiterate all this in a more succinct and informative manner within the next blog entry in a few weeks, with updated specifics regarding the series of events surrounding the exhibition including presentations by some of the artists and more. 
Roger Cardinal (1940-2019)
It was saddening to hear that Roger Cardinal, the man who first used the controversial term 'Outsider Art' with having his book titled as such (published in 1972), has transcended the Earth at the end of last year. The forthcoming issue (104) of Raw Vision magazine will be a special tribute edition. I was privileged to meet him several times. My first encounter with him was interesting, I had been writing in my diary drawing for a couple of hours, alone at a table and he walks into the room and asks if I mind him sitting beside me. He then asked if I minded him taking some notes as we conversed. We went from there into another smaller room where a video interview with Jean Dubuffet was showing and we sat there for a short time before he nodded off for a while in an armchair. We crossed paths a handful of times or so after that and began a somewhat intense email exchange, which began with him actually saying he would be "honoured" to write about my drawings (too much!). He could also be quite playful in his approach. Referring back to that email, he wrote: I would be honoured to write something about your work, which is definitely on my personal list of a site of "outstanding natural beauty" (that's a quotation from the Kent County Council road sign that you'll find at the entrance to our local villages!). I regret not having resolved the unusual and perplexing tone of our last emails. Irrespective of that, Roger Cardinal will forever be gargantuan.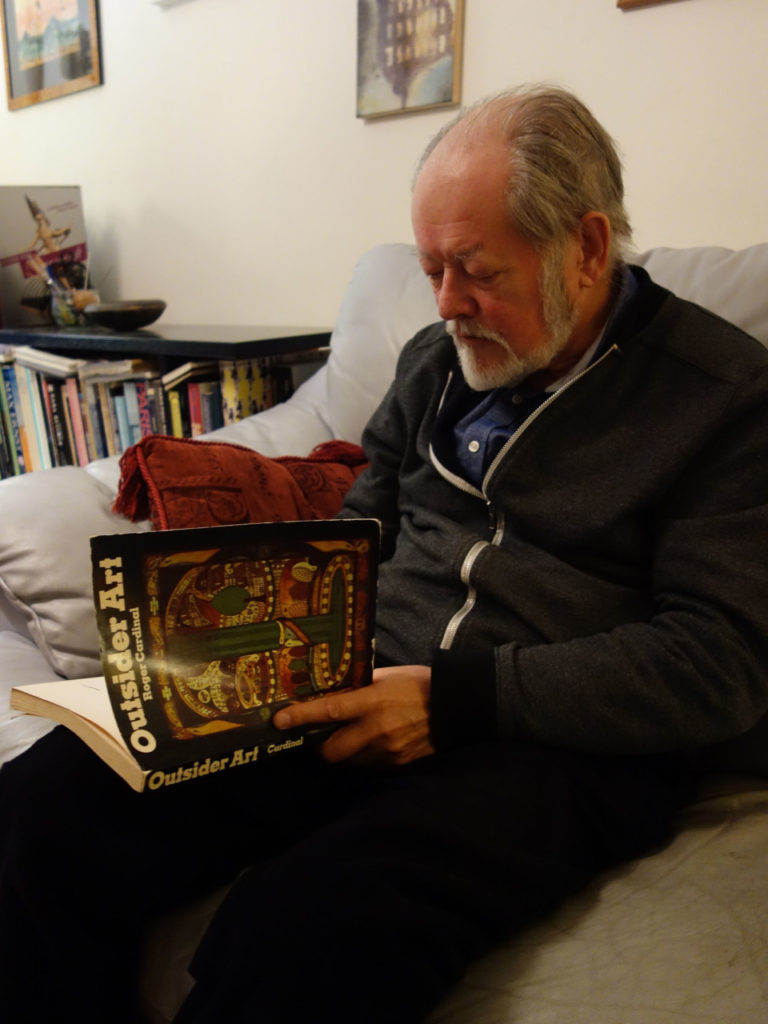 3 Sep 2019, 1:51pm
Boy shows you his... Uncategorized: AACM Adamson Collection Trust Adolf Wolfli African Skies Aloise Corbaz Amelie Ravalec Art & Mind Artistic Heritage Ensemble Augustin Lesage David O Flynn Derk Reklaw diary drawings Earth Wind and Fire Edmund Monsiel Edvard Munch Francisco Goya frankiphone Hieronymus Bosch ICA John Maizels Josefe Marie Verna Kelan Phil Cohran and Legacy Mad Pride Mad Pride All-dayer Madge Gill Nick Blinko NTS Radio Outsider Art Fair Outsider Art Fair Paris 2019 Phil Cohran Raw Vision Magazine Sun Ra Arkestra Timmy Miller Has a Heavy Head William Blake
by
admin
leave a comment
…………………………………………………………………………………………
……………………………………….
.
It has been half a year or so since my last blog post.. Some updates as we transition into the climax of an unknown winter…
Manchester Mad Pride All-Dayer, Sunday September 8th
This subversive celebration is coming up very soon, at the end of this very week in fact. I was invited to partake and have contributed a couple of prints to the visual art exhibition, as well as my film Timmy Miller Has a Heavy Head which will be screened in a programme of short films throughout the day. It is a rare showing of the film and no other showings are currently planned to take place.  The event will showcase various artists spanning a vast spectrum of dynamic media for all your senses to glean. These are the co-ordinates:
Niamos, Chichester Road, Hulme, Manchester, M15 5EU
You can find further info here (where if you scroll down to a post from August 3rd, you can read my answers to a few questions that were put to me) or here.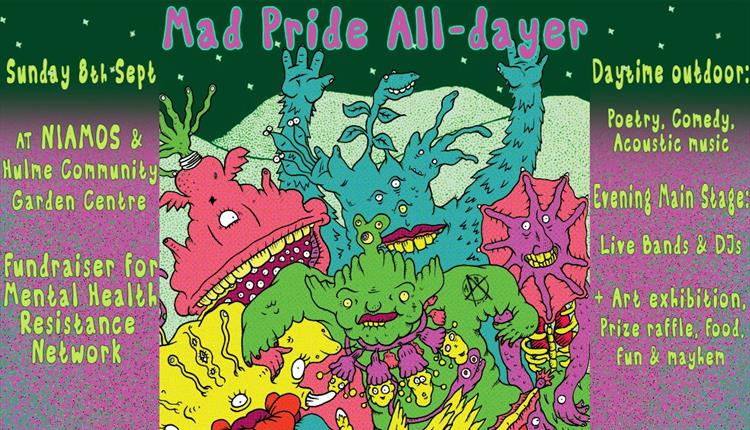 Outsider Art Fair Paris 2019, Thursday 17th – Sunday 20th October
I'm proud to announce that some of my work will be on show again with the Galerie du Marche (Lausanne, Switzerland) at the seventh edition of the annual Outsider Art Fair in Paris this October. It has been surreal to be included among highly potent artists such as Aloise Corbaz, Edmund Monsiel, Adolf Wolfli and Madge Gill on what I have always considered to be one of, if not the, strongest stands at the fair.
The most recently completed diary drawing is on an A5 format (21 x 14.8cm). In some sort of unexplainable phenomena, it has resulted in several thousand more words than the previous diary of the same size, and contains more words than eight out of the ten A4 diary pages that exist, at almost 11,000 words in 'bubble text'. Usually the word difference, especially in such close succession (months, not years), can be a few hundred more or less. This diary page will be on show at the fair. See here for further details.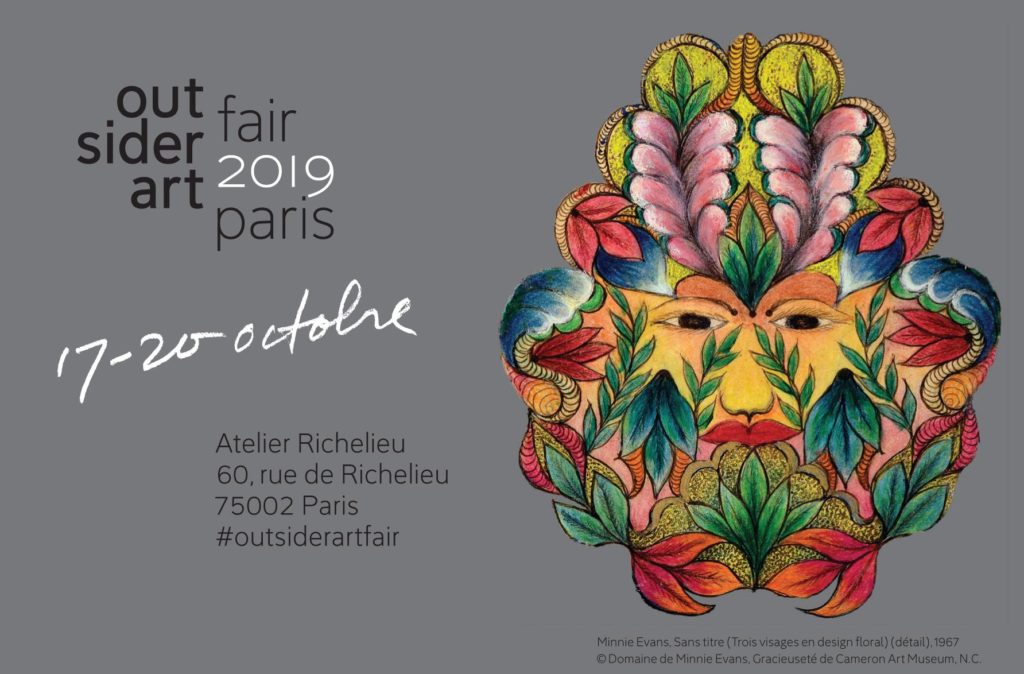 Art & Mind film
I should mention the manifestation of this truly ambitious documentary film, Art & Mind, which attempts to chart evolving opinions, views and research regarding the convergence of mental health and visual art whilst considering a period of give or take 500 years. I was present at the premiere which took place at the ICA in April (where it will be shown as part of a double bill on Sunday September 8th again). There are dozens of further screenings scheduled globally, which you can find here along with the trailer and further information. The film is narrated by the unparalleled John Maizels, editor of Raw Vision Magazine, who was on the Q & A panel at the premiere alongside chair of the Adamson Collection Trust, David O Flynn and director of the film itself, Amelie Ravalec. From having viewed the film once, I recall my immediate response was a feeling of inundation. There were 350 or so images shown in the film (including one of mine), in a sort of suspended montage sequence. The film was divided into an array of sub-chapters, giving a short time to highlight each. It would not go amiss to re-edit this film and the extensive omitted footage, into a series of episodes, allowing more time for the information to flow. The sequence of images is beautiful and to see it on a big screen was fantastic. With such an amount to be tackled within the time frame of a feature film, and to summarise the centuries explored, naturally there is a lot left unsaid and, for example, failing to include non-Western art and non-Western interpretations of mental health assessment and behaviour, is significantly detrimental. I found the relentlessness of the on-going music under the interviewees words contributed to a somewhat suffocating viewing process, but paradoxically find the alignment of that to the subject, an interesting choice of formatting and that perhaps it in some way can work to the film's advantage. Needless to say, I can't wait to re-watch this film, probably several times. To see works by Bosch, Goya, Blake, and Munch contextualised with Lesage, Wolfli, Blinko, and an endless list of incredible artists, and practitioners active in various aspects of the field pondering on these works and how they were viewed in their time and since, is incredibly fascinating.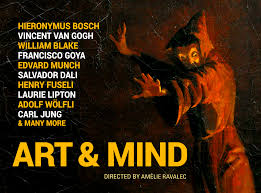 See's To Exist Show, edition 179 – The Sphereology of Phil Cohran
I recently put a pre-recorded radio show together focussing on the extraordinary music of self-proclaimed 'sphereologist', Phil Cohran. A difficult task to fit what I can into two hours, especially after a very rich hour and twenty minute conversation recorded between myself and harpist Josefe Marie Verna (who's majestic opening notes on White Nile, from the African Skies LP recorded in 1993 were my introduction to Phil Cohran's music) , which I edited parts of into the show, as well as fragments of a phone conversation I had with Derf Reklaw who was involved in Phil Cohran's Artistic Heritage Ensemble in the late 1960s. Cohran played in Sun Ra's Arkestra for a couple of years as the 1950s turned into the 1960s, and is known for being co-founder of the legendary AACM. He invented the Frankiphone, a sort of electrified thumb piano, which was popularised by disciples of his who went on to form Earth, Wind and Fire. I get into details about all of that and much more. Most importantly, you can hear some of this great music in the show here.
My show is monthly and you can hear the next show in its usual format of me playing some of my records live and talking about them on September 22nd, 3-5pm (UK time) over at NTS Radio.
That's All Folks!
I have some exciting news simmering and hope to report back soon. Meanwhile, back to your lives.
Take care,
Carlo.
21 Feb 2019, 5:15pm
Boy shows you his... Boy travels Uncategorized: Afrohorn After Hours Ahmed Abdullah American Folk Art Museum Andrew EdlinGallery Arthur Blythe Bob Stewart Cathy Ward Cavin-Morris Gallery Christine Sefolosha Cosmos Donald Smith Eric Wright Francisco Mora Catlett GG Allin Guggenheim New York Henry Boxer Gallery Hilma af Klimt Jennifer Lauren Gallery Joe Coleman John Dunkley John Maizels Julia Sisi Marcel Storr MC5 Nick Blinko Night of the Purple Moon Norbert Kox Outsider Art Fair Outsider Art Fair New York 2019 Paa Joe Phyllis Kind qpsm unit ras moshe burnett Raw Vision Raw Vision Magazine Ricco/Maresca Gallery Salim Washington See's To Exist Serpentine Gallery Sun Ra Sweet Earth Records Warren Smith Wayne Kramer Zinc Bar
by
admin
leave a comment
…………………………………………………………………………………………
……………………………………….
.
Needless to say life since the previous newsletter/blog entry has been a whirlwind and thus this 'part II' is justified. A lot to touch on in this post, including very recent unexpected and exciting developments…
Get your coffee, this may take a while…
Outsider Art Fair New York, January 2019
Bar the near-infuriating process of getting out of Newark airport (which is considerably less infuriating than that of JFK airport), my journey was quite smooth. I do love arriving to New York, post-airport. Feeling the cold air on my face. Getting the train. Usually something happens that reminds me where I am. On this occasion, after leaving my things at the apartment where I'm staying, I went on my way to Raw Vision magazine's party celebrating its 100th issue. On my way there, it was perfect, I entered the subway and heard the music that was used to open and close the film After Hours. A classical piece, I forget who wrote it and what it's called but I very much enjoy it. Most likely through the association with the film. It is perfectly fitting in the film, which is Manhattan atmosphere-focussed and from the lens of an 'outsider's' view of the downtown art scene of the early-mid 1980s (near enough when the film was made also). It was great and surprising to hear this piece on the subway upon arriving to New York. As if I was being welcomed by a specially curated subway journey. It was a violinist or cellist playing. It was quite a last minute decision and possibility to come, so I was very glad to be embarking on this odyssey. It is the first time my work is being shown at the OAF in New York. Thanks Jennifer Lauren Gallery!

Carlo beside himself

Queue for Carlo

Nice image nabbed off of Instagram via kirstycnyc 
A couple of my small drawings (The Disadvantages of Time part IV: Time Lapse, The Disadvantages of Time part V: To What End?) were shown and both sold, covering my trip with a bit of extra change. Nice. The Raw Vision party was cool. It was a night of short films submitted to Raw Vision, which made for some interesting viewing. The jetlag wasn't too intrusive to my wakefulness but the atmosphere was somewhat surreal. I suppose sitting in an environment like an airplane for a good part of the day and then finding yourself walking around New York City in itself would do that. I had a complimentary beer. That was nice. I saw a few familiar beings. Jennie who was showing my drawings. Cathy Ward and Eric Wright. Fresh off the press: Raw Vision will be hosting a similar event in London (UK) mid-March.
The OAF opening was busy and buzzing. I saw friend Julia Sisi there, working at the Raw Vision stand with the great John Maizels. It was cool to see them. A man came up to me to express his admiration for my drawings. We talked about the different pens I use. He said something about the level of detail "you and Nick Blinko". Wow. The most pleasing work at the fair for me to experience were three paintings by Joe Coleman, who has finally been un-banned from having work shown there, and his works were incidentally shown at the Andrew Edlin Gallery stand, Andrew Edlin being owner of the fair also. Coleman was banned under previous ownership though. Edlin's stand for me is generally a highlight in what they show. I was awestruck by another monumental Marcel Storr work there again. The most impressive of Joe Coleman's works must have been finished just days or at most a couple of weeks before the fair opened, evidenced by a section in the work being dedicated to the late Norbert Kox who had very recently transcended the Earth.

Joe Coleman 'Adam Parfrey: A Feral Man in a Feral Land', 2018-2019

detail of Norbert Kox
Also of note, as is usually the case, to my eye anyway, were the selections displayed by the Cavin-Morris and Henry Boxer galleries. Apparently the exhibition Cavin-Morris had on at their actual gallery in New York was considered by some to be the best show they have ever put together. I was adamant that I'd reach and see it while I was there but sadly the stars didn't align that way. They currently have a solo exhibition of Christine Sefolosha's work on show, which must be fantastic. Sefolosha is a force to be reckoned with. It has now been a month since the fair, and a lot else has been happening so I'll move ever onward..
Whilst in NYC, I did manage to see the Hilma af Klimt exhibition at the Guggenheim. I was not aware of her and had missed a recent exhibition of her work at The Serpentine in London. The Guggenheim show was interesting to see. I think it could have been curated better but it was fascinating to see her work and learn about it. I can't say I like all of it, but some of it was pretty special and considering it in various contexts was quite enlightening, notably when the work was created and how overlooked it was within art history.

Hilma af Klimt works at the Guggenheim, NYC
The New York trip continues with a party at the American Folk Art Museum where I saw the Paa Joe and John Dunkley exhibitions. Both interesting in different ways. I walked around the John Dunkley exhibition sensing something very familiar about the work and eventually saw this painting which immediately took me back to the museum in Kingston, Jamaica where I had seen this very painting a few years ago when I was there. I believe it was the only John Dunkley painting I saw when I was there, or it was the only one that struck me, but clearly it stayed with me somewhere in the brain files.

John Dunkley 'Banana Plantation', c.1945
Lastly, it was Saturday, I had been running around town since Wednesday and against my urge to reach everywhere I wanted to reach, felt I did need some rest. My calculations of timing had begun to be off, and it was clear I needed to make some adjustments. I passed on the Ricco/Maresca party dedicated to the recently passed Phyllis Kind, which I'd really have liked to experience. (note: I'd only met Phyllis Kind once, over a decade ago in the last year or two of her New York gallery being open. The exhibition was fantastic and I also got to see a Nick Blinko drawing up close for the first time, which was brought out from the stock room after we'd got talking about his work.) I laid low for an hour and then walked through the rain to Zinc Bar. It was imperative to check out some music, after all. I'd been in touch with trumpeter Ahmed Abdullah whom I'd interviewed for my radio shows over the years (the Sweet Earth Records special, and the Arthur Blythe special) and he said he would be performing there with a group called AfroHORN and that Bob Stewart (note: Bob Stewart's solo on Arthur Blythe's Lennox Avenue Breakdown from the late '70s is potentially the most significant tuba solo in Jazz history) would be guesting also. This show was from 8-10pm and there was another show over in Brooklyn that I'd initially planned to go see from 10pm onwards. I was toying with the idea of doing both somehow. The other show was a collective improvisation featuring the legendary drummer/percussionist Warren Smith, saxophonist Salim Washington who I was interested in seeing from having listened to him on a record by QPSM Unit, and Ras Moshe Burnett whom I was intrigued to see also. I never made it to that event. Partly because, to my surprise, Salim Washington was on stage at the AfroHORN gig! I'd mentioned to Ahmed Abdullah via email, the other show, and he responded delighted to hear Salim Washington was in town and that they had known each other for a couple of decades and had been neighbours and worked together but that he had moved to South Africa. I could be wrong, but there is a possibility that Salim Washington was on that stage in Manhattan in part due to me having mentioned him in an email to Ahmed Abdullah!? Potential evidence in support of an alternate explanation is that the bassist on that QPSM Unit record was also on stage in Manhattan that night and that could have been his in. (In some sort of way, this reminds me of the time Wayne Kramer of the MC5 was performing in London on the day GG Allin died, give or take a couple of decades, and as we were in correspondence at the time, I'd mentioned it to him the day before. The first words he said before starting to play referenced GG's death and the newspaper reviews the following day made a point to highlight this. Kind of silly, but it's funny how and where things ricochet). In any case, I was so glad I had come to hear this. It truly lifted my spirit and rejuvenated my everything. I was fulfilled and didn't need to rush off to any next thing. I was soaking it in and reflecting on it for some time after. Salim Washington's partner and baby were in attendance, all seemingly leaving for the other gig ten minutes before the set ends. Also not in the listing was that the incredible Donald Smith was on piano that night. Blissful. They did a great rendition of Sun Ra's 'Love in Outer Space' (standout version being from Sun Ra's 'Night of the Purple Moon' LP from 1970. Note: both Ahmed Abdullah and ArfoHORN leader Francisco Mora Catlett played with Sun Ra's Arkestra in the 1970s and beyond. I first heard Ahmed Abdullah on one of the first records that got me into Sun Ra, 'Cosmos' from 1976) and a wonderful version of Reggie Fields's 'Reminiscing'. I sacrificed the moment to capture some on my phone, which you can check out if you scroll down to the bottom of all this.

with Ahmed Abdullah
As if I don't have more significant things to include in this already overstretched newsletter/blog post, here is an inflated rat I saw in New York, and a couple of octopus sightings..
You know what? This was all stuff from my New York trip and I have a lot of other things to write still, but there is enough here. To keep it neat and for those of you that have read this to the end, I'll let you return to your lives for now.. The subheading for this post was 'New York, New York' because the second dose of New York will be happening in March already. Those very recent and exciting developments alluded to in the opening sentences of this post will have to wait. I'll save that information for the next entry, which I will follow this one up with sooner than you think.. I hope.
AfroHORN – 'Reminiscing' live @ the Zinc Bar, NYC, January 2019
8 Feb 2018, 1:30pm
Boy talks Boy travels Uncategorized: Achilles G. Rizolli Adolf Wolfli Albert Aloise Corbaz American Folk Art Museum Aradne Cloisonne de theatre James Edward Deeds Jr. James Lake Jarvis Cocker Jennifer Lauren Gallery Jerry Gretzinger Joe Coleman Kate Bradbury Manuel Bonifacio Marc Steene Nick Blinko Outside In Outside In: Journeys Paul Laffoley Phil Baird Sotheby's Susan T King The Alternative Guide to the Universe Valerie Rousseau Vestiges and Verse: Notes from the Newfangled Epic
by
admin
leave a comment
…………………………………………………………………………………………
……………………………………….
.
Outside In: Journeys at Sotheby's, New Bond Street (London, UK)…
I've just returned from New York and will use this space to recall some of what happened. Firstly, prior to embarking on that odyssey, I was excited to see the Outside In exhibition at Sotheby's, a bit closer to home in London. The opening night was quite extravagant and as busy as could be. Perhaps someone knew there would be bottomless champagne glasses handed out? I'd like to think all these new faces were there to marvel at some of the wondrous works on show. The works were nicely lit, with a strange blueish hue hovering around them (or was that just me seeing it?). In some ways it was the perfect setting to celebrate Outside In's certified charity status, and they did well in accumulating art works from throughout their journey, from 2006 to the present. In my case, Picture Worth a Thousand Words was on show. This was the painting I submitted for their competition/exhibition in 2009. I was one of the six 'winners' and they offered me my first solo exhibition as a result. At that point in time, the painting was a decade old already. Seeing it hung in Sotheby's a few weeks ago, I realised it had doubled in age since then. It returns every ten years to fuel and strengthen my belief in the power and propelling of cycles. And to think, this painting blew off the roof of a car twice on the motorway from London to Chichester when we were initially delivering it in 2009. It suffered wounds. Thankfully that was all! Anyhow, it was certainly touching to see it again and whilst waiting for my coat in the cloakroom on my way out, I had a sudden urge to go and see it once more and to touch it. In that moment, a strange sense of time and movement ran through me, much more effective than my words could reflect. Something I have never felt before. I did return a few days later to show my family. There were a healthy amount of people around, but it was much easier to speak and move around. I must give a mention to some of the other great work on show, courtesy of artists Phil Baird, Kate Bradbury, Nick Blinko, Aradne, Albert, Manuel Bonifacio and James Lake among others. Normally I would have taken some photos of the works in situ but am whirl-winding through life at the moment, so I hope the links contained within the aforementioned names typed will suffice. I did get a snapshot of Jarvis Cocker making a speech at the opening though (if you haven't seen his two part documentary on 'Outsider environments' for Channel 4 which screened in the late '90s of the previous millennium, check the internets). Also, a shot of me with Nemo (a few weeks prior to his first birthday) a few days later in front of my work (also from the late '90s). Big shout out to Marc Steene, founder and Director of Outside In and all round renaissance man for being unquestionably transcendental.
Vestiges and Verse: Notes from the Newfangled Epic at the American Folk Art Museum, Lincoln Square (NYC, USA)…
I've just returned from New York and will use this space to recall some of what happened. In terms of the exhibition, a very impressive and ambitious conceptual manifestation. It is an honour to be among the (mostly dead and few living) artists chosen to be featured. Five of my diary drawings are shown, spanning the years 2010 – 2016. Interestingly, that is the most of them that I have seen alongside each other at one time. Most probably I have never had that many in my possession at any one time, either. It was somewhat challenging negotiating time with little Nemo, considering the five hour time difference to back home but we took him along to the opening as planned. He fell asleep in a sea of noise and wonderment. It was a bizarre cocktail of adrenaline and tiredness. A surreal experience for sure. My works were hung in a space opposite a master work by Aloïse Corbaz and works by James Edward Deeds Jr. Some magnificent Adolf Wölfli works were displayed in the same area. It was a trip to be shown in an exhibition with so many works by  Achilles Rizzoli, which in this case heavily focussed on compositions comprised mainly of text rather than the phenomenal architectural imaginings he penned. I highly recommend this book. It was interesting to see some Paul Laffoley works again. His weighing out of systems is very intriguing to me. His work first caught my eye at the highly poignant The Alternative Guide to the Universe exhibition at the Hayward, in London in 2013. He was still alive then. Vestiges and Verse: Notes from the Newfangled Epic in some ways reminded me of that great show at the Hayward. So many interesting artists collected and put into a captivating context to provide a lens through which you observe the similarities, and sometimes somehow the similarities through the differences, based on how far in a direction they will each take you. 
My work was in view upon first glance beyond the entry point into the exhibition. Approaching it, it didn't take a nanosecond to realise one of the drawings was hung upside down. This has since been rectified. I thought not to mention it here, but human error occurs (and we should be thankful for that!). This incident raised the question for me, 'Am I so far down this road that only I can see how obvious it is that this drawing is upside down?'. Among attendees at the opening were, aside from myself, two other living artists being shown in the exhibition. Susan T King and Jerry Gretzinger. The former, I have admired and written a bit about in recent years. Jerry, on the other hand, I was not aware of. It was a great pleasure to meet him and speak at some length with him specifically/personally, but also as someone else included in the show, sharing stories about our paths and how we end up where we end up. I'm completely in awe of his map project which began in the 1960s and is on-going. Mesmerising. Find yourself ten minutes, get yourself a hot drink and watch this. An artist I was not expecting to meet that night was Joe Coleman, which was a more than pleasant surprise. It began with a "look who's behind you, Carlo", and there he was beside my work. Thanks to Jennie we got talking a bit, about Henry Darger (who has some incredible work in the show), The curator Valérie Rousseau, and other artists in the show. He left me with the words "Welcome to the family". The family? The family?? Thanks Joe. Below are some photos from the opening. The exhibition runs for a duration of three months or so. Check it out if you can! 
I feel like there was more I wanted to write but it escapes me now. I need to stop writing here and continue writing in the current diary drawing, so will let this be for now. I hope to update the blog more frequently, yadda yadda.. let's see..
Bright moments, Carlo.
17 Mar 2016, 7:15pm
Boy shows you his... Uncategorized: Andrea Joyce Heimer Castlefield Gallery Darren Brian Adcock David MacLagan Jenna Kayleigh Wilkinson Joel Lorand Marlene Steyn Mehrdad Rashidi Mit Senoj Nick Blinko Peter Darach Richard Nie Rudimentary Peni
by
admin
leave a comment
'Inside Out' at Castlefield Gallery, Manchester (UK) / 4th March – 24th April, 2016
As promised in the previous blog entry, I am expanding on the topic of a current exhibition which features some of my work. At the time of writing this, it has been open to the public for just under two weeks and will remain open for just over a further month. I highly recommend a visit after having attended the preview night. The space is impressive, and the combination of artists and works make for a rich experience which should have something to absorb you into and intrigue you. I think it is fair to say that there is enough potency in this show to captivate beyond the much too often case in my experience of entering gallery, perusing 'empty' feeling ideas/art for a matter of a handful of minutes at most, and sometimes even forcing further attention in case time might do anything in me understanding/appreciating the work, but more often than not failing to accept there is any substance of real value. I am so tired of that, that I wanted to write that sloppy sentence as quickly as possible and move on.
I have to send a big shout out to co-curator of the show show, David Maclagan, for his support over the last few years and for bringing me into this show. The work on display was co-curated with the Castlefield Gallery and I saw some interesting work that I was unfamiliar with until that point. Darren Brian Adcock's interactive pieces had a wondrous and original way of engaging with me. I had the honour or being in this group show with an artist I have admired for over half my lifetime thus far, Nick Blinko. This strangely put some sort of perspective on things, for me. In fact, and I hadn't thought of this until now, but Nick Blinko's original drawing used for the insert of his band Rudimentary Peni's first album 'Death Church' from the early 1980s, being exhibited in this exhibition, is a result of some cosmic vibrations if ever there were any. A friend of mine in school made a compilation cassette for me, containing hardcore punk recordings from his record collection. It took him months to finally get round to finishing it and giving it to me. A song from 'Death Church' was on this tape, and I went to seek out the album after that. Purchasing it was my first exposure to Nick Blinko's art, and right now you can see the original art for that album on show in an exhibition along with some of my work. I'm not quite sure what to make of it, but something happened there!
I was going to write more, but I think I'll leave it at that! I hope you can make it along to see some interesting work that doesn't often get an outing. Vibrations courtesy of: Darren Brian Adcock, Nick Blinko, Peter Darach, Andrea Joyce Heimer, Carlo Keshishian, Joel Lorand, David Maclagan, Richard Nie, Mehrdad Rashidi, Mit Senoj, Marlene Steyn, Jenna Kayleigh Wilkinson.
Below are some photos from the opening.
Diary Drawing, Sept. 2015 – March 2016
Another diary drawing has reached its natural ending point. On this occasion, without filling the entire page. I've covered most of it though. There are a handful of reasons that I am aware of relating to why, one of which is how difficult I found using the pen that I chose. It was not very fluid and did not flow so well. This, in part, delayed the process by months. Anyhow, that's the way it goes. It was not the sole reason, in any case.. Unfortunately, my scanner is not scanning the page straight, regardless of how straight the page is placed into the scanner, so I hope this temporary scan should do for now.. I guess you won't notice too much either way though..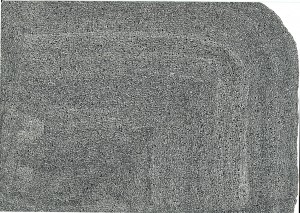 Lastly, I must mention I have been on some inspiring adventures lately. In contrast to the behemoths I normally post as blogs, and rather sparsely, I hope to submit somewhat more frequent and digestible posts, in which I'd like to focus on these adventures, for example. Until then,
Peace
Carlo
29 Dec 2015, 2:50pm
Boy shows you his... Boy talks: Ahmed Abdullah Amina Claudine Myers Carlo Keshishian Castlefield Gallery David Wertman David Wertman & The Sun Ensemble diary drawings Ed Blackwell Eternod/Mermod Collection Galerie Du Marche Joel Lorand John Sprague La Maison Rouge louis soutter Madge Gill Marion Brown Mehrdad Rashidi Nick Blinko Outside In Outsider Art Outsider Art Fair Outsider Art Fair Paris Stephen McCraven Sun Ra Sweet Earth Records The Sun Ensemble theo
by
admin
leave a comment
Outsider Art Fair Paris 2015…
Greetings friends, family, fans, followers and spies. I thought I'd write one of these posts to update everyone on some of my activities before the year is out. Firstly, as I mentioned in the previous post in September, I had two drawings shown at the Outsider Art Fair Paris thanks to Galerie du Marché and the Eternod/Mermod Collection from Lausanne, Switzerland. I must reiterate how much of an honour it is to have my drawings in their incredible collection and to be shown at their consistently strong booth, having attended the fair for several years and been absorbed by the potency and selection. This was the first time that my works have been exhibited at the fair, and I was in good company on the wall with a Louis Soutter  above me and a Theo below me, with a Madge Gill below that. As I said in my entry of reflections on the Outsider Art Fair Paris for Outside In's blog which can be read here: "In a weird way, I quite like being in the company of dead people who manage to speak from beyond the grave (and particularly in this way)." Quoting myself from other blogs, into my own. The future has arrived. Anyhow, for my perspective on the fair, click on the aforementioned link. The two diary drawings of mine that were shown were bought by the La Maison Rouge collection and a private collector. 
Diary Drawing…
I am currently drawing the 9th in my series of diary drawings, with the intention to stop at the 12th, as I'd like to continue a painting that I began in 2011 and hopefully build a series around it. Below, you can see an image capturing a moment in the process of my current diary in progress..
Castlefield Gallery… Inside Out
I am pleased to announce that some of my work will be shown in Inside Out, an exhibition with a very interesting roster of artists, at the Castlefield Gallery in Manchester, UK. The show will be on from 4th March until 24th of April. For (a lot of) additional info, check out the first link in this paragraph. I'll go into some more detail about this exhibition in my next blog post, but for now I will say I am very excited to discover I'll have works shown alongside Nick Blinko, Joel Lorand and Mehrdad Rashidi.
Sweet Earth Records
I undertook a most pleasurable adventure in recent months, in an attempt to shed light on a somewhat obscure, short-lived record company that was active between 1977-1979. My curiosity resulted from a variety of 'coincidences' in regards to the records that were released on the label, most of which are rare and all out of print with the exception of Sun Ra's The Other Side Of The Sun which saw a reissue through another label in recent years. In my attempt to demystify the story of Sweet Earth Records, I managed to speak with John Sprague who kindly elaborates on his memories of performing and recording with David Wertman and The Sun Ensemble, as well as his involvement with the label and their releases. I also speak with the legendary Amina Claudine Myers about her album Poems For Piano 'The Piano Music of Marion Brown', I chat with the charismatic Stephen McCraven who kindly invited me in his home to speak on his classic Wooley The Newt LP, and lastly I interview the great Ahmed Abdullah about a Sweet Earth Records non-release and what would have been Ed Blackwell's first album as leader. As far as I know, there isn't really even a synopsis of what Sweet Earth Records were about, online, let alone an exploratory show containing interviews with someone associated with each release to come out on the label, which is what I've managed to piece together. I hope you enjoy it. With that, I'll stop typing and leave you with those two hours of audio Sweet Earth Records special / See's To Exist show. Happy New Year!
Bright moments,
Carlo
17 Oct 2011, 7:28pm
Boy talks: Alfred Tarazi Daniel Johnston Don Van Vliet Hans Feibusch Nick Blinko Palais de Tokyo Pat Douthwaite Rasha Kahil Running Horse Contemporary Arts Space Saatchi Online Slick Art Fair Step Up vagina Wesley Willis
by
admin
leave a comment
…………………………………………………………………………………………
……………………………………….
.
Eggsciting Occurrences 
Several eggs have hatched as of late.
Firstly, I have been running a few workshops for both Hans Feibusch Club and Step Up, both having taken place at Pallant House Gallery in Chichester. It's been great fun and I hope to do more workshops soon. The Feibusch workshops were based on my own design and we looked at the work of Nick Blinko, Wesley Willis, Daniel Johnston, and Don Van Vliet, exploring the relationship between visual art and music when existing within a single person, and the way subconsciously, or consciously, often similar processes are used through the different mediums, due to the characteristics in one's personality. In the Step Up workshop, we looked at the work of Pat Douthwaite and spent the morning drawing and painting with our 'alternate hands' in order to free up and execute the work from a different place. It can be quite enjoyable. Try it if you wish..
The image below of Wesley Willis's lyrics mirrors the structures of his songs, and the way his lyrics are written also reflect his systematic drawing style. An example of how process is similarly applied throughout his output.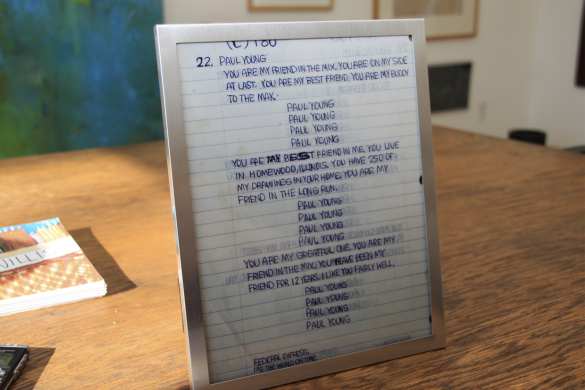 In other news, I seem to have found myself absorbed into a form of popularity contest. I first entered the Saatchi Online Showdown competition back in 2007 and realized that unless I was going to fully campaign to get all sorts of people to vote for me, there was no chance of 'winning'. I think what happened this time was the competition is solely based on drawings and upon seeing this, for whatever reason I felt like entering a drawing in a momentarily passive state of activity. I didn't look back at it until it came to my attention via email again a couple of weeks later, and I was made aware that I was in 364th place of 1200. Also, I discovered the top 300 make it to the next phase of voting, the jury vote. So I had a sort of incentive to apply further effort, having achieved this placement without telling a single soul about it, getting only votes from random people on the site thus far. The result of my asking for votes, and actually enjoyably connecting with people I may not correspond with often and having this little reason to underlying, was my floating between 128-270, which has been fluctuating quite dramatically, but remaining in the top 300. This public voting phase ends tomorrow sometime, so if anyone is reading this and hasn't voted and would care to, please click here   It's my little over-loaded man again.
Lastly, but certainly not least, some of my work will be shown with the Running Horse Contemporary Arts Space at stand G3 alongside works by Rasha Kahil, Hiba Kalache and Alfred Tarazi from October 20 -23rd at the Slick 11 art fair taking place at the Palais de Tokyo in Paris. I wonder how much has changed since I was last there as a pre-pubescent. I will find out and try to work through my more than ambitious list of places to go in the little time I have there. Private view is tomorrow (18th Oct) and I guess the 19th might be open to some people too somehow.
That's all for now.. I will leave you with this little vagina I painted a month or so ago, come in if you wish. haw haw haw.
27 Jul 2011, 7:23pm
Boy talks: Henry Boxer Gallery Nick Blinko Outsider Art Pallant House Gallery Rudimentary Peni
by
admin
leave a comment
…………………………………………………………………………………………
……………………………………….
.
Nick Blinko exhibition…
Nick Blinko is one of my favourite living British artists and so I feel quite privileged to have written an article about him alongside the interview Marc Steene conducted in the latest issue of Pallant House Gallery magazine. This article was published to accommodate Blinko's first ever solo exhibition (though he has been drawing for over 3 decades) 'Visions of Pope Adrian 37th', which is currently on at Pallant House in Chichester, UK. The exhibition is free and if you are intrigued but feel you are based slightly too far away, you can make a day of it and pop into the Frida Kahlo and Diego Rivera exhibition also currently showing there. I went along to the joint opening night private view and was blown away by the potency of both shows. It was also great to meet Nick Blinko after having appreciated his work for over a decade. Also coinciding with the show is a very nicely put together book of Blinko drawings, with each drawing published at the original A5 size and in the order that they were produced. Find out about the two editions here.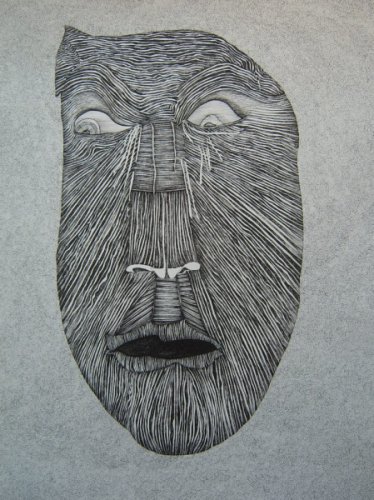 I first discovered Nick Blinko through hearing his band Rudimentary Peni.. He was/is the singer/guitarist and it's pretty potent stuff.. check it out also..
22 May 2011, 9:29pm
Boy talks Uncategorized: Impact Art Fair James Lake Neal Pearce Nick Blinko Outside In Pallant House Gallery
by
admin
leave a comment
…………………………………………………………………………………………
……………………………………….
.
Writing About Writing…
So, I was ambassadoring (not a real word, apparently) for Outside In at the Impact Art Fair today. I got to sit beside a lovely Scottie Wilson painting of some fishies, and talk to people about the Outside In project and how thankful I am to have been involved thus far on several levels. To my surprise, among the many flyers and information sheets about Outside In that we had to give out today, was the latest edition of the Pallant Press, which contains an article I wrote when I was asked to select three Outside In artists in order to 'curate' an article accompanied by their images. I chose Nick Blinko, James Lake, and Neal Pearce. To see their work, click on the names in the previous sentence. Read my article here. Another pleasant surprise was that Neal Pearce actually had his own stand at the fair, so I got to meet the man and check out all the work he brought along with him.
A page from Neal Pearce's Infinite Codex.
Neal Pearce – Infinite Codex, book 12, page 55