21 Feb 2019, 5:15pm
Boy shows you his... Boy travels Uncategorized: Afrohorn After Hours Ahmed Abdullah American Folk Art Museum Andrew EdlinGallery Arthur Blythe Bob Stewart Cathy Ward Cavin-Morris Gallery Christine Sefolosha Cosmos Donald Smith Eric Wright Francisco Mora Catlett GG Allin Guggenheim New York Henry Boxer Gallery Hilma af Klimt Jennifer Lauren Gallery Joe Coleman John Dunkley John Maizels Julia Sisi Marcel Storr MC5 Nick Blinko Night of the Purple Moon Norbert Kox Outsider Art Fair Outsider Art Fair New York 2019 Paa Joe Phyllis Kind qpsm unit ras moshe burnett Raw Vision Raw Vision Magazine Ricco/Maresca Gallery Salim Washington See's To Exist Serpentine Gallery Sun Ra Sweet Earth Records Warren Smith Wayne Kramer Zinc Bar
by
admin
leave a comment
…………………………………………………………………………………………
……………………………………….
.
Needless to say life since the previous newsletter/blog entry has been a whirlwind and thus this 'part II' is justified. A lot to touch on in this post, including very recent unexpected and exciting developments…
Get your coffee, this may take a while…
Outsider Art Fair New York, January 2019
Bar the near-infuriating process of getting out of Newark airport (which is considerably less infuriating than that of JFK airport), my journey was quite smooth. I do love arriving to New York, post-airport. Feeling the cold air on my face. Getting the train. Usually something happens that reminds me where I am. On this occasion, after leaving my things at the apartment where I'm staying, I went on my way to Raw Vision magazine's party celebrating its 100th issue. On my way there, it was perfect, I entered the subway and heard the music that was used to open and close the film After Hours. A classical piece, I forget who wrote it and what it's called but I very much enjoy it. Most likely through the association with the film. It is perfectly fitting in the film, which is Manhattan atmosphere-focussed and from the lens of an 'outsider's' view of the downtown art scene of the early-mid 1980s (near enough when the film was made also). It was great and surprising to hear this piece on the subway upon arriving to New York. As if I was being welcomed by a specially curated subway journey. It was a violinist or cellist playing. It was quite a last minute decision and possibility to come, so I was very glad to be embarking on this odyssey. It is the first time my work is being shown at the OAF in New York. Thanks Jennifer Lauren Gallery!

Carlo beside himself

Queue for Carlo

Nice image nabbed off of Instagram via kirstycnyc 
A couple of my small drawings (The Disadvantages of Time part IV: Time Lapse, The Disadvantages of Time part V: To What End?) were shown and both sold, covering my trip with a bit of extra change. Nice. The Raw Vision party was cool. It was a night of short films submitted to Raw Vision, which made for some interesting viewing. The jetlag wasn't too intrusive to my wakefulness but the atmosphere was somewhat surreal. I suppose sitting in an environment like an airplane for a good part of the day and then finding yourself walking around New York City in itself would do that. I had a complimentary beer. That was nice. I saw a few familiar beings. Jennie who was showing my drawings. Cathy Ward and Eric Wright. Fresh off the press: Raw Vision will be hosting a similar event in London (UK) mid-March.
The OAF opening was busy and buzzing. I saw friend Julia Sisi there, working at the Raw Vision stand with the great John Maizels. It was cool to see them. A man came up to me to express his admiration for my drawings. We talked about the different pens I use. He said something about the level of detail "you and Nick Blinko". Wow. The most pleasing work at the fair for me to experience were three paintings by Joe Coleman, who has finally been un-banned from having work shown there, and his works were incidentally shown at the Andrew Edlin Gallery stand, Andrew Edlin being owner of the fair also. Coleman was banned under previous ownership though. Edlin's stand for me is generally a highlight in what they show. I was awestruck by another monumental Marcel Storr work there again. The most impressive of Joe Coleman's works must have been finished just days or at most a couple of weeks before the fair opened, evidenced by a section in the work being dedicated to the late Norbert Kox who had very recently transcended the Earth.

Joe Coleman 'Adam Parfrey: A Feral Man in a Feral Land', 2018-2019

detail of Norbert Kox
Also of note, as is usually the case, to my eye anyway, were the selections displayed by the Cavin-Morris and Henry Boxer galleries. Apparently the exhibition Cavin-Morris had on at their actual gallery in New York was considered by some to be the best show they have ever put together. I was adamant that I'd reach and see it while I was there but sadly the stars didn't align that way. They currently have a solo exhibition of Christine Sefolosha's work on show, which must be fantastic. Sefolosha is a force to be reckoned with. It has now been a month since the fair, and a lot else has been happening so I'll move ever onward..
Whilst in NYC, I did manage to see the Hilma af Klimt exhibition at the Guggenheim. I was not aware of her and had missed a recent exhibition of her work at The Serpentine in London. The Guggenheim show was interesting to see. I think it could have been curated better but it was fascinating to see her work and learn about it. I can't say I like all of it, but some of it was pretty special and considering it in various contexts was quite enlightening, notably when the work was created and how overlooked it was within art history.

Hilma af Klimt works at the Guggenheim, NYC
The New York trip continues with a party at the American Folk Art Museum where I saw the Paa Joe and John Dunkley exhibitions. Both interesting in different ways. I walked around the John Dunkley exhibition sensing something very familiar about the work and eventually saw this painting which immediately took me back to the museum in Kingston, Jamaica where I had seen this very painting a few years ago when I was there. I believe it was the only John Dunkley painting I saw when I was there, or it was the only one that struck me, but clearly it stayed with me somewhere in the brain files.

John Dunkley 'Banana Plantation', c.1945
Lastly, it was Saturday, I had been running around town since Wednesday and against my urge to reach everywhere I wanted to reach, felt I did need some rest. My calculations of timing had begun to be off, and it was clear I needed to make some adjustments. I passed on the Ricco/Maresca party dedicated to the recently passed Phyllis Kind, which I'd really have liked to experience. (note: I'd only met Phyllis Kind once, over a decade ago in the last year or two of her New York gallery being open. The exhibition was fantastic and I also got to see a Nick Blinko drawing up close for the first time, which was brought out from the stock room after we'd got talking about his work.) I laid low for an hour and then walked through the rain to Zinc Bar. It was imperative to check out some music, after all. I'd been in touch with trumpeter Ahmed Abdullah whom I'd interviewed for my radio shows over the years (the Sweet Earth Records special, and the Arthur Blythe special) and he said he would be performing there with a group called AfroHORN and that Bob Stewart (note: Bob Stewart's solo on Arthur Blythe's Lennox Avenue Breakdown from the late '70s is potentially the most significant tuba solo in Jazz history) would be guesting also. This show was from 8-10pm and there was another show over in Brooklyn that I'd initially planned to go see from 10pm onwards. I was toying with the idea of doing both somehow. The other show was a collective improvisation featuring the legendary drummer/percussionist Warren Smith, saxophonist Salim Washington who I was interested in seeing from having listened to him on a record by QPSM Unit, and Ras Moshe Burnett whom I was intrigued to see also. I never made it to that event. Partly because, to my surprise, Salim Washington was on stage at the AfroHORN gig! I'd mentioned to Ahmed Abdullah via email, the other show, and he responded delighted to hear Salim Washington was in town and that they had known each other for a couple of decades and had been neighbours and worked together but that he had moved to South Africa. I could be wrong, but there is a possibility that Salim Washington was on that stage in Manhattan in part due to me having mentioned him in an email to Ahmed Abdullah!? Potential evidence in support of an alternate explanation is that the bassist on that QPSM Unit record was also on stage in Manhattan that night and that could have been his in. (In some sort of way, this reminds me of the time Wayne Kramer of the MC5 was performing in London on the day GG Allin died, give or take a couple of decades, and as we were in correspondence at the time, I'd mentioned it to him the day before. The first words he said before starting to play referenced GG's death and the newspaper reviews the following day made a point to highlight this. Kind of silly, but it's funny how and where things ricochet). In any case, I was so glad I had come to hear this. It truly lifted my spirit and rejuvenated my everything. I was fulfilled and didn't need to rush off to any next thing. I was soaking it in and reflecting on it for some time after. Salim Washington's partner and baby were in attendance, all seemingly leaving for the other gig ten minutes before the set ends. Also not in the listing was that the incredible Donald Smith was on piano that night. Blissful. They did a great rendition of Sun Ra's 'Love in Outer Space' (standout version being from Sun Ra's 'Night of the Purple Moon' LP from 1970. Note: both Ahmed Abdullah and ArfoHORN leader Francisco Mora Catlett played with Sun Ra's Arkestra in the 1970s and beyond. I first heard Ahmed Abdullah on one of the first records that got me into Sun Ra, 'Cosmos' from 1976) and a wonderful version of Reggie Fields's 'Reminiscing'. I sacrificed the moment to capture some on my phone, which you can check out if you scroll down to the bottom of all this.

with Ahmed Abdullah
As if I don't have more significant things to include in this already overstretched newsletter/blog post, here is an inflated rat I saw in New York, and a couple of octopus sightings..
You know what? This was all stuff from my New York trip and I have a lot of other things to write still, but there is enough here. To keep it neat and for those of you that have read this to the end, I'll let you return to your lives for now.. The subheading for this post was 'New York, New York' because the second dose of New York will be happening in March already. Those very recent and exciting developments alluded to in the opening sentences of this post will have to wait. I'll save that information for the next entry, which I will follow this one up with sooner than you think.. I hope.
AfroHORN – 'Reminiscing' live @ the Zinc Bar, NYC, January 2019
3 Nov 2013, 7:35pm
Uncategorized: Cathy Ward Christian Berst Christine Sefolosha David MacLagan Eugene von Burenchenhein Halle Saint Pierre John Maizels Julia Elmore Laurent Danchin Line Let Loose Ody Saban Outside In Outsider Art Fair Raphael Lonne Raw Vision Magazine The Running Horse Contemporary Art Space
by
admin
leave a comment
…………………………………………………………………………………………
……………………………………….
.
'Line Let Loose' by David Maclagan
It has happened again. Things Have accumulated and I have not blogged them. I will try to keep it concise!  Firstly, as I mentioned earlier in the year, a book called 'Line Let Loose' featuring some of my creations on the cover and pages within, exists and is pretty exciting for me. It was meant to come out quite a few months back but there were some delays. As you can see in the photo below though, it actually exists now. I have this advance copy, and the rest should be out in November. I have finished reading it and while it is relentlessly on topic, exploring all sorts of angles, I like that and it certainly makes for an interesting account in regards to the history of scribbling, doodling, mediumistic/automatic-drawing, and examines crossovers and various aspects of these forms of expression. target="_blank">David Maclagan has written a fair bit over the decades, as well as being an artist in his own right, having given lectures and is also a retired art therapist. It's an honour to have my drawing on the wraparound cover of this book!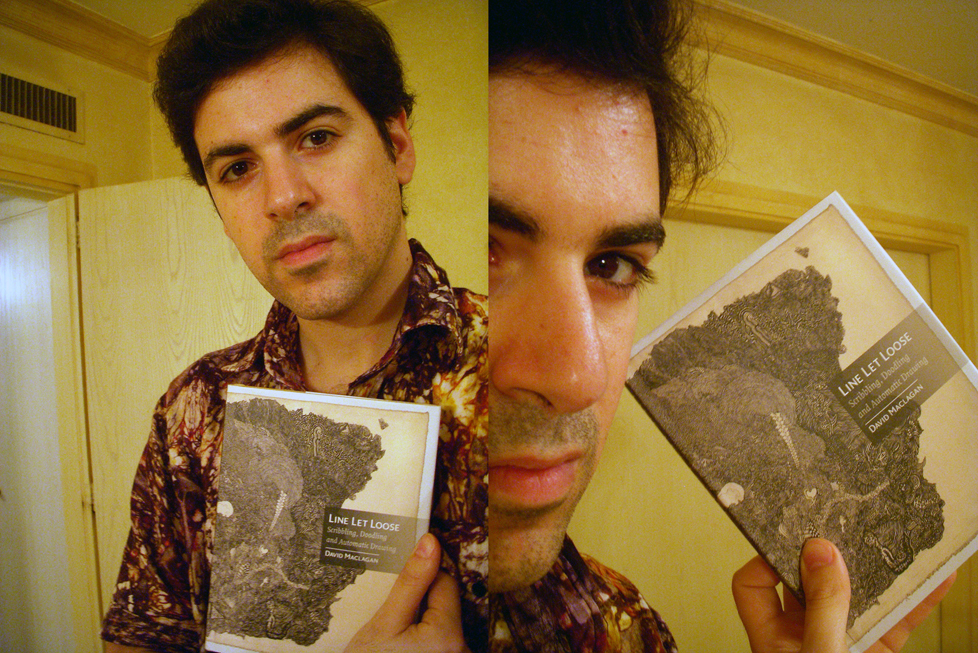 Parisian Whirlwind
I'm in Beirut right now, counting the hours until the opening of my solo exhibition 'Portals'. More about that later. On my way to Beirut, I came through Paris and stayed there for four nights so that I could check out the first ever edition of the Outsider Art Fair to be hosted in Paris (after something like 20 years of it taking place in New York). I had a great time and while I don't really ever speak to anyone during these things, or if I do it tends to be in somewhat of a subdued manner, but this time even just being myself and acting natural, there was a fluidity at times which was really pleasant. I met some interesting people and had an altogether different experience. There was still strange stuff in the air, sure, but that's to be expected. But anyhow, I arrived on the Eurostar (£34 ticket!) at 6pm and then had just an hour to go drop off my luggage and find my way to a 2 hour conference on Art Brut from America.. It was a great way to start the trip, going head on into re-configuring my mindset to listening and trying to understand French. I got at least half of it. Having a French eduction until the age of 9 or so, my vocabulary is limited but I do ok.     I spotted two people in the audience that my eye returned to a few times. One I was quite sure is Ody Saban, an artist I have admired for many years and have had a little correspondence with over the years. The other, I felt was Christine Sefolosha, though I'd only seen a couple of photos of her before and so couldn't be sure, but she did glance over at me a couple of times, and we had also corresponded a little bit. I love Christine's work also. Magical stuff. It felt funny to start the trip in the presence of two such 'heroines', neither of which I'd never met before. I chatted with Christine a bit and we took the train.. The following day was the opening of the fair, which interestingly took place at a hotel that had been hired in its entirety. Each guest room was used by a different gallery, with art works propped up in bathtubs and folders of drawings spread out on beds, stuff hung on the walls, etc.. Some of the gallerists even slept in the beds (at night)! I liked it in theory, but it wasn't very practical at the opening with the narrow corridors etc.. Naturally some great works were on show. I was particularly pleased to see this small Raphael Lonne drawing kind of hidden at the bottom of a wall.. I showed John Maizels from Raw Vision magazine the advance copy of David Maclagan's Line Let Loose that I had with me, and he agreed that it was beautifully printed and proceeded to show it to a few people in the surrounding area. I also showed it to Ody as she had an image in the book also, and of course hadn't seen it yet. I went from there with my friend Julia Elmore to another gallery where a group exhibition was taking place, featuring works by Christine Sefolosha and it was an absolute joy to have Christine give us a tour of the show and to talk about her work. It meant a lot to me that Christine liked my work when I showed some of it to her. To get a genuine positive reaction from someone you look up to, there's nothing quite like it. Both Christine and Ody were very friendly and supportive. I had a nice time chatting with Ody over a coffee the following day and then we went for some lunch with Laurent Danchin, which was very pleasant indeed. We spoke on various topics and it was a rather insightful experience. The following night my friend Anne-Cecile and I checked out the  party at the Halle st.Pierre celebrating the Raw Vision exhibition which was spectacular (and will be on until next August I believe!), and then on my last night I went to the party at the Christian Berst gallery and caught up with artist Cathy Ward and Jennie from Outside In while the Eugene von Burenchenhein photography show was in effect. I've got to send a special shout out to Rebecca Hoffman for making this great trip possible! Here's a photo of Ody Saban and I.. and one I took of her with Laurent Danchin..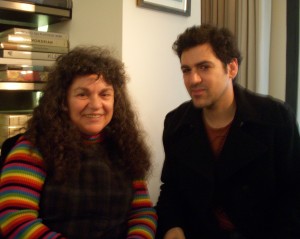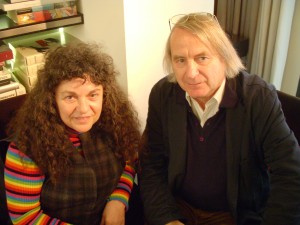 Portals
My solo exhibition at The Running Horse in Beirut. I've been working on spiral-based paintings for this show since last year, and I've been painting spirals for long enough to forget when that all began. I've been jotting down a lot of reflections on how this show came to be, what making spirals means to me, various observations about the spiral in nature, life, 'art', and in history in general. So, I really don't feel like writing more about it right now! I could copy my notes into here.. it might make for excruciating reading. I will spare you for now I think. So the show opens very soon, what I'll do is, I'll write a next post all about it then..
Cashew soon..
Carlo.