3 Sep 2019, 1:51pm
Boy shows you his... Uncategorized: AACM Adamson Collection Trust Adolf Wolfli African Skies Aloise Corbaz Amelie Ravalec Art & Mind Artistic Heritage Ensemble Augustin Lesage David O Flynn Derk Reklaw diary drawings Earth Wind and Fire Edmund Monsiel Edvard Munch Francisco Goya frankiphone Hieronymus Bosch ICA John Maizels Josefe Marie Verna Kelan Phil Cohran and Legacy Mad Pride Mad Pride All-dayer Madge Gill Nick Blinko NTS Radio Outsider Art Fair Outsider Art Fair Paris 2019 Phil Cohran Raw Vision Magazine Sun Ra Arkestra Timmy Miller Has a Heavy Head William Blake
by
admin
leave a comment
…………………………………………………………………………………………
……………………………………….
.
It has been half a year or so since my last blog post.. Some updates as we transition into the climax of an unknown winter…
Manchester Mad Pride All-Dayer, Sunday September 8th
This subversive celebration is coming up very soon, at the end of this very week in fact. I was invited to partake and have contributed a couple of prints to the visual art exhibition, as well as my film Timmy Miller Has a Heavy Head which will be screened in a programme of short films throughout the day. It is a rare showing of the film and no other showings are currently planned to take place.  The event will showcase various artists spanning a vast spectrum of dynamic media for all your senses to glean. These are the co-ordinates:
Niamos, Chichester Road, Hulme, Manchester, M15 5EU
You can find further info here (where if you scroll down to a post from August 3rd, you can read my answers to a few questions that were put to me) or here.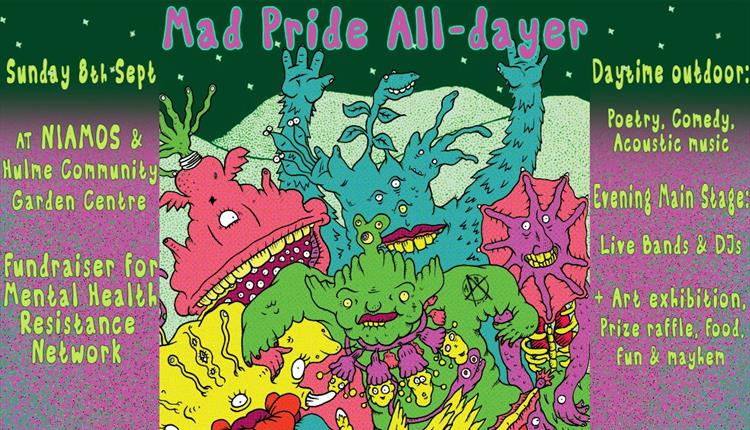 Outsider Art Fair Paris 2019, Thursday 17th – Sunday 20th October
I'm proud to announce that some of my work will be on show again with the Galerie du Marche (Lausanne, Switzerland) at the seventh edition of the annual Outsider Art Fair in Paris this October. It has been surreal to be included among highly potent artists such as Aloise Corbaz, Edmund Monsiel, Adolf Wolfli and Madge Gill on what I have always considered to be one of, if not the, strongest stands at the fair.
The most recently completed diary drawing is on an A5 format (21 x 14.8cm). In some sort of unexplainable phenomena, it has resulted in several thousand more words than the previous diary of the same size, and contains more words than eight out of the ten A4 diary pages that exist, at almost 11,000 words in 'bubble text'. Usually the word difference, especially in such close succession (months, not years), can be a few hundred more or less. This diary page will be on show at the fair. See here for further details.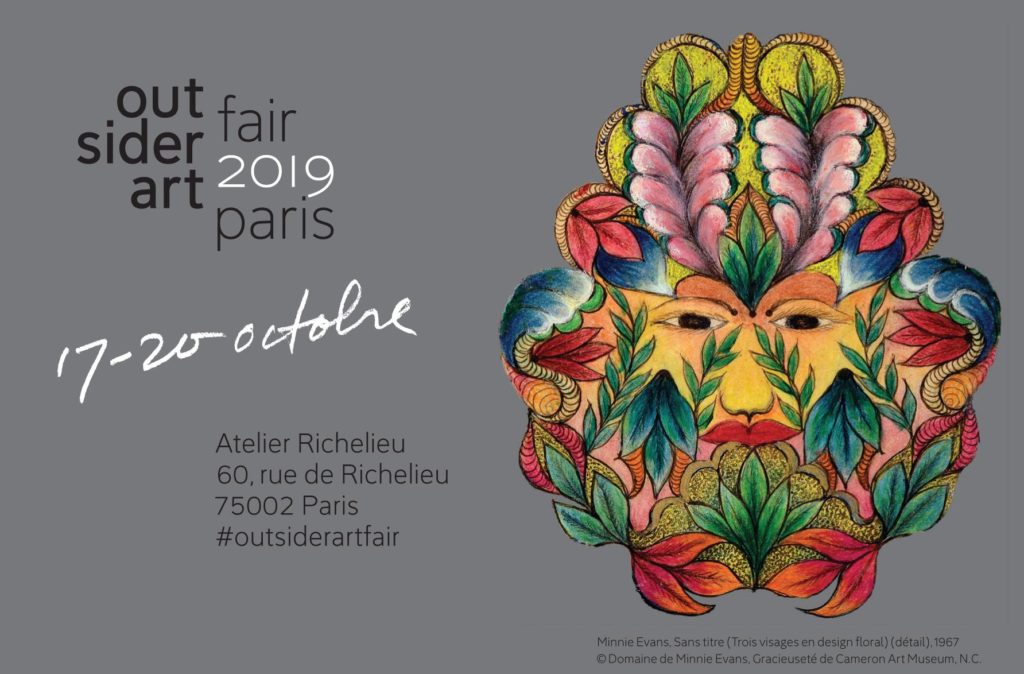 Art & Mind film
I should mention the manifestation of this truly ambitious documentary film, Art & Mind, which attempts to chart evolving opinions, views and research regarding the convergence of mental health and visual art whilst considering a period of give or take 500 years. I was present at the premiere which took place at the ICA in April (where it will be shown as part of a double bill on Sunday September 8th again). There are dozens of further screenings scheduled globally, which you can find here along with the trailer and further information. The film is narrated by the unparalleled John Maizels, editor of Raw Vision Magazine, who was on the Q & A panel at the premiere alongside chair of the Adamson Collection Trust, David O Flynn and director of the film itself, Amelie Ravalec. From having viewed the film once, I recall my immediate response was a feeling of inundation. There were 350 or so images shown in the film (including one of mine), in a sort of suspended montage sequence. The film was divided into an array of sub-chapters, giving a short time to highlight each. It would not go amiss to re-edit this film and the extensive omitted footage, into a series of episodes, allowing more time for the information to flow. The sequence of images is beautiful and to see it on a big screen was fantastic. With such an amount to be tackled within the time frame of a feature film, and to summarise the centuries explored, naturally there is a lot left unsaid and, for example, failing to include non-Western art and non-Western interpretations of mental health assessment and behaviour, is significantly detrimental. I found the relentlessness of the on-going music under the interviewees words contributed to a somewhat suffocating viewing process, but paradoxically find the alignment of that to the subject, an interesting choice of formatting and that perhaps it in some way can work to the film's advantage. Needless to say, I can't wait to re-watch this film, probably several times. To see works by Bosch, Goya, Blake, and Munch contextualised with Lesage, Wolfli, Blinko, and an endless list of incredible artists, and practitioners active in various aspects of the field pondering on these works and how they were viewed in their time and since, is incredibly fascinating.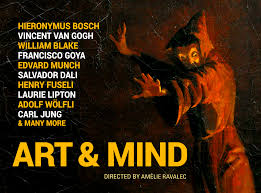 See's To Exist Show, edition 179 – The Sphereology of Phil Cohran
I recently put a pre-recorded radio show together focussing on the extraordinary music of self-proclaimed 'sphereologist', Phil Cohran. A difficult task to fit what I can into two hours, especially after a very rich hour and twenty minute conversation recorded between myself and harpist Josefe Marie Verna (who's majestic opening notes on White Nile, from the African Skies LP recorded in 1993 were my introduction to Phil Cohran's music) , which I edited parts of into the show, as well as fragments of a phone conversation I had with Derf Reklaw who was involved in Phil Cohran's Artistic Heritage Ensemble in the late 1960s. Cohran played in Sun Ra's Arkestra for a couple of years as the 1950s turned into the 1960s, and is known for being co-founder of the legendary AACM. He invented the Frankiphone, a sort of electrified thumb piano, which was popularised by disciples of his who went on to form Earth, Wind and Fire. I get into details about all of that and much more. Most importantly, you can hear some of this great music in the show here.
My show is monthly and you can hear the next show in its usual format of me playing some of my records live and talking about them on September 22nd, 3-5pm (UK time) over at NTS Radio.
That's All Folks!
I have some exciting news simmering and hope to report back soon. Meanwhile, back to your lives.
Take care,
Carlo.
28 Jan 2019, 9:53pm
Boy shows you his... Boy travels Uncategorized: abcd collection Adolf Wolfli Aloise Corbaz Art Brut Japonais II Barbican Bruno Decharme Collection de l'Art Brut diary drawings Egon Schiele Fondation Louis Vuitton Galerie Atelier Herenplaats Galerie d'un Livre l'autre Galerie Du Marche George Widener Guggenheim Bilbao Halle Saint Pierre Jean-David Mermod Jean-Michel Basquiat Jennifer Lauren Gallery Julia Sisi L'Envol La Gazette Drouot La Maison Rouge Little Nemo in Slumberland Lucienne Peiry Madge Gill Maison Savant Norimitsu Kokubo Outsider Art Fair Outsider Art Fair New York 2019 Outsider Art Fair Paris 2018 Philippe Eternod squirrel Tim Ter Wal Wellcome Collection Winsor McCay
by
admin
leave a comment
…………………………………………………………………………………………
……………………………………….
.
Outsider Art Fair Paris, 18th-21st October, 2018
It came and went. And a lot has come and gone since. I haven't managed to post in the blog here, and it's all piled up and fragmented now. I'll see what I can recollect and hope not to leave anything 'significant' out. I recently returned from New York, where I experienced the Outsider Art Fair there, which was certainly a whirlwind. I use this metaphor a lot. In the end, time is the whirlwind!
Paris in October was destined to be an unparalleled moment for me, due to having the calendar-diary I'd spent a year and a half accumulating over 50,000 words within in response to becoming a father and detailing every day of that until the page was filled, shown. The weekly magazine of auction sales, La Gazette Drouot, must have caught wind of this and in turn mentioned me in their 'Vous Avez Dit <<Outsider Art>>?' article, published in No.35 on 12th October. (note: click on images to enlarge)
Lucienne Peiry, former director of the Collection de L'Art Brut (2001-2012) and still working as Director of Research and International Relations there, found my drawings interesting and we had a chat. The museum have since acquired one of my diary drawings, which leaves me somewhat speechless.
Of note at the fair, was encountering Tim Ter Wal (represented by Maison Savant at the Galerie Atelier Herenplaats (Rotterdam, Netherlands) booth in a moment of working on his drawing. I noticed people just photographing him without actually speaking to him, which I found quite unsettling. I didn't want to interrupt him though, but got talking to the gallerist whom I'd had contact with in the past, and in an opportune moment I got to speak with the artist and ask him if he minded me taking any photos while he is working. He said he didn't mind. So, here are a couple of photos below.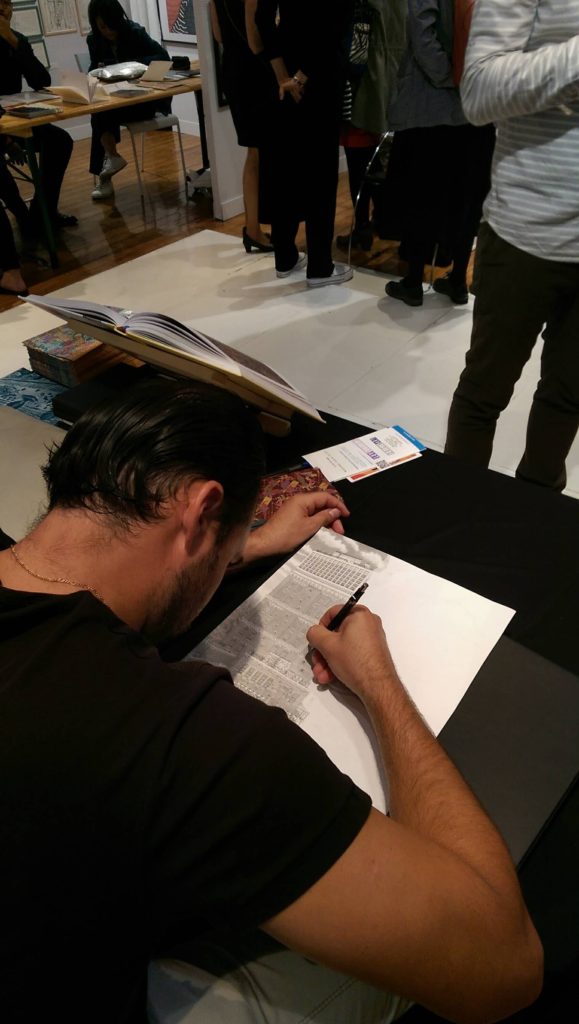 I took the opportunity to visit some other exhibitions while I was in Paris and was glad to catch my friend Julia Sisi's solo show 'Hypnagogies' at the Galerie d'un Livre l'autre which had been extended, making it possible for me to see it. I don't have any photos but spent quite some time absorbing all the energy and wonder. I also managed to see La Maison Rouge's final exhibition, 'L'Envol', which was an inspired and enjoyable exploration of (some of) our collective desire to fly, physically and metaphorically.
I also managed to see the Jean-Michel Basquiat and Egon Schiele exhibitions at the Fondation Louis Vuitton. It took an hour to get in and was very busy, but the Basquiat was well curated, unlike the recent Barbican show in London. A few years ago I saw a refreshingly unpretentious Basquiat retrospective at the Guggenheim in Bilbao, which was exciting. It was also the first time I'd managed to see an exhibition of his work. The Paris show possibly had the right balance though, overall.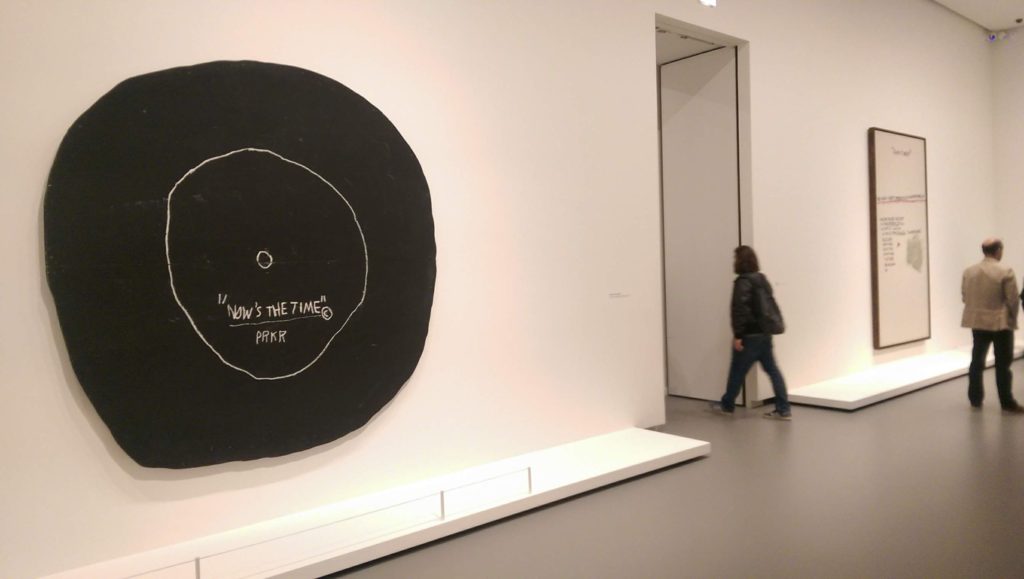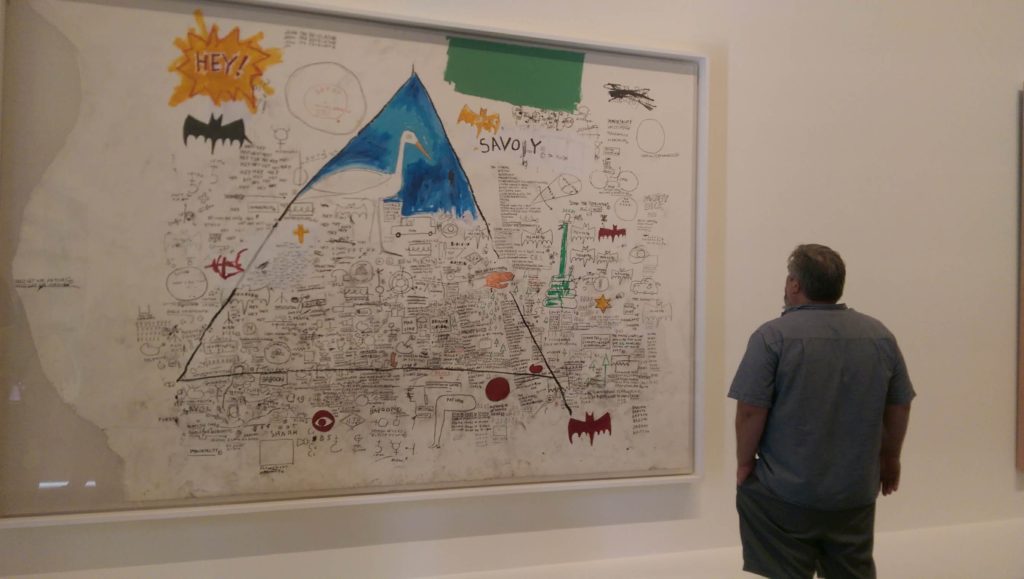 Finally, I caught the dynamic and rich Halle Saint Pierre exhibition 'Art Brut Japonais II' which featured all manner of work by many interesting and intriguing artists whom I sadly cannot do justice to here due to time restrictions but the catalogue looked quite fantastic, so perhaps seek that out. One highlight was this epic piece (seen below) by Norimitsu Kokubo, who's work I think I first saw at an exhibition at the Wellcome Collection in London a few years ago. Incidentally, we were both represented by the Jennifer Lauren Gallery at the Outsider Art Fair in New York last week (at time of writing this). More on that in the next blog entry…
Yes, so all of the above should have been put together and posted months ago. The writing would have most likely been more detailed, precise, and poignant.. but even in these short months, things fade with time.. I was going to write about the New York Outsider Art Fair now, but certainly 1) do not have enough time 2) I would use up way too much space, which also means you'll most likely not have enough time to read it all either. I really hope to post it very soon. In the next few days.. or.. next week?
Meanwhile, if I'd managed to get my phone out to film it a bit sooner, you'd get a better view but if you watch this on a loop a few times, here is a squirrel down my road, getting confused by some fake 2D trees. I guess the designers didn't think that through, or they simply did not care, or were curious to see what would happen, etc.. Anyhow, here it is, from around the same time as all the above (according to my phone)..
29 Dec 2015, 2:50pm
Boy shows you his... Boy talks: Ahmed Abdullah Amina Claudine Myers Carlo Keshishian Castlefield Gallery David Wertman David Wertman & The Sun Ensemble diary drawings Ed Blackwell Eternod/Mermod Collection Galerie Du Marche Joel Lorand John Sprague La Maison Rouge louis soutter Madge Gill Marion Brown Mehrdad Rashidi Nick Blinko Outside In Outsider Art Outsider Art Fair Outsider Art Fair Paris Stephen McCraven Sun Ra Sweet Earth Records The Sun Ensemble theo
by
admin
leave a comment
Outsider Art Fair Paris 2015…
Greetings friends, family, fans, followers and spies. I thought I'd write one of these posts to update everyone on some of my activities before the year is out. Firstly, as I mentioned in the previous post in September, I had two drawings shown at the Outsider Art Fair Paris thanks to Galerie du Marché and the Eternod/Mermod Collection from Lausanne, Switzerland. I must reiterate how much of an honour it is to have my drawings in their incredible collection and to be shown at their consistently strong booth, having attended the fair for several years and been absorbed by the potency and selection. This was the first time that my works have been exhibited at the fair, and I was in good company on the wall with a Louis Soutter  above me and a Theo below me, with a Madge Gill below that. As I said in my entry of reflections on the Outsider Art Fair Paris for Outside In's blog which can be read here: "In a weird way, I quite like being in the company of dead people who manage to speak from beyond the grave (and particularly in this way)." Quoting myself from other blogs, into my own. The future has arrived. Anyhow, for my perspective on the fair, click on the aforementioned link. The two diary drawings of mine that were shown were bought by the La Maison Rouge collection and a private collector. 
Diary Drawing…
I am currently drawing the 9th in my series of diary drawings, with the intention to stop at the 12th, as I'd like to continue a painting that I began in 2011 and hopefully build a series around it. Below, you can see an image capturing a moment in the process of my current diary in progress..
Castlefield Gallery… Inside Out
I am pleased to announce that some of my work will be shown in Inside Out, an exhibition with a very interesting roster of artists, at the Castlefield Gallery in Manchester, UK. The show will be on from 4th March until 24th of April. For (a lot of) additional info, check out the first link in this paragraph. I'll go into some more detail about this exhibition in my next blog post, but for now I will say I am very excited to discover I'll have works shown alongside Nick Blinko, Joel Lorand and Mehrdad Rashidi.
Sweet Earth Records
I undertook a most pleasurable adventure in recent months, in an attempt to shed light on a somewhat obscure, short-lived record company that was active between 1977-1979. My curiosity resulted from a variety of 'coincidences' in regards to the records that were released on the label, most of which are rare and all out of print with the exception of Sun Ra's The Other Side Of The Sun which saw a reissue through another label in recent years. In my attempt to demystify the story of Sweet Earth Records, I managed to speak with John Sprague who kindly elaborates on his memories of performing and recording with David Wertman and The Sun Ensemble, as well as his involvement with the label and their releases. I also speak with the legendary Amina Claudine Myers about her album Poems For Piano 'The Piano Music of Marion Brown', I chat with the charismatic Stephen McCraven who kindly invited me in his home to speak on his classic Wooley The Newt LP, and lastly I interview the great Ahmed Abdullah about a Sweet Earth Records non-release and what would have been Ed Blackwell's first album as leader. As far as I know, there isn't really even a synopsis of what Sweet Earth Records were about, online, let alone an exploratory show containing interviews with someone associated with each release to come out on the label, which is what I've managed to piece together. I hope you enjoy it. With that, I'll stop typing and leave you with those two hours of audio Sweet Earth Records special / See's To Exist show. Happy New Year!
Bright moments,
Carlo
23 Sep 2015, 12:43pm
Boy shows you his... Boy talks Uncategorized: Adolf Wolfli Aloise Corbaz Artlicks Carlo Zinelli diary drawings Edmund Monsiel Eternod/Mermod Collection Galerie Du Marche Hotel Elephant Madge Gill Outsider Art Fair Outsider Art Fair Paris Raphael Lonne Scottie Wilson
by
admin
leave a comment
Artlicks Weekend/Hotel Elephant…
Welcome once again or for the first time. If you are sitting in silence, let me take this opportunity to momentarily redirect you to the archive of my weekly radio shows, in case you'd like a soundtrack to reading my blog. Go here and pick any of the hundred or so shows I've executed in my life as a radio DJ thus far. Don't forget to come back though.
My first bit of news is that I'll have some work showing in London (UK) again, finally. This will occur between the 1st-4th October. The opening is on the evening of Thursday the 1st of October from 6-9pm and then you will be able to come and see the following few days (Fri, Sat, Sun) from 12-6pm. Courtesy of Hotel Elephant as part of the Artlicks Weekend. The address is 23 Harper Road SE1 6AW. This location is just a few minutes walk from Borough station, or Elephant & Castle. For further info, you can use your search engine(s) or try these links: 1 and 2 and here's another.. 3
Outsider Art Fair Paris 2015
I'm very pleased to announce that some of my work will be shown at this year's Paris edition of the Outsider Art Fair, thanks to Galerie du Marché and the Eternod/Mermod Collection from Lausanne, Switzerland. It is an honour to have works in their highly impressive collection containing master works by Aloïse Corbaz, as well as works by some of my favourite artists (Edmund Monsiel, Carlo Zinelli, and Raphaël Lonné). Madge Gill, Scottie Wilson, and Adolf Wölfli are among the legendary names whose works can also be seen in the Eternod/Mermod Collection. The fair runs from October 22nd-25th. See website for further details. Here. 
Diary Drawing, March-September 2015
I'm very pleased to announce that I've completed another diary drawing. This time surpassing any previous shift in increments by a surprising amount, in regards to the amount of words contained in the drawing, which on this occasion clocks in at 11,273 words. The last couple of drawings were around 7,000 words each, and the one before that had the highest word count previously, at 9,539. Here is an image of the latest drawing.. (click on it for a larger view).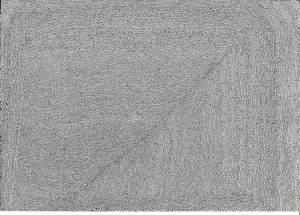 Thanks for reading (and listening?)                                                                                                                    Bright moments,                                                                                                                                                      Carlo