9 Jan 2020, 4:07pm
Boy shows you his... Boy travels Uncategorized: Adolf Wolfli Agatha Wojciechowsky Akio Kontani Albert Aloise Corbaz Andrea Bellini Aradne August Walla Ben Wilson Bethlem Gallery Candid Arts Centre Carlo Zinelli Cathy Ward Centre d'Art Contemporain Geneve Chewing Gum Man Chris Neate Codex Seraphinianus Collection de l'Art Brut Dan Miller Daniel Goncalves Darren Adcock diary drawings Dolly Sen Evelyne Postic Gaston Chaissac George Widener Harald Stoffers Henri Michaux J.B. Murray James Moss Jean Dubbuffet Jennifer Lauren Gallery Julia Sisi Kate Bradbury Laure Pigeon Leonhard Fink Lines of Revelation Liz Parkinson Luigi Serafini Madge Gill Malcolm McKesson Margaret Mousseau Margot Melvin Way Michel Nedjar Michel Thevoz Monochromatic Minds Nick Blinko Nigel Kingsbury Norimistsu Kokubo Octopus Ody Saban Outside In Outsider Art Outsider Art Fair Outsider Art Fair New York 2020 Phil Baird Portico Library Rashidi Raw Vision Magazine Roger Cardinal Sarah Lombardi Scrivere Disegnando Shinichi Sawada Sugarglider Susan Hiller Talking Sense Ted Gordon The Changing Vocabulary of Mind and Brain The Horse Hospital When Language Seeks Its Other Writing by Drawing
by
admin
leave a comment
…………………………………………………………………………………………
……………………………………….
Greetings. Here it is, part 2. Part 1 had me tying up last year's loose ends. Part 2 looks at the near future and which walls you'll find my work on. As usual, everything happens at once. I'm in exhibitions at the Portico Library in Manchester (UK), the Centre d'Art Contemporain in Geneva (Switzerland), and with Jennifer Lauren Gallery at the Candid Arts Center in London (UK) as well as at the Outsider Art Fair in New York (USA).
Outsider Art Fair – Jennifer Lauren Gallery /// January 16-19th. Metropolitan Pavilion. New York, USA
I'm not sure exactly what happened during the fabrefaction of my July 31st – November 28th, 2019 diary drawing, but the result is 12,627 words in my bubble text on A5 card. This is almost 2,000 more words than were recorded on the previous page and by now more than have been recorded on any of the ten A4 size diary drawings. If you want to go see the combobulation for yourself, find yourself at the Jennifer Lauren Gallery booth for their third year at the fair. Jennifer Lauren will also be showing work by Shinichi Sawada, Akio Kontani, Margaret Mousseau, Leonhard Fink, Chris Neate, Norimistsu Kokubo and more.
For further info on the fair, opening hours, special events etc.. see here.
Talking Sense: The Changing Vocabulary of Mind and Brain. /// January 17th-April 13th. The Portico Library. Manchester, UK 
James Moss curates the works and minds of 50 artists in this playfully conceptual exhibition fitting to the ethos of the Portico Library, a 200+ year old subscription library in Manchester's city center. The exhibition "explores the idea of "mind/brain-then/now" – combining 18th and 19th century literature with new artworks to create a space for conversations around the vocabulary of neurodiversity, mental health and psychology". Sugar Glider vs. Octopus, a painting I did in 2009 will be included along with works by the homies Darren Adcock and Dolly Sen. Quite pleasantly, we are accompanied by 47 artists I can't say I am aware of by name. I look forward to discovering their work and how all this might fit together in the context! The public preview is from 6-8pm on Thursday 16th January.
Scrivere Disegnando ('Writing By Drawing'): When Language Seeks Its Other /// January 29th- May 3rd. Centre d'Art Contemporain. Geneva, Switzerland
I'm thrilled to have several diary drawings included in this near-exhaustive exploration of writing as drawing and how this leaves the communicative aspect in ambivalence and/or ambiguity, focussing on work from the early 19th century to the present day. At least that's my reading of it so far. I impatiently await experiencing the exhibition for myself at the opening on Tuesday, January 28th. I understand the exhibition will be accompanied by an elaborately produced book of 300+ pages. I will report back with details regarding that as I learn them. Co-curated by Andrea Bellini (Centre d'Art Contemporain, Director) and Sarah Lombardi (Collection de l'Art Brut Lausanne, Director), it will be interesting to see works by artists associated with Art Brut side by side with contemporary artists, brought together through the context of this theme. On those walls I'll be in the very good company of Nick Blinko, Gaston Chaissac, Aloise Corbaz, Jean Dubbuffet, Susan Hiller, Henri Michaux, Laure Pigeon, Luigi Serafini (Codex Seraphinianus!), J.B. Murray, August Walla, Melvin Way and Adolf Wolfli among others.. In my previous blog entry I spoke on the writer Michel Thevoz and the artist Carlo Zinelli. Thevoz is contributing text to the book published in conjunction with this exhibition, and there is a big Zinelli exhibition at the Collection l'Art Brut in Lausanne, so I'll also be able to experience that, which should be wonderful. I'll report back upon returning.
Monochromatic Minds: Lines Of Revelation – Jennifer Lauren Gallery /// February 25th- March 4th. Candid Arts Centre. London, UK
I can't help but feel this will be a historic exhibition relentlessly championing works in black and white, through a roster of 62 artists, most of which I admire immensely, and some I'd not heard of or seen but am thus far impressed with based on images revealed here. Jennifer Lauren has taken on quite a task and brought together an extremely impressive group of artists, which I'm overwhelmingly excited to see curated together in one space. On these walls I am joined by my PPP crew (Posca Pen Pals) Liz Parkinson and Julia Sisi, the highly potent Albert who I've met through the Bethlem, Madge Gill who needs no introduction, the great Aradne, it's an endless list and I'd love to think of specific words to describe each artist but I must go and do my tax returns. It's very tempting though.. Ody Saban who's work I've admired over the last fifteen years, Cathy Ward whom I've crossed paths with since encountering her work at The Horse Hospital (which is in grave danger of being shut down after over 25 years, spread the word to your powerful and caring friends please!) around the time they offered to show my work for the first time in 2007/8, Nick Blinko who I've written about quite a lot over the years (here are a couple of bits: 2011, 2016), Rashidi, Margot, Harald Stoffers, George Widener, Ben Wilson, Malcolm McKesson, Dan Miller, Kate Bradbury, Nigel Kingsbury, Daniel Goncalves, Michel Nedjar, Evelyne Postic, Agatha Wojciechowsky, Ted Gordon, and the list goes on! I just wish brother Phil was here. Right,.. I feel like I'm about to malfunction. For full details check this  and I'll reiterate all this in a more succinct and informative manner within the next blog entry in a few weeks, with updated specifics regarding the series of events surrounding the exhibition including presentations by some of the artists and more. 
Roger Cardinal (1940-2019)
It was saddening to hear that Roger Cardinal, the man who first used the controversial term 'Outsider Art' with having his book titled as such (published in 1972), has transcended the Earth at the end of last year. The forthcoming issue (104) of Raw Vision magazine will be a special tribute edition. I was privileged to meet him several times. My first encounter with him was interesting, I had been writing in my diary drawing for a couple of hours, alone at a table and he walks into the room and asks if I mind him sitting beside me. He then asked if I minded him taking some notes as we conversed. We went from there into another smaller room where a video interview with Jean Dubuffet was showing and we sat there for a short time before he nodded off for a while in an armchair. We crossed paths a handful of times or so after that and began a somewhat intense email exchange, which began with him actually saying he would be "honoured" to write about my drawings (too much!). He could also be quite playful in his approach. Referring back to that email, he wrote: I would be honoured to write something about your work, which is definitely on my personal list of a site of "outstanding natural beauty" (that's a quotation from the Kent County Council road sign that you'll find at the entrance to our local villages!). I regret not having resolved the unusual and perplexing tone of our last emails. Irrespective of that, Roger Cardinal will forever be gargantuan.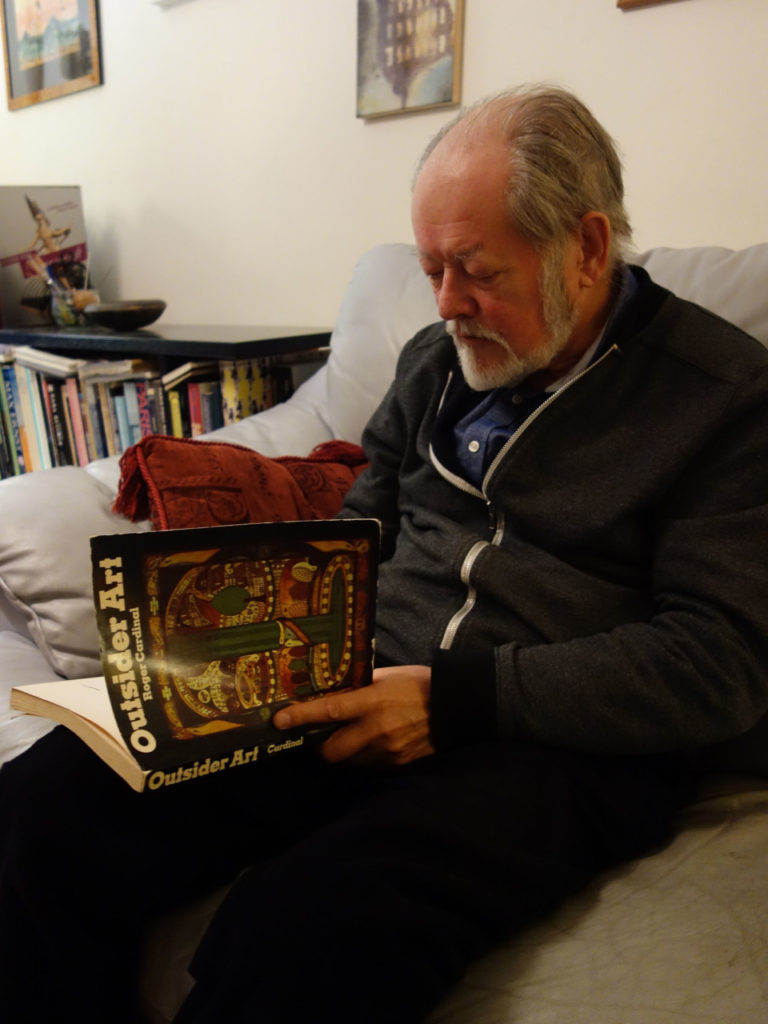 8 Jan 2020, 4:00pm
Boy talks Boy travels Uncategorized: American Folk Art Museum Art Brut Carlo Zinelli David Zwirner David Zwirner Paris Frenchette Galerie Du Marche Jerry Gretzinger Michael Golz Michel Thevoz Outside In Outsider Art Fair Paris Outsider Art Fair Paris 2019 Philippe Lespinasse Raymond Pettibon Vestiges and Verse: Notes from the Newfangled Epic
by
admin
1 comment
…………………………………………………………………………………………
……………………………………….
Greetings and welcome to another year in the Gregorian calendar… Let's hope it won't be a disastrous one! Anyhow, here is some information and observations regarding things I spend time on/with…
Paris 2019
The next day, at home, upon rummaging through my jacket pockets on my way out again, I discovered a small Swiss chocolate. Proof that I had in fact returned from another annual excursion to Paris, having spoken to an array of insiders of the Outsider Art field in some form or other. It was the Outsider Art Fair, the seventh edition of the Paris incarnation. Four of my diary-related drawings were shown with the Galerie du Marche, based in Lausanne, Switzerland. Within 24 hours I knew that I'm not getting any of them back. It can be a curious pattern of thought imagining their current whereabouts and the level of engagement that may or may not occur in my absence. I am pleased with what they contain, the way they evolve, and how the thoughts transcribed transform into what in some ways feels like a sort of DNA to me, projected through the aesthetic form that is manifested. But in the end, it is not in the end, it is during the process that I feel the most value is placed/experienced, and while in some ways the evidence of that is contained, the moment in some other ways just comes and goes. Thankfully, the process involves a sequence of indefinite moments.
In the past I have written about things I've seen and felt at the Outsider Art Fair, either here or in Outside In's blog (2015, … 2016/2014 Paris and New York have mysteriously been deleted) but something that is happening with time is making it unnatural for me to attempt this currently. I have some photos on my phone though, and they trigger open doorways for me to walk in and out of briefly. Apart from photos of the Galerie du Marche booth, the only image I have of a particular work is actually from a short documentary film that was shown on the work of Michael Golz, who spends a lot of time developing a fictional map and associated terminology. Since 1977 he has been dedicated to manifesting Athos. Very impressive. It did remind me somewhat of a fictional map project carried out by Jerry Gretzinger, since 1963. In 2018, I encountered his map when it was exhibited alongside some of my diary drawings in the Vestiges & Verse: Tales From the Newfangled Epic exhibition at the American Folk Art Museum (NYC, USA). It is very unlikely Golz and Gretzinger will have been aware of each other until much later, if at all, given the geographic distance between them and a less linked non-fictional world around the time their maps began to take shape.
At the Galerie du Marche booth, I find myself in a most surreal situation of being placed on the wall beside the work of Carlo Zinelli. Sometime around two decades ago, I was in a secondhand bookshop and perusing the shelf of Art Books. I didn't see anything that piqued my curiosity but for some reason a hardback book with the bold lettering 'ART BRUT' on the spine made me pick it up. The cover image was intriguing and the authors' name had a nice ring to it 'Michel Thevoz'. I recall that simple, yet effective, convergence. The page I opened it up to displayed a beautiful image of a sequence of figures with blob-like holes in their heads. Incidentally, I was drawing people with holes in their heads also. I looked for the name of the artist and it simply was 'Carlo' (they weren't using Zinelli as his last name when it was written).. so, there is the serendipity of the Zinelli-Keshishian axis. As a tidbit, in recent years I heard that Michel Thevoz had seen my work and was supposedly quite impressed by it.
Still in Paris, returning to the apartment where I was staying after the fair one night, I learned from somewhere on the internet that the simultaneous opening of both David Zwirner's gallery in Paris and the Raymond Pettibon exhibition were occurring, but just about ending by this point in time. It was exciting to learn that a Pettibon exhibition was around the corner. I went to see it the following day and felt enveloped in that very particular Pettibon atmosphere, relishing the fix. What a joy. I love the curation that seems to have some natural instruction from the works to exist in relation to each other in a distinct manner, branching outwards from the walls, creating systems or communities of drawings in pockets of the space. I even crossed paths with Mr.Pettibon himself.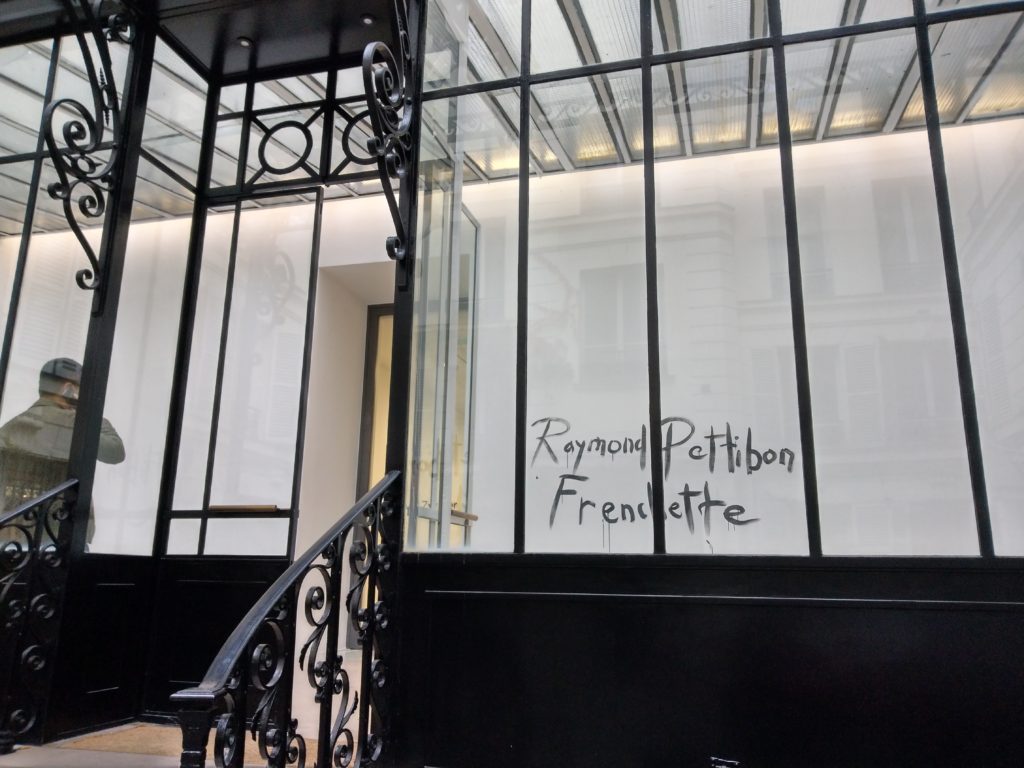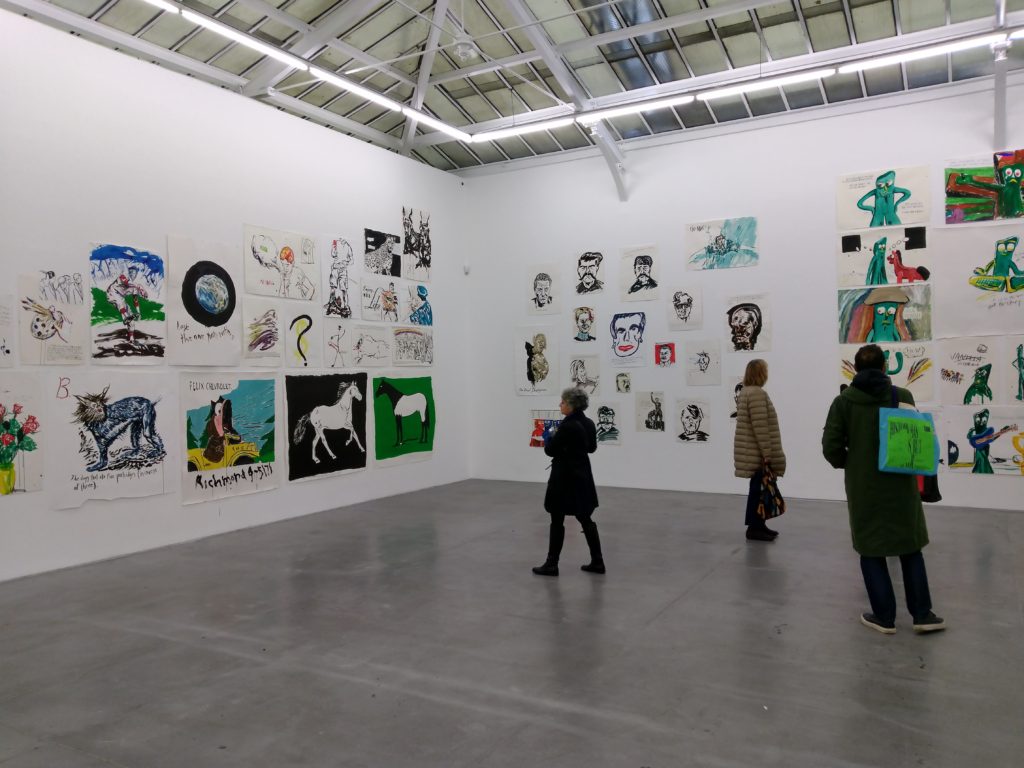 I've done it again. The information has bottlenecked and as tempting as it is, it would be unwise to bludgeon you with its entirety. This part 1 covers the remnants of last year. The next will detail forthcoming news. Hold tight for part 2…
Carlo.