8 Jan 2020, 4:00pm
Boy talks Boy travels Uncategorized: American Folk Art Museum Art Brut Carlo Zinelli David Zwirner David Zwirner Paris Frenchette Galerie Du Marche Jerry Gretzinger Michael Golz Michel Thevoz Outside In Outsider Art Fair Paris Outsider Art Fair Paris 2019 Philippe Lespinasse Raymond Pettibon Vestiges and Verse: Notes from the Newfangled Epic
by
admin
1 comment
…………………………………………………………………………………………
……………………………………….
Greetings and welcome to another year in the Gregorian calendar… Let's hope it won't be a disastrous one! Anyhow, here is some information and observations regarding things I spend time on/with…
Paris 2019
The next day, at home, upon rummaging through my jacket pockets on my way out again, I discovered a small Swiss chocolate. Proof that I had in fact returned from another annual excursion to Paris, having spoken to an array of insiders of the Outsider Art field in some form or other. It was the Outsider Art Fair, the seventh edition of the Paris incarnation. Four of my diary-related drawings were shown with the Galerie du Marche, based in Lausanne, Switzerland. Within 24 hours I knew that I'm not getting any of them back. It can be a curious pattern of thought imagining their current whereabouts and the level of engagement that may or may not occur in my absence. I am pleased with what they contain, the way they evolve, and how the thoughts transcribed transform into what in some ways feels like a sort of DNA to me, projected through the aesthetic form that is manifested. But in the end, it is not in the end, it is during the process that I feel the most value is placed/experienced, and while in some ways the evidence of that is contained, the moment in some other ways just comes and goes. Thankfully, the process involves a sequence of indefinite moments.
In the past I have written about things I've seen and felt at the Outsider Art Fair, either here or in Outside In's blog (2015, … 2016/2014 Paris and New York have mysteriously been deleted) but something that is happening with time is making it unnatural for me to attempt this currently. I have some photos on my phone though, and they trigger open doorways for me to walk in and out of briefly. Apart from photos of the Galerie du Marche booth, the only image I have of a particular work is actually from a short documentary film that was shown on the work of Michael Golz, who spends a lot of time developing a fictional map and associated terminology. Since 1977 he has been dedicated to manifesting Athos. Very impressive. It did remind me somewhat of a fictional map project carried out by Jerry Gretzinger, since 1963. In 2018, I encountered his map when it was exhibited alongside some of my diary drawings in the Vestiges & Verse: Tales From the Newfangled Epic exhibition at the American Folk Art Museum (NYC, USA). It is very unlikely Golz and Gretzinger will have been aware of each other until much later, if at all, given the geographic distance between them and a less linked non-fictional world around the time their maps began to take shape.
At the Galerie du Marche booth, I find myself in a most surreal situation of being placed on the wall beside the work of Carlo Zinelli. Sometime around two decades ago, I was in a secondhand bookshop and perusing the shelf of Art Books. I didn't see anything that piqued my curiosity but for some reason a hardback book with the bold lettering 'ART BRUT' on the spine made me pick it up. The cover image was intriguing and the authors' name had a nice ring to it 'Michel Thevoz'. I recall that simple, yet effective, convergence. The page I opened it up to displayed a beautiful image of a sequence of figures with blob-like holes in their heads. Incidentally, I was drawing people with holes in their heads also. I looked for the name of the artist and it simply was 'Carlo' (they weren't using Zinelli as his last name when it was written).. so, there is the serendipity of the Zinelli-Keshishian axis. As a tidbit, in recent years I heard that Michel Thevoz had seen my work and was supposedly quite impressed by it.
Still in Paris, returning to the apartment where I was staying after the fair one night, I learned from somewhere on the internet that the simultaneous opening of both David Zwirner's gallery in Paris and the Raymond Pettibon exhibition were occurring, but just about ending by this point in time. It was exciting to learn that a Pettibon exhibition was around the corner. I went to see it the following day and felt enveloped in that very particular Pettibon atmosphere, relishing the fix. What a joy. I love the curation that seems to have some natural instruction from the works to exist in relation to each other in a distinct manner, branching outwards from the walls, creating systems or communities of drawings in pockets of the space. I even crossed paths with Mr.Pettibon himself.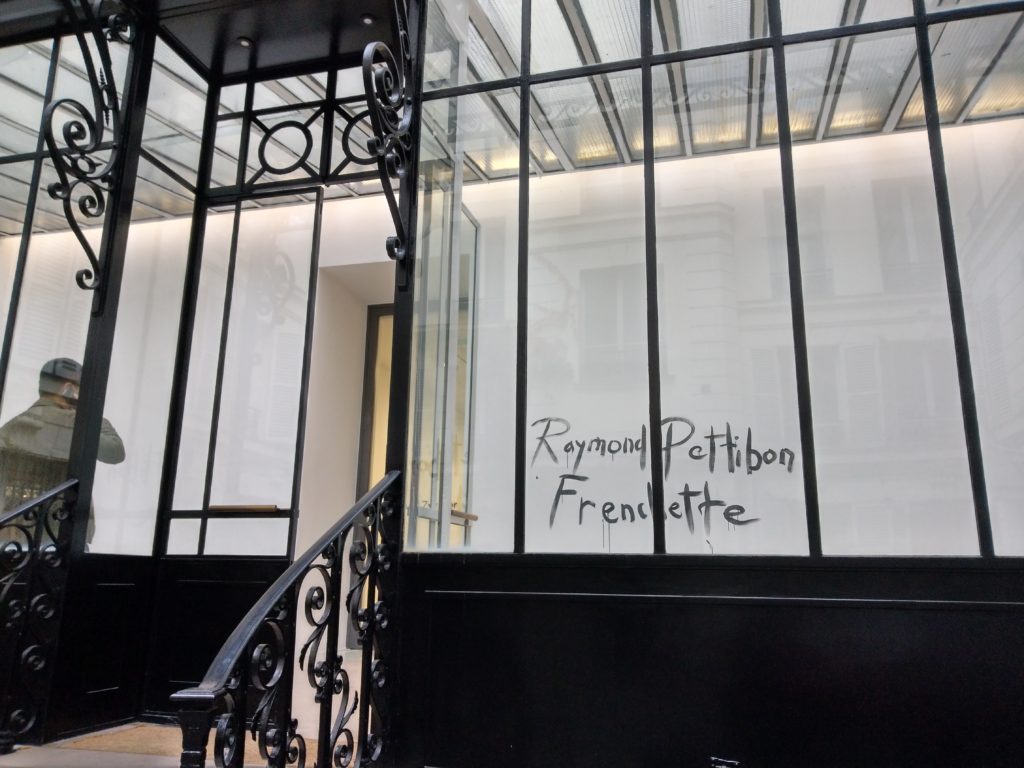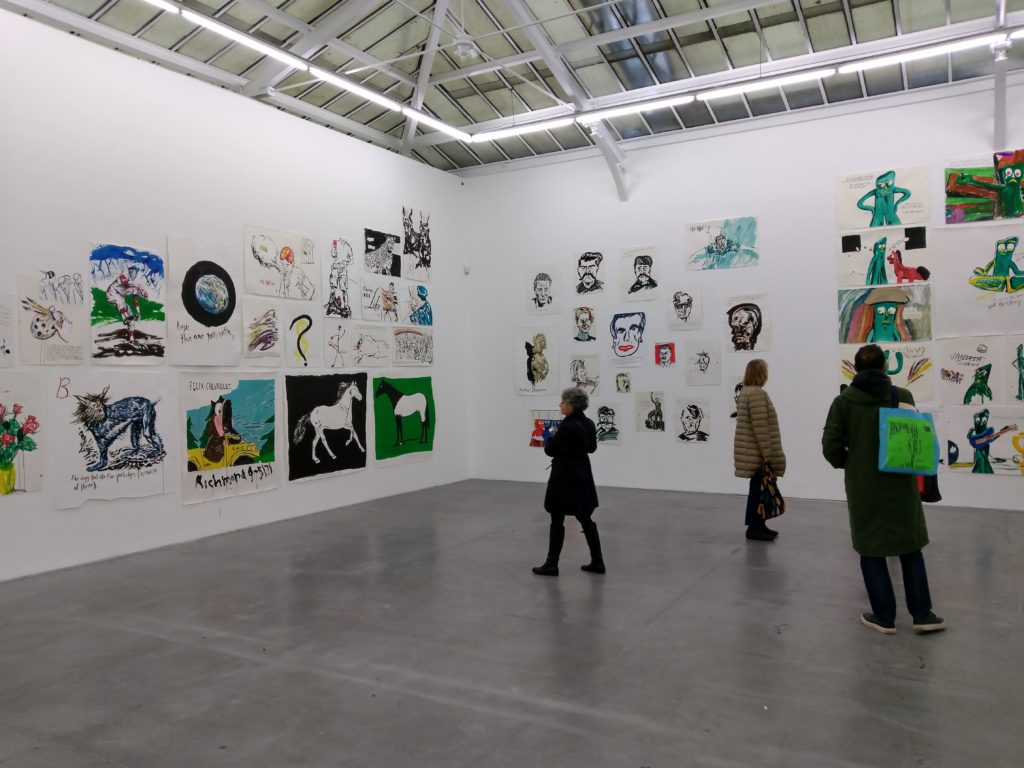 I've done it again. The information has bottlenecked and as tempting as it is, it would be unwise to bludgeon you with its entirety. This part 1 covers the remnants of last year. The next will detail forthcoming news. Hold tight for part 2…
Carlo.